UFC 200 betting handle takes big hit with Jon Jones out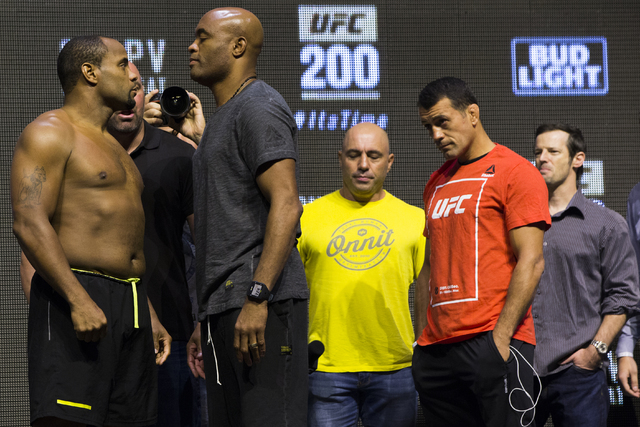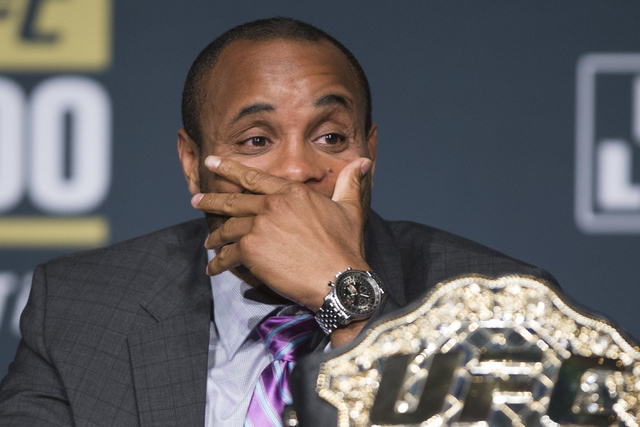 In less than 24 hours, Daniel Cormier went from being a big underdog to a big favorite, and a UFC 200 card that had been hyped up for months will turn into a letdown for Las Vegas sports books.
The scheduled main event between Cormier and Jon Jones for the light heavyweight championship was called off Wednesday night, when Jones was pulled because of a potential violation of the UFC's anti-doping policy. Jones, who won their first meeting last year, was a 3-1 favorite.
That fight was set to replace a Nate Diaz-Conor McGregor rematch, which the UFC pulled the plug on in April after McGregor refused to show for a news conference to promote the event.
So, while the UFC has worked quickly to attempt to clean up the mess — matching Cormier against Anderson Silva — bookmakers are handing out refunds on Cormier-Jones bets. As a result, the wagering handle for Saturday's fights at T-Mobile Arena will take a big hit minus the organization's marquee names.
"That's a shame," said Matthew Holt, vice president of CG Technology sports books. "There was a lot of interest in that fight, and there was a lot of interest in Cormier, with Jones really playing up the role of the bad guy lately. That was by far the most money we had taken on any fight this week."
Holt said CG Technology had booked around $250,000 on Cormier-Jones, and he estimated the main event would draw close to $700,000. MGM Resorts books do the most business on UFC events, so all books considered, the handle for UFC 200 will be down more than $1 million from what was projected early in the week.
McGregor is the UFC's biggest drawing card, but the polarizing Irishman and Ronda Rousey, the most popular women's fighter, are missing in action this weekend.
"The UFC made a big mistake," Holt said. "They wanted to prove a point, but they are regretting doing that to Conor McGregor now. This card was not going to compete at wagering windows with the McGregor cards anyway. Now, you take the one fight off everyone wanted to see."
Cormier is a minus-430 favorite over Silva, a former middleweight champion who's obviously taking the fight on short notice and will be at a significant weight disadvantage.
"Cormier will run right through him. It's a total mismatch," said handicapper Lou Finocchiaro (@GambLou on Twitter). "But Anderson Silva will show to be a stud and show himself to be a company man for the UFC."
A fight between Mark Hunt and former heavyweight champion Brock Lesnar is turning into the top drawing card for bettors. Lesnar, a pro wrestling star, has not appeared in a UFC bout since December 2011. Hunt, a minus-160 favorite, is drawing about twice as much money, while Lesnar is drawing about twice as many tickets from the public.
"We have great two-way action," Holt said. "It's the ultimate pros versus Joes scenario. I would absolutely bet Hunt in this fight. It's almost five years since Lesnar fought, and he does not have a lot of UFC experience anyway.
"Lesnar has never been a great finisher. It wouldn't be surprising to see Lesnar get a little bit tired, his hands start to drop and then that one-punch knockout power of Hunt comes into play. Goodnight, Brock Lesnar."
Finocchiaro, who typically sides with quality underdogs, said he thinks Lesnar can wear down the 42-year-old Hunt.
"I think Lesnar gets him to the ground, and he's a live 'dog," Finocchiaro said. "Lesnar is a huge man. He will be too big to handle."
Best bets for UFC 200
Frankie Edgar (-120) over Jose Aldo — This is basically priced as a coin flip. However, there is some uncertainty about Aldo, who was knocked out in 13 seconds by McGregor at UFC 194 in December.
"I actually like Edgar in this fight," Holt said. "A lot of times guys coming off a devastating knockout aren't quite the same. Part of what made Aldo so great was that fearless style he has.
We've seen it in a lot of fighters in MMA and boxing in the past — they are fearless until they get put to sleep, and you are not quite so fearless after that."
Julianna Pena (+135) over Cat Zingano — Miesha Tate and Amanda Nunes are tangling for the women's bantamweight title, but Pena-Zingano has the potential to be more explosive.
"Pena is a bully. She walks straight forward and is very aggressive," Finocchiaro said. "Zingano has been off for a year. I really think Pena is up for this task."
Kelvin Gastelum (-115) over Johny Hendricks — Finocchiaro said he bet Gastelum at plus-145 when the line opened, and sharp money is on his side.
"He's still a solid bet at anything around even money," Finocchiaro said. "Gastelum is younger, stronger and is good in the wrestling department."
Contact sports betting reporter Matt Youmans at myoumans@reviewjournal.com or 702-387-2907. Follow @mattyoumans247 on Twitter.