Win-total propositions in NFL rife with pitfalls
December 20, 2013 - 12:11 am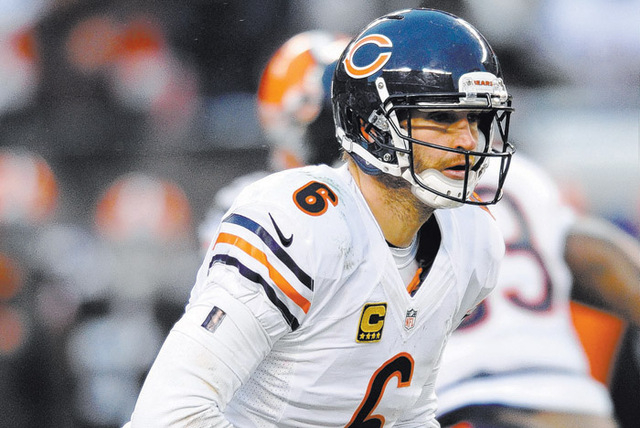 A sense of impending doom surrounded the Chicago Bears when Jay Cutler, who might or might not be the franchise's future quarterback, limped off the field with a groin injury. With Cutler, it often appears to be loser's limp, but this injury was legit.
Concerns about the Bears' immediate future were warranted, too. The common perception of backup Josh McCown was that he was a clown. It was late October, and the Bears were 4-3 and big underdogs in their next game at Green Bay.
At that point, Chicago seemed unlikely to top its regular-season win total of 8½, the closing number at the LVH, Station Casinos and most other sports books. The Packers were 5-2 and more likely to top their win total of 10.
But the NFL is a reflection of this world in a nutshell. It's crazy, and the strangest things happen. McCown stepped up, performing at an elite level, and Aaron Rodgers went down with a broken collarbone.
"A lot of teams struggle with their starting quarterbacks. How many strong backups are there in the entire league? You could probably count them on one hand," Sunset Station sports book director Chuck Esposito said. "I thought when Cutler went down, the Bears were not going to be in the NFC North discussion come Week 16.
"In so many cases, when a quarterback goes down, I hear people say, 'Who's the backup?' A backup quarterback is a good investment."
The McCown insurance policy paid off for the Bears, who upset the Packers 27-20 on Nov. 4. Now, Chicago is 8-6 and in position to win the NFC North. Green Bay is 7-6-1 and still hoping Rodgers can make a stirring comeback.
Rodgers' injury was a bad break for those who bet the Packers' win total to go over. McCown's surprising play lifted the spirits of the sagging Bears, who have two shots to top their win total with Cutler back calling the shots, for better or worse.
With two weeks remaining in the regular season, several win-total decisions resemble a horse race going to the wire. Some others were decided a long time ago.
The Bears, who play at Philadelphia on Sunday and finish by hosting the Packers on Dec. 29, could be headed for a photo finish. If Rodgers returns, the final game of the season at Soldier Field is a tossup. According to Numberfire.com, Chicago has a 51 percent chance of winning the division.
Detroit was 6-3 and ahead of pace to top its win total of 8. But Matthew Stafford started uncorking wild sidearm throws, and suddenly the Lions have lost four of their past five games, including an 18-16 setback against Baltimore on Monday, when Justin Tucker drilled a winning 61-yard field goal.
The Ravens seemed destined to fall short of their win total of 8½ when they were 4-6. However, just as Joe Flacco did in a dramatic playoff win at Denver, he's coming back again. Baltimore has four straight wins and needs one more — against New England or at Cincinnati — to get to nine.
Most of the anticipated powerhouse teams in the AFC and NFC are not going to come up short.
The Broncos (11-3) are a virtual lock to go over 11½, one of the most popular public plays of the summer. New England, which finishes by hosting Buffalo, is 10-4 and a good bet to top 10½ or push 11.
San Francisco, 10-4 and with a win total of 11½, is a double-digit home favorite over Atlanta on Sunday before finishing with a tricky game at Arizona. Seattle (12-2) has soared over 10½.
"The Seahawks were a very popular team," Esposito said. "If you don't lose at home, it's not that difficult to get over that total."
The Cardinals (9-5, win total of 5½) have been major overachievers, and the Eagles (8-6, 7½) rallied behind first-year coach Chip Kelly and quarterback Nick Foles, who opened the season as a backup. Kansas City (11-3, 7½) is probably the biggest surprise, in a positive way.
"To me, the Texans are clearly the biggest disappointment," Esposito said. "A lot of people thought the Texans were the second-best team in the AFC going into the season."
Houston (2-12) had a win total of 10, as did Atlanta (4-10). The Texans needed a major comeback to beat San Diego in Week 1, needed overtime to beat Tennessee in Week 2 and got swept by Jacksonville.
And the Jaguars (4-10) are another bizarre story. After opening 0-8, Jacksonville looked like money in the bank to go under 5, but the money is up for grabs with two games to go.
How about the Dallas Cowboys, who sit at 7-7 with a win total of 8½ and Washington and Philadelphia still on the schedule. The Cowboys suffered one-point losses to the Chiefs, Lions and Packers.
Betting on Tony Romo always is a high-risk proposition that comes with a sense of impending fourth-quarter doom.
But for the Bears and their bettors, McCown was a rewarding backup plan.
Las Vegas Review-Journal sports betting columnist Matt Youmans can be reached at myoumans@reviewjournal.com or 702-387-2907. He co-hosts "The Las Vegas Sportsline" weekdays at 2 p.m. on ESPN Radio (1100 AM). Follow him on Twitter: @mattyoumans247.
NFL WIN TOTALS
Win totals posted at the LVH sports book Sept. 1, with current records in parentheses:
Denver Broncos 11½ (11-3)
San Francisco 49ers 11½ (10-4)
New England Patriots 10½ (10-4)
Seattle Seahawks 10½ (12-2)
Atlanta Falcons 10 (4-10)
Green Bay Packers 10 (7-6-1)
Houston Texans 10 (2-12)
New Orleans Saints 9 (10-4)
Pittsburgh Steelers 9 (6-8)
Baltimore Ravens 8½ (8-6)
Chicago Bears 8½ (8-6)
Cincinnati Bengals 8½ (9-5)
Dallas Cowboys 8½ (7-7)
Indianapolis Colts 8½ (9-5)
New York Giants 8½ (5-9)
Detroit Lions 8 (7-7)
Washington Redskins 8 (3-11)
Carolina Panthers 7½ (10-4)
Kansas City Chiefs 7½ (11-3)
Miami Dolphins 7½ (8-6)
Philadelphia Eagles 7½ (8-6)
San Diego Chargers 7½ (7-7)
St. Louis Rams 7½ (6-8)
Tampa Bay Buccaneers 7½ (4-10)
Minnesota Vikings 7 (4-9-1)
Cleveland Browns 6½ (4-10)
Tennessee Titans 6½ (5-9)
Buffalo Bills 6 (5-9)
New York Jets 6 (6-8)
Arizona Cardinals 5½ (9-5)
Jacksonville Jaguars 5 (4-10)
Oakland Raiders 5 (4-10)