With college basketball season tipping off, No. 1 unclear
November 13, 2015 - 12:28 am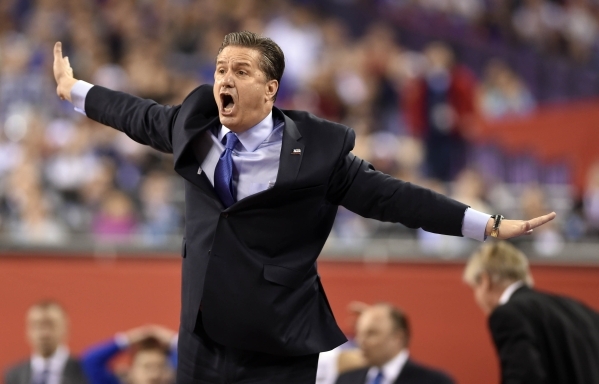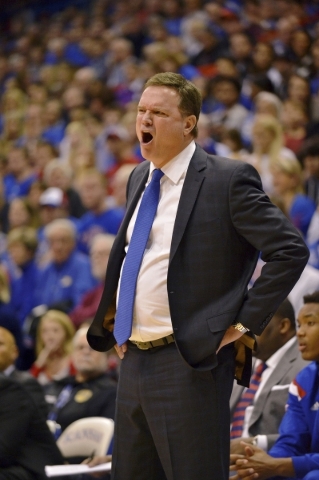 A year ago, it was unanimous. Kentucky coach John Calipari was king of the hill in college basketball. Calipari had compiled an NBA farm team that was capable of running the table and inspired a proposition bet on an undefeated season.
The Wildcats won 38 straight games until hitting the wall in the Final Four. But never cry for Calipari, who, like the villain in a "Friday the 13th" movie, never goes away.
A new season tips off today and, according to The Associated Press poll, Kentucky is No. 2. Of course, the rankings are meaningless. Expect a game of musical chairs at the top to go on for months.
"There is definitely no clear-cut No. 1 team," said Nick Bogdanovich, William Hill sports book director. "I would say 10 teams could be worthy as a preseason No. 1. It's just guessing at this point."
A dominant team can be great thing — especially when that team is widely despised from coast to coast — but the mystery of this season will be a good thing, too.
North Carolina, the preseason No. 1, opens without senior point guard Marcus Paige, who is likely sidelined into December with a broken hand. Kansas, my pick for No. 1, is without freshman star Cheick Diallo, who is fighting a messy eligibility case with the NCAA.
Maryland is picked to win the Big Ten, but not everyone is convinced. Defending national champion Duke is reloading, but not with the same type of firepower.
"Kentucky is a crapshoot. Obviously, it's a team full of talent, but you don't know until you see it come together," Las Vegas handicapper Chuck Edel said. "It's tough to say who's No. 1 until you start watching the games."
There are plenty of games, which is what makes college basketball the best option at the books for informed bettors. William Hill opened lines Thursday on 68 of today's games, and that's not entire schedule. With so many teams to know, oddsmakers can get caught guessing.
"Every day, you've got so many games," Edel said. "It's tough for the line to be sharp on every game."
Bogdanovich, who played college basketball sometime around the days of Larry Bird, Magic Johnson and black-and-white TVs, follows the game as closely as anyone and understands the challenges confronting bookmakers.
"It's so different from any other sport. There are 280 or 300 board teams," he said. "Who knows what's going to happen? Anyone can make a baseball number or an NFL number.
NCAA basketball is impossible, especially early on in November and December. It's crazy stuff. But that's why you take smaller limits and you move (lines) faster."
It all starts with the coaches. Players change in perpetual motion, but coaches provide a steady barometer from year to year.
Wisconsin, which knocked off Calipari in the Final Four, will be strong as long as Bo Ryan is on the bench. Ryan says he's retiring after this season, believe him or not.
Louisville will be a story as long as Rick Pitino is wearing a white suit and staging news conferences to deny knowledge of escort parties, and no one believes him.
We never believed Shaka Smart was staying at Virginia Commonwealth for the long haul, and hauled in a boatload of cash to coach at Texas.
The best player in the nation might be Kris Dunn, a junior guard for Providence. The best freshman is probably 6-foot-10-inch Ben Simmons of Louisiana State.
Kentucky and Maryland are 7-1 co-favorites to win the NCAA championship, according to odds posted at the Westgate Las Vegas. But I'll pass on those teams and look for more value on the futures board. (Last year, I passed on the Wildcats and bet Duke at 10-1 odds.)
There are 400 pages in the Blue Ribbon Yearbook, and after reading a majority of them, I'll offer some betting tips:
* Kansas (10-1) has the most impressive combination of experience and talent, if and when Diallo gets on the floor. He's 6-9 and plays with high energy. Jayhawks coach Bill Self has a veteran point guard (Frank Mason) and a senior power forward (Perry Ellis).
* UCLA (100-1) is better than most people think. Steve Alford is an underrated coach, and his son, Bryce Alford, runs the point. The Bruins are big and athletic, and they roughed up Mountain West favorite San Diego State in a recent closed scrimmage.
It's possible Kansas and UCLA will collide in the Maui Invitational on Nov. 24. If the Jayhawks still are without Diallo, look to take points with the Bruins.
* Wichita State (25-1) boasts a senior backcourt in Fred VanVleet and Ron Baker, and both were wise to return to school. It was more surprising to see coach Gregg Marshall come back. The Shockers could be title contenders, but if they have a weakness, it's their front line.
* Gonzaga (20-1) is the opposite of Wichita State. The Bulldogs are big, but coach Mark Few is searching for a few good guards. The Zags will struggle against opponents that are strong in the backcourt.
"It's easier to find guards than big men," Bogdanovich said, "and Gonzaga has got all the big men you could want."
* Some bet-on teams that fly under the radar will be Alabama-Birmingham, Butler, Cincinnati, Connecticut, Florida State, Rhode Island, Utah and Valparaiso.
And will UNLV be a bet-against team again this season? That's another mystery.
"UNLV is a team that could win 16 games or 30, and you don't know how it's going to shake out," Bogdanovich said. "The Rebels have got a big upside. You're rolling the dice a little bit."
The first month or two of the season looks like a crapshoot, but that also can be a good thing for bettors.
* CLOSING NUMBERS — My college football picks have cooled off. I rolled the dice last week and went 3-4 to drop to 30-23-2 for the season. Here are five plays I'm lukewarm on for Saturday (home team in CAPS):
ILLINOIS (+16) over Ohio State; Alabama (-8) over MISSISSIPPI STATE; IOWA STATE (+14) over Oklahoma State; Unlv (+7½) over COLORADO STATE; HAWAII (-4½) over Fresno State.
Las Vegas Review-Journal sports betting columnist Matt Youmans can be reached at myoumans@reviewjournal.com or 702-387-2907. He co-hosts "The Las Vegas Sportsline" weekdays at 2 p.m. on ESPN Radio (1100 AM). Follow him on Twitter: @mattyoumans247