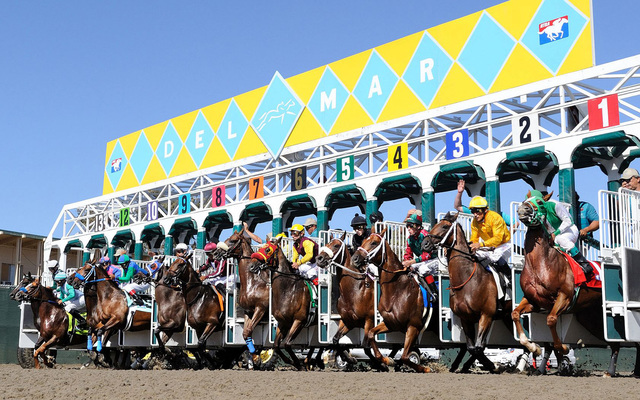 Many gambling experts will tell you that "horse racing is dead." Then they will tell you in the next breath that "skill-based gaming" is the next big thing.
I could easily spend a couple columns ranting about all the wrong-headed assumptions contained in those two sentences, but in the interest of brevity let me simply enter Exhibit A into the record:
Exchange wagering, which has been available in New Jersey for a little over a year, is demonstrating that it's indeed possible to get younger bettors involved in this "dying game." The key is to take advantage of the same technology that has turned Halo and other online video games into a stadium sport.
If you're unfamiliar with exchange wagering, think of it as the New York Stock Exchange with horses instead of shares. Instead of betting on a horse and watching the odds rise and fall as post time nears, you "buy" a steed at a price you consider reasonable and lock in those odds no matter how much late money comes pouring into the pool. You can also wager during the running of a race, assuming you can find another "investor" willing to buy or sell at the price you are offering.
So far it's only available in New Jersey, but Betfair, which runs the state's exchange, is working to change that.
To get a better idea of how it works, you can play around with this race simulator or watch this video using the 2016 Haskell as an example of the benefits of the exchange scheme.
There's much more to say about how much of a boon this could be for the horseplayer, but for now I'll just focus on these key learnings from Betfair's time in New Jersey:
"Seventy percent of revenue off the exchange is from people who weren't using 4NJBets (the advance-deposit wagering system in New Jersey), people who are new to the market," said Kip Levin, CEO of Betfair US and TVG, the horse racing television network. "And the other 30 percent, they actually are betting more. Their handle has gone up over 16 percent."
Another interesting fact about the exchange bettors: They are on average almost 20 years younger than traditional 4NJBets account holders.
I'll share more from my interview with Levin next week, but for now take comfort that you are a follower of a sport that may not be circling the drain after all.
#RJhorseracing featured races
The #RJhorseracing handicapping corps is back in action at Kentucky Downs this week, aiming to unravel two featured races on Saturday's card: the $400,000 Turf Sprint Stakes (G3) and the $600,000 Kentucky Turf Cup Stakes (G3).
We didn't exactly knock it out of the park with our picks on last week's Saturday card, which was delayed and finally run Wednesday. But now we're dialed in and ready to rebound.
In the Turf Sprint Stakes, a 6 1/5 furlong excursion, our crowd 'cappers essentially see this as a two horse race between morning line favorite Hogy (5-2) and Commend (4-1), with Hogy getting the nod. Wyeth (8-1) checked in a distant third in the balloting.
Regular reader Fred Dungan speaks for the crowd this week: "Hogy, first start after claim, goes to top barn, has shown good tactical speed in the past, should handle this group."
I'll back Wyeth to win. He ran some good turf sprints at the Fair Grounds early this year for trainer Tom Amoss and should move up as he returns to that surface.
In the Kentucky Turf Cup Stakes, a 1 1/2 mile lung-buster for 3-year-olds and up, our crew is throwing in with the razor-sharp rail horse Postulation (9-2 on the morning line), over Muqtaser (6-1) and second choice Oscar Nominated (7-2), in that order.
I fear Oscar Nominated, but will take a stab with Zulu Alpha, who is 30-1 on the morning line but has been improving in his two races stateside since coming over from Ireland.
You're welcome to join the fun next week. Simply email me at the address below or follow me on Twitter to get alerts each week when free past performances are posted Wednesday, suss out your top 3 picks, then write a few sentences analyzing the race and spelling out your betting strategy.
If you email them to me or post on Twitter using the #RJhorseracing hashtag before 5 p.m. PT Thursday and I use your comment in Friday's column, a package of delicious Review-Journal breath mints will soon be winging your way.
Contact Mike Brunker mbrunker@reviewjournal.com or 702-383-4656. Follow @mike_brunker on Twitter.
Ellis Starr's analysis of Kentucky Turf Sprint
Draw a line through the two most recent running lines for Wyeth as they were on dirt. Commend has improved in his last three races since a poor effort in April following a layoff since last year. Hogy's record of 16 wins and 11 second place finishes in 44 races speaks for itself and he missed by a neck in this race last year. Undrafted gets a very hot pace to run into and on occasion he runs brilliantly.
Wagering strategy: Bet Wyeth to win at 3 to 1 or more and play a four horse exacta and trifecta box among the four contenders listed above.
Ellis Starr is the national racing analyst for Equibase. Visit the Equibase website for more on the race or to purchase handicapping products.