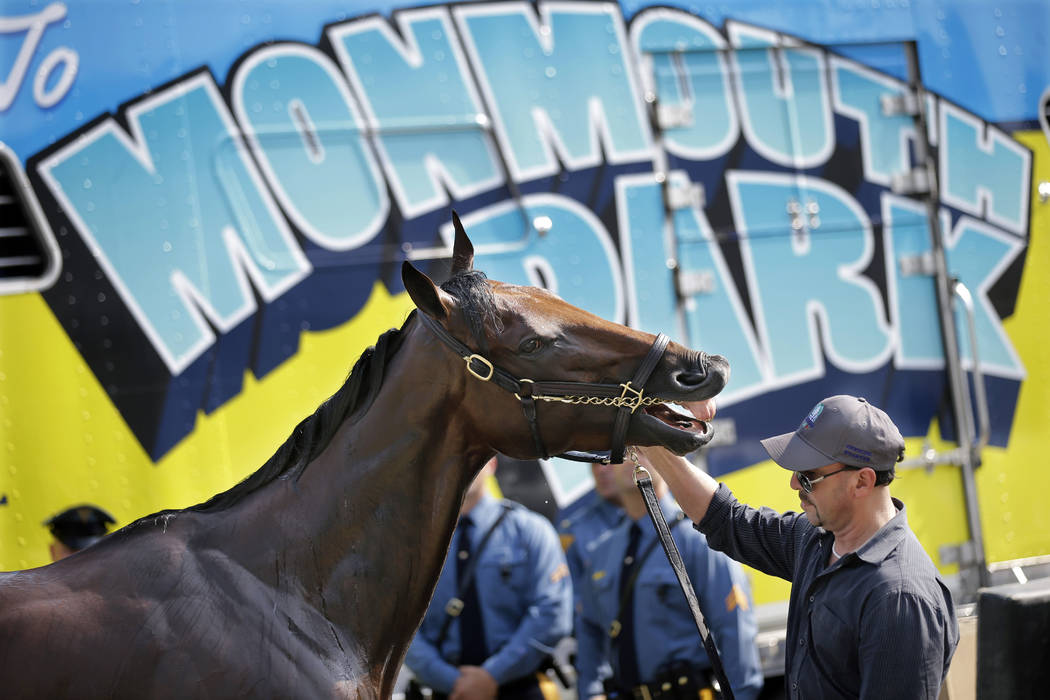 Sometimes handicapping a horse race is like sitting on a jury and trying to decide if the star witness is telling the truth.
Case in point: Saturday's United Nations Stakes at Monmouth Park, a 1 3/8-mile turf race for 3-year-olds and up and the feature race in this week's Review-Journal's interactive handicapping forum.
If you believe the witness — the Chad Brown-trained Beach Patrol, who is the only Grade 1 winner in the field — the race will be for second. If you don't, there could be a nice payday waiting if you can identify the horse who will jump up and shout "liar" to the favorite.
As promised when I outlined the concept of an interactive forum two weeks ago, I'm going to hand the microphone to Bill Conklin, one of the handicappers who looked at the race Thursday and submitted his picks before 5 p.m. so I could include them in the column.
Like many of the horseplayers who weighed in, Conklin is suspicious of Beach Patrol and considers him a play against, especially as he expects the 4-year-old to go off well below his 5-2 morning line odds, maybe as low as 3-2.
"He has been in the money in his last seven races," he wrote. "But he has lost his last six, indicating he may be somewhat faint of heart in the stretch. I'll let him beat me."
Conklin approached the grass marathon by first narrowing the field to the horses he considered contenders for the win — Beach Patrol, Itsinthepost, Bigger Picture and Oscar Nominated.
He rated them as "pretty equal," but when he looked at the morning line he spotted what he figures is likely to be an overlay in Oscar Nominated, whom he's hoping will drift up from his 5-1 odds.
"(He) comes from a great barn (Mike Maker), is train(ing) superbly, and is about the best bred colt for a turf marathon I have seen in a long time. … The presence of an obscure (but competent) rider (Kendrick Carmouche) may add to that. At 6- to 7-1, he could be a play," Conklin wrote.
If he gets those odds, Conklin's betting strategy will be to key Oscar Nominated, putting at least half his money on the son of Kitten's Joy to win and using the rest to fish for a big score, using his top pick in vertical wagers, mixing in the other three contenders underneath with live long shots Closing Bell (10-1) and Lucky Lindy (15-1).
I like his approach to this race. And win, lose or draw on Saturday, he has the mindset that will reward him handsomely down the road. As he puts it:
"I am not trying to 'pick the winner.' I'm trying to find bargain odds on overlaid horses that will bring me profit in the long run."
The other handicappers who got their picks in early aren't quite on the same page, but they're also thinking Beach Patrol is vulnerable. They made California invader Itsinthepost their pick, followed by Beach Patrol and Oscar Nominated.
After going with the chalk last week, I'll also take a shot with Closing Bell, who showed lots of talent on lawn as a 3-year-old before taking a weird detour to race three times last year in Australia. Since returning to the U.S. this year, he has shown steady improvement for Hall of Famer Bill Mott and might be ready to step up in this much tougher spot. I'll use him in exactas with Beach Patrol, Itsinthepost and Oscar Nominated.
Want to get in on the fun and maybe help me write a column by handicapping next week's feature race?
Send me an email at the address below, follow me on Twitter or look for the hashtag #RJhorseracing next Thursday to get a look at free past performances courtesy of Equibase. Then send me your picks, thoughts on how the race will unfold and betting strategy. It's that simple.
Contact Mike Brunker mbrunker@reviewjournal.com or 702-383-4656. Follow @mike_brunker on Twitter.
Ellis Starr's betting strategy
Betting strategy: Bet Closing Bell to win at 3-1 or more.
Play a three-horse exacta box consisting of Closing Bell, Itsinthepost and Bigger Picture.
Ellis Starr is the national racing analyst for Equibase. Visit the Equibase website for more on the race or to purchase handicapping products.