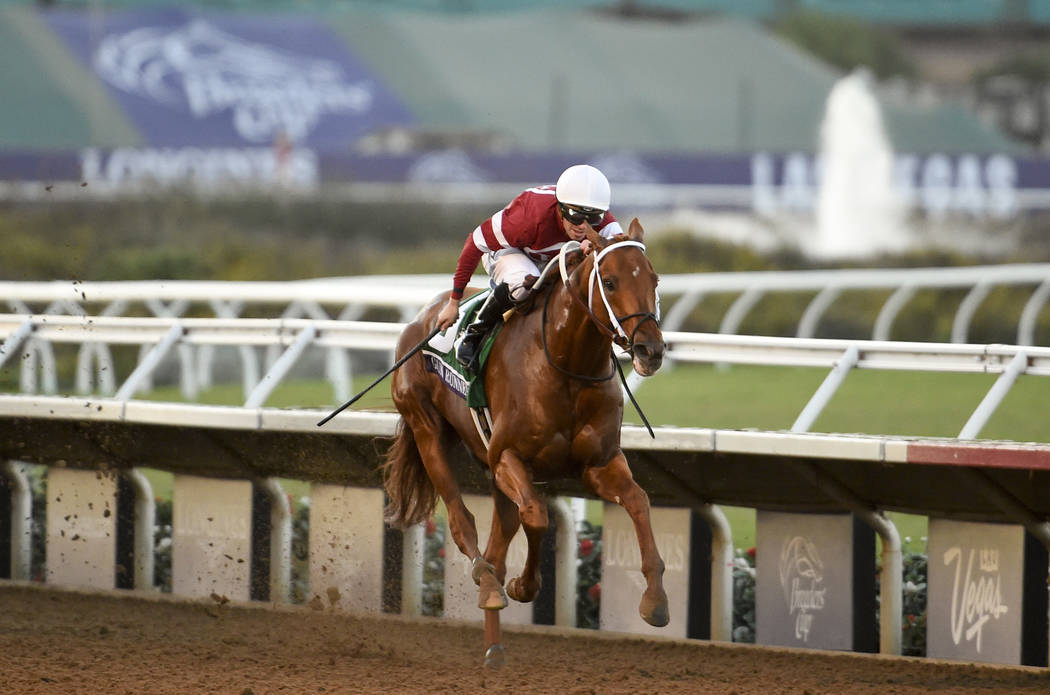 The Breeders' Cup is growing smaller in our rearview mirrors, but let's not be too quick to punch the gas and leave one of the stranger editions of the thoroughbred world championships behind.
Whenever you encounter the quirky – dare I say biased? — kind of track we saw last weekend at Del Mar, it pays to study the charts to see which horses took the worst of it – in this case speed horses racing under pressure while along the rail. Even in races that draw as much attention as the Breeders' Cup, these horses are likely to pay off beyond their true odds when they run and win in fairer circumstances.
I've got nine horses I'll be watching closely in their next starts, and I'd encourage you to make your own list. Be sure to enter them in the Daily Racing Form's "Watchmail" feature or a similar tool so you don't miss out when they are entered.
Speaking of Del Mar's main track, it's long been known as a surface that changes character like De Niro. One day it's a speed-favoring oval, the next it's a paradise for come-from-the-clouds types.
There's been a persistent theory that ocean tides are behind the switches, since the Pacific Ocean is just a few hundred yards away. But Mac McBride, longtime Del Mar press box manager, says he puts no stock in it, noting that he's heard that high tides favor front-runners and that they favor closers.
"It's just a bunch of guys at the racetrack with too much time on their hands trying to figure out why they lost," he told me.
I've never studied it, but I'm inclined to side with Mac. For what it's worth, though, the tide was high on both days at La Jolla, just to the south of the track, though the actual high tide was at 10:27 p.m. on Saturday.
Late scratches
Couple other items worth noting:
■ Breeders' Cup Classic champ Gun Runner will run once more, in the Pegasus World Cup Invitational at Gulfstream Park on Jan. 27, before heading to the breeding shed. He'll stand at Three Chimney's Farm in Versailles, Kentucky, for a $70,000 stud fee.
■ Arrogate, who won the Pegasus last year, will not defend his title, having been retired after finishing a disappointing fifth in his swan song in the Classic. He will stand for $75,000 at Juddmonte Farms in Lexington, Kentucky.
■ A reader tips me to a special offer from Brisnet: Free past performances for the current Churchill Downs meet. Access at www.brisnet.com/product/past-performances/FPP.
#RJhorseracing featured races
The #RJhorseracing handicappers never take a week off, even after stuffing themselves at a racing banquet like the Breeders' Cup. This week we're back at Laurel Park for another helping of fine Maryland racing.
Our featured races on Saturday are the $100,000 Richard W. Small Stakes, named for the late great Maryland trainer, for 3-year-olds and up over 1 1/8-miles on the main track, and the 10th race, an allowance turf sprint for fillies and mares, 3 and up.
Our crew is thinking big in the Small Stakes, looking for Watershed (9-2), a class-dropping son of Bernardini, to upset 7-2 morning line favorite Page McKenney. We had a three-way tie for third betwixt Doctor Mounty (12-1), Fear the Cowboy (6-1) and Afleet Willy (9-2).
"Top trainer, top barn, bring in top jock. Not over-raced. Won the Ben Ali Gr3. Decent in Suburban. Nice steady work pattern at a training center. Everything says 'go,'" wrote this week's mints winner Les Izmore.
I'm down with Watershed as well.
In the 10th race, our handicappers like Quality Time (5-2 morning line) over Goldwood (9-2) and Sweet Yare N Dira (5-1).
I'll try to mesmerize them with Veil Dance (8-1), switching circuits and cutting back in distance.
Join us in our effort to solve challenging thoroughbred puzzles around the country. Email me at the address below or hop on Twitter and search for the hashtag #RJhorseracing. We would love to add your brain power to our experiment in crowd handicapping.
Contact Mike Brunker mbrunker@reviewjournal.com or 702-383-4656. Follow @mike_brunker on Twitter.