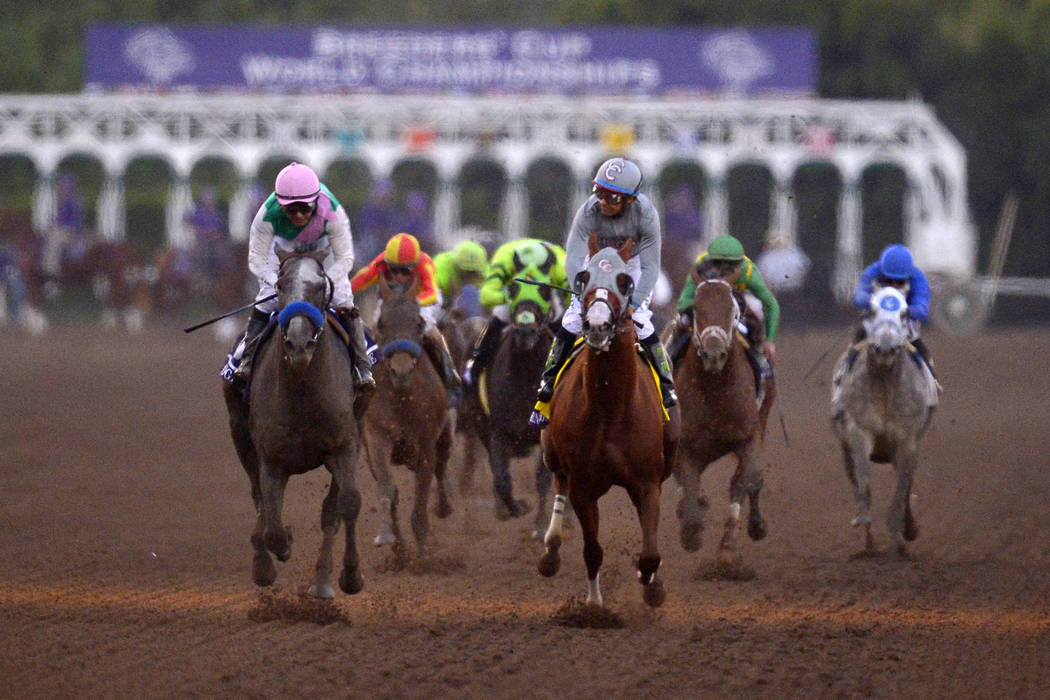 While many of the top jockeys in the U.S. are getting a bit long in the stirrups, phenomenal riding feats by two young riders this past weekend suggested that the next generation is ready to step to the fore.
We'll get to this week's featured handicapping race – the Belmont Sprint Championship Stakes — but first let's give Evin Roman, 19, and Tyler Gaffalione, 22, their due.
Roman (pronounced row-MAHN) completed a season for the record books Tuesday at Santa Anita, becoming only the second apprentice jockey to win a riding title at "the Great Race Place" and the first since Gordon Glisson did it in 1949. His 41 victories tied him with Flavien Prat for the top spot in what is arguably the deepest jockey colony in the country.
If that's not enough, consider that the "bug boy" has only been riding professionally since January after graduating from jockey school in his native Puerto Rico. Jockey agent Tony Matos deserves a ton of credit as well for picking out a diamond in the rough and lining up live mounts for him.
Gaffalione, who will turn 23 in September, was working his own magic Tuesday in Florida, racking up seven of the 11 races on the Gulfstream Fourth of July card. That tied him for the track record held by Hall of Fame jockey Jerry Bailey.
The third-generation jockey, who secured his first Kentucky Derby mount this year, appears well on his way to becoming a dominant rider on the Florida circuit, particularly when some of the snowbird riders like John Velasquez, Javier Castellano and the brothers Ortiz return to their northern haunts.
#RJhorseracing feature race of the week
Let's check in on the sprint division this week via the Belmont Sprint Championship Stakes (G2) at Belmont Park, a 6-furlong test for 3-year-olds and up. It's a Breeders' Cup "Win and You're In" race, meaning the victor gets an automatic entry to the Breeders' Cup Sprint on Nov. 4 at Del Mar.
As they've done in all three featured races so far, the Review-Journal's handicappers will try to beat the 9-5 morning line favorite, Mind Your Biscuits. The thinking is that the long trip to Dubai in March, where he won the Golden Shaheen Stakes (G1) by three lengths, might have taken a bit out of him. Also, as Les Izmore (possibly not his real name) wonders, "How likely is it that they have him fully cranked up now for a race he will surely get in anyway?"
It's a good question and one that made the majority of those who submitted their selections by the early deadline believe the 4-year-old son of Posse vulnerable on Saturday. Their picks: Unified (5-2) and a tie for second between Mind Your Biscuits and Tommy Macho (8-1). I'm on the Unified bandwagon as well, as I think he'll get a dream trip outside likely pace-setter Green Gratto (20-1). I think Mind Your Biscuits will come running late to make it close, with Stallwalkin Dude (5-1) checking in third.
Join in the fun next week. Just download the past performances for the race, courtesy of Equibase, at reviewjournal.com/horseracing Thursday morning and either email me your selections or post them on Twitter using the hashtag #RJhorseracing, along with your succinct analysis, before 5 p.m. PT. Email me or follow me on Twitter if you'd like to receive an alert when the PPs are posted.
Contact Mike Brunker mbrunker@reviewjournal.com or 702-383-4656. Follow @mike_brunker on Twitter.
Ellis Starr's betting strategy
Betting strategy: Bet Green Gratto to win at odds of 2 to 1 or higher.
Consider a win bet on Unified as well at 2 to 1 or more.
Play a three horse exacta box consisting of Green Gratto, Unified and Mind Your Biscuits.
Ellis Starr is the national racing analyst for Equibase. Visit the Equibase website for more on the race or to purchase handicapping products.