Belmont Stakes shifts from closer to starter in Triple Crown
Updated May 22, 2020 - 2:42 pm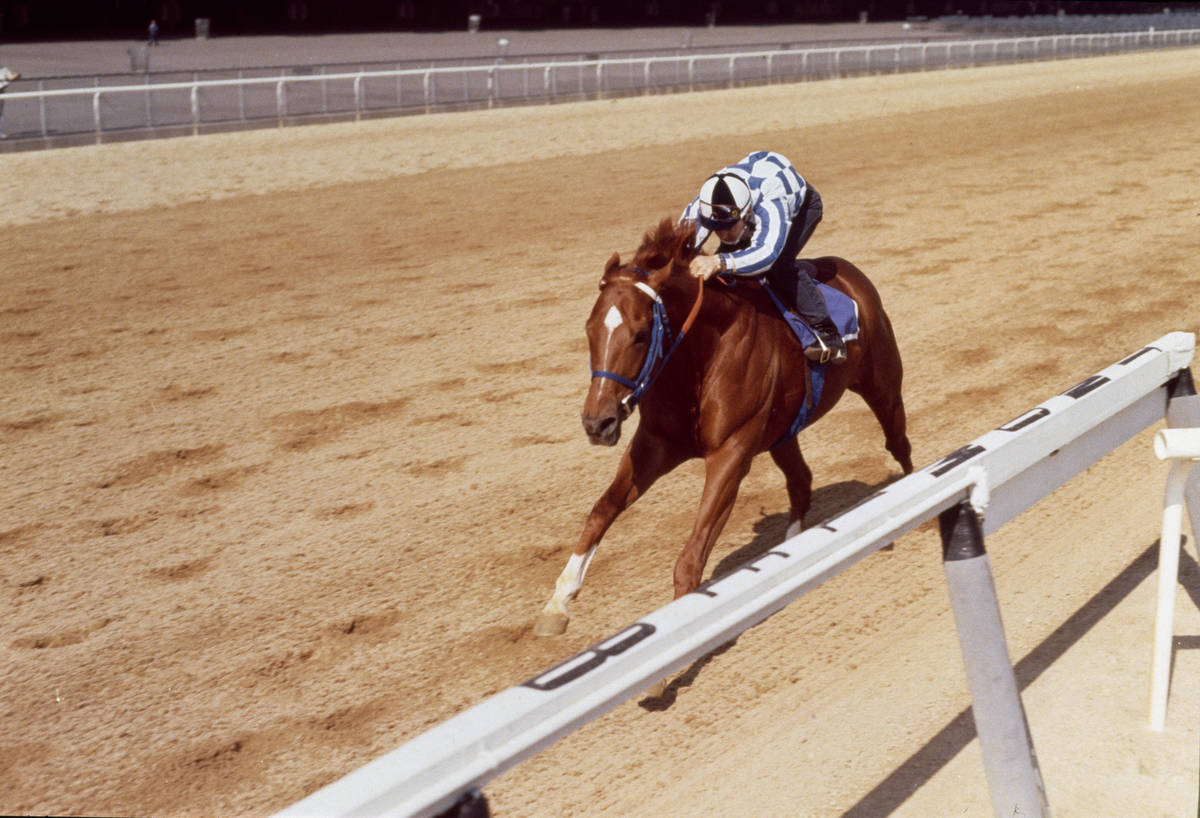 So the last shall be first.
In addition to being a fairly optimistic observation by Matthew the apostle, the phrase is an apt description of this year's Triple Crown.
Some things, like seasons for instance, are supposed to occur in a certain order. The racing series consisting of the Kentucky Derby, the Preakness Stakes and the Belmont Stakes seemed to have the same inevitable progression, but it has been turned inside out by the coronavirus.
We learned this week that the usual anchor leg of the series, the historic Belmont Stakes, will instead be the first race in the series. Officials with the New York Racing Association announced Tuesday that the Belmont Stakes will be run on June 20 at Belmont Park without fans in the massive grandstand.
That won't be the only change for the race. Instead of being contested at the usual distance of 1½-mile distance, the race will be cut to 1⅛-mile and its purse will be reduced by a third to $1 million.
In other words, the stamina test long known as the "Test of the Champion" will serve in its 152nd renewal as a warm-up for the 1¼-mile Kentucky Derby, which is now slated for Sept. 5.
The third leg, the Preakness, also landed this week in an unfamiliar spot on the calendar — Oct. 3 — and, if one horse wins the first two legs, will decide whether we have a Triple Crown winner who will require a big fat asterisk.
That means the races will be run over a span of 15 weeks instead of the usual five.
Racing purists are understandably upset over the changes, noting that adding all that extra time and shortening the anachronistic Belmont will cheapen the Triple Crown if a horse is able to sweep the series.
I don't disagree, but once Churchill Downs decided to postpone the Derby, this was probably as good of an outcome as could be salvaged. Yes, the series will be different this year, but at least it remains intact and uninterrupted.
And it will be fascinating to see how trainers adjust to try to keep their horses in top condition over an extended period of time rather than coaxing them toward a short frenzied burst of racing.
That said, I hope that the sport won't take the opportunity to further tinker with the grand history of the Triple Crown by keeping these or other changes in place.
There's a reason these races still capture the public's attention at a time when horse racing barely raises a blip on the sporting radar. Messing with the recipe for success would be a big risk.
#RJhorseracing featured races
The #RJhorseracing handicappers are back in action at Churchill Downs, which has put together a stakes-packed 11-race Saturday card that will feature one of the newly important prep races for the jumbled Triple Crown: The $150,000 Matt Winn Stakes.
The Winn, which will be contested at 1 1/16th miles, marks the return of Maxfield, one of the top 2-year-olds last year before missing the Breeders' Cup Juvenile shortly before the race with what turned out to be a minor ankle injury. The son of Street Sense would have been one of the favorites in that race off his scintillating performance in the Breeders Futurity at Keeneland in his first start against stakes company.
But first the crowd 'cappers must solve the $100,000 Blame Stakes, a 1-mile race for 4-year-olds and up that precedes the Winn on the card.
In that race, the handicapping crew is lining up behind Global Campaign, the 9-2 second choice on the morning line, and using Diamond King (10-1) and Silver Dust (8-1) in the minor placings. Interestingly, they are ignoring 3-1 morning line favorite Owendale.
If Owendale isn't well meant in his comeback for trainer Brad Cox, I didn't get the memo. I think he's the horse to beat despite the nearly six-month vacation. But I'll try to do just that with Extraordinary Jerry (12-1), who is making a comeback of his own for trainer Dermot Magner, a former understudy of Todd Pletcher and Chad Brown. I'll go with Owendale to place and the speedy Backyard Heaven (6-1) to show.
In the Winn, the crowd 'cappers are again steering clear of the chalk and backing Pneumatic, the 4-1 second choice on the morning line, to spoil the return of Maxfield, the 5-2 favorite. They have Maxfield in second and Ny Traffic (10-1).
I'm not sure why Ny Traffic doesn't get more respect, as he keeps running well in top company. But his speed and a cutback in distance earn my check mark. I'll use Maxfield and Mystic Guide (15) in the minor placings.
Mike Brunker's horse racing column appears Fridays. He can be reached at mbrunker@reviewjournal.com or 702-383-4656. Follow @mike_brunker on Twitter.
Ellis Starr's Matt Winn Stakes analysis
Although he is trying stakes company for the first time, Pneumatic has a very good shot to run well enough to win the Matt Winn Stakes. Having won a six-furlong sprint at first asking by a neck in February, Pneumatic improved substantially to win around two-turns in his second career start last month, earning a 96 Equibase Speed Figure. For a first level allowance win that was an excellent figure and the colt is bound to run even better in this race. To put that 96 figure in perspective, Louisiana Derby runner-up Ny Traffic earned a 97 figure, and Maxfield earned a 97 figure winning the Breeders' Futurity last fall. In that allowance win last month, Pneumatic ran four paths wide on the entire far turn and powered away nicely like a colt with a bright future. As a son of excellent sire Uncle Mo, who (according to STATS Race Lens) has sired the winners of 18 of 69 (26%) dirt route stakes races for three year old males over the past five years, for a big 129% profit on every $1 wagered, if Pneumatic takes a logical step forward in his third career start he can win the Matt Winn.
Mystic Guide is the horse most likely to have a say in whether Pneumatic wins or not as he's another colt who ran a visually impressive race to win his most recent start. That win, on March 21, followed a third-place debut in a sprint (just like Pneumatic) and resulted in a 99  figure which is tied for the best last race in the field with Attachment Rate's 99 figure when second in the Unbridled Stakes. In that March race, Mystic Guide was five paths wide on the turn before showing excellent acceleration to go from fifth to first, gaining a two length advantage with an eighth of a mile to go then widening to an easy five length win. As a son of Ghostzapper, Mystic Guide is another who is bred to be a top caliber horse and perhaps with just logical improvement off that last effort he can earn his first stakes win and throw his name into the hat as a Kentucky Derby contender.
Major Fed draws the extreme outside in this 12-horse field but as he has a late running style that position in the gate should not hurt his chances as he can drop back and save ground before the first turn. Drawing the rail in the 14 horse Louisiana Derby field in March, Major Fed broke slowly and was last for the first mile then moved six paths, then eight paths wide, into the stretch, ending up just a half-length from the third horse. Having earned 96, 92 and 93 figures in his last three starts including when second in the Risen Star Stakes, Major Fed is on the threshold of being a big player in this race with just slight improvement. Considering Joel Rosario, who rode Major Fed for the first time in the Louisiana Derby, has chosen to ride him back suggests one of the top jockeys in the country has some confidence in this colt's ability to succeed with a better trip.
Maxfield deserves honorable mention, not only because he's undefeated in two starts but because he has a grade 1 win to his credit. After breaking his maiden his first time out at Churchill Downs last September, Maxfield was visually impressive winning the Breeders' Futurity by five lengths in October with a 97 figure. He's had setbacks since then and it is quite the task to return from seven and one-half months away and not only win a two-turn race, but to do it in a field of horses which have all run much more recently. Attachment Rate deserves to be mentioned as a contender as well, with 98 and 99 figures in his last two races, most recently in the Unbridled Stakes at the distance of the Matt Winn. Ny Traffic is one more I might consider, along with Maxfield and Attachment Rate, for minor awards and using on exacta tickets in the second position. Since moving to the barn of Saffie Joseph, Jr. before his January 20 start, Ny Traffic has run three very good races in a row. Starting with a six and three-quarter length win in that race, Ny Traffic was beaten a neck by Major Fed for second in the Risen Star. Then in the Louisiana Derby he raced in second from start to finish behind winner Wells Bayou. He may be a need-the-lead type, as is Celtic Striker, but if the two of them don't battle hard for the early lead Ny Traffic could be in the thick of the action down to the wire.
The rest of the field, with their best Equibase Speed Figures: Celtic Striker (88); Crypto Cash (93); Flap Jack (79); Informative (87); Necker Island (99); and Shake Some Action (89).
Ellis Starr is the national racing analyst for Equibase. Visit the Equibase website for more on the race or to purchase handicapping products.