Bob Baffert's 'Dream Team' among contenders for Breeders' Cup Classic
Updated November 5, 2020 - 7:52 pm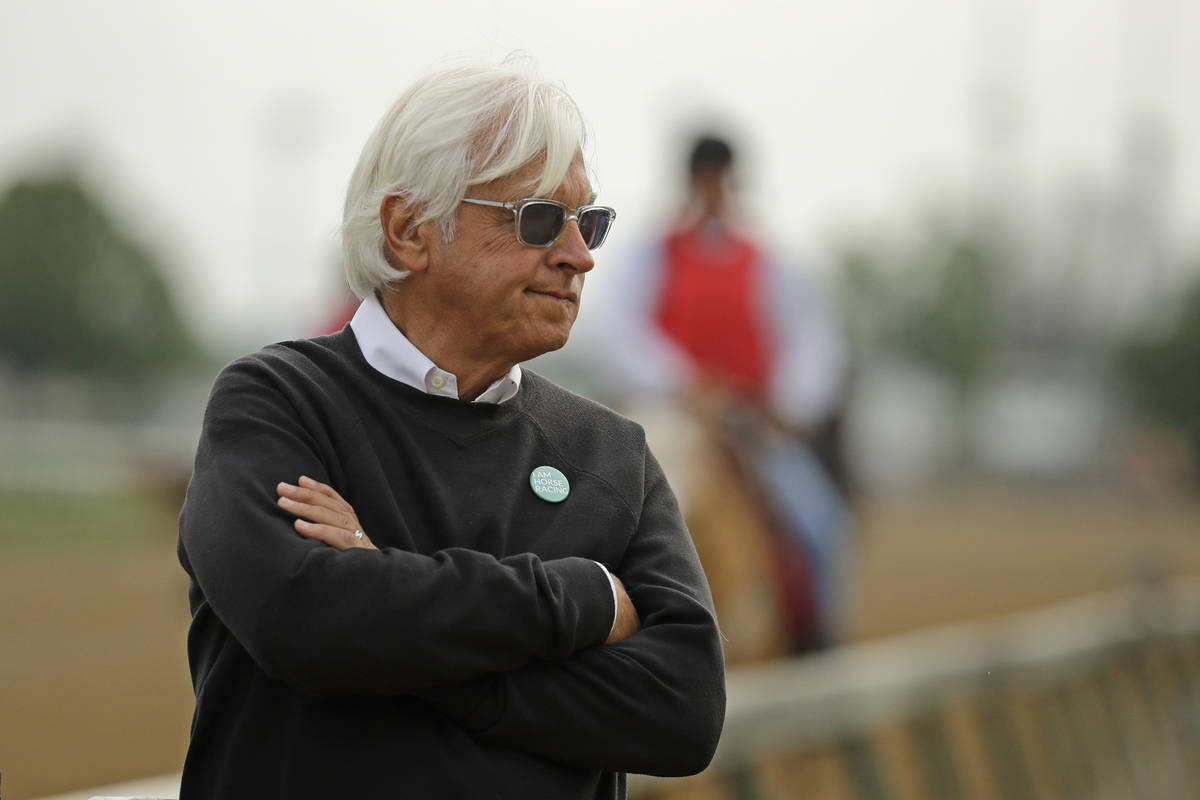 It took the Breeders' Cup to get this handicapper off his sickbed.
Racing's two-day international extravaganza returns to Keeneland on Friday and Saturday, with 14 outstanding stakes races to be run sans fans. Each race is its own challenging divisional puzzle, with generally full fields of superstars from North America and abroad competing for the winner's share of purses ranging from $1 million to $6 million.
That makes for fabulous betting opportunities. Lingering health problems or not, there was no way I was going to miss it.
Most horseplayers will want to open their wallets early in the proceedings, as the contentious undercard races often offer some of the best betting of the event.
But we're cutting to the chase and focusing on the event's capstone — the $6 million Classic.
The 37th running of the Classic features one of the most accomplished fields assembled for the 1¼-mile race for 3-year-olds and up, with eight of the 10 entrants having earned more than $1 million.
Hall of Fame trainer Bob Baffert's "Dream Team" trio of Improbable, the 5-2 morning line favorite, Kentucky Derby winner Authentic and the notorious Maximum Security will draw the most attention at the windows. Other top contenders include Tiz the Law (3-1), winner of two-thirds of the Triple Crown in the year of the coronavirus, top older horse Tom's d'Etat (6-1) and By My Standards (10-1), first or second in all six starts this year.
The Baffert threesome drew the outside three stalls in the starting gate, but should not be overly compromised. Authentic (6-1) appears to have enough speed to cut across the field and get near the rail before the first turn, and Maximum Security (7-2) should be able to draft right behind his 3-year-old barnmate. Improbable should be able to pick a spot midpack that will keep him out of the crowd and give him a clear shot at the leaders at the top of the stretch.
Tiz the Law, the other 3-year-old in the field, could be compromised by the draw of Post 2, as the speedy stalker has appeared uncomfortable when racing inside in one previous race and Manny Franco will have a tough time guiding him to his customary outside stalking position from there.
So who's going to win?
The razor-sharp Improbable is the most likely winner, entering the race off three straight Grade 1 victories — the Awesome Again Stakes at Santa Anita, the Whitney Stakes at Saratoga and the Gold Cup at Santa Anita. His off-the-pace running style is also a plus where they figure to go fairly fast early.
Improbable, who will be ridden by 2020's leading jockey by earnings, Irad Ortiz Jr., flashed talent at 3, but it took another year for Baffert to find the consistency that has been his hallmark. His only defeat this year was in his comeback race, the $150,000 Oaklawn Mile on April 11, when he finished second to Tom's d'Etat after surrendering the lead in deep stretch.
He was probably a short horse that day, but now he's at the peak of his powers and looks tough to deny in this spot.
The horse with the best chance of doing that is likely Tom's d'Etat, who has been rested three months for this race after finishing third to Improbable in the Whitney on Aug. 1.
Tom's d'Etat, a 7-year-old son of Smart Strike, stumbled and broke slowly that day and was left with too much work to do in the stretch. He rallied moderately down the center of the track to finish third, 2½ lengths behind the winner and a half length behind runner-up By My Standards.
Trainer Al Stall has given the old-timer a break since then, but a recent series of bullet workouts suggests the clear leader in the older horses division earlier this year after victories in the Clark and Stephen Foster stakes at Churchill Downs and the Fayette Stakes (Grade 2) at Keeneland is ready for a top effort.
I'll make a sizable win bet on Tom's d'Etat at 5-1 or higher, and box my top two in exactas. I'll probably play a few small trifectas and/or superfectas, using Improbable and Tom's d'Etat atop logical contenders, like Authentic, Maximum Security, By My Standards (10-1) and Global Campaign (20-1) in the lower placings.
Mike Brunker's horse racing column appears Fridays. He can be reached at mbrunker@reviewjournal.com or 702-383-4656. Follow @mike_brunker on Twitter.
Elllis Starr's BC Classic analysis
Even with the fantastic depth in this year's Breeders' Cup Classic, I think Improbable and Tom's d'Etat are the ones to beat. This assessment is based on not only how fast they've run, but their attitude about winning.
Tom's d'Etat won two graded stakes to close out his 2019 campaign including the Hagyard Fayette Stakes last fall at Keeneland That effort earned a 116 Equibase Speed Figure, the second best he had earned to that point in his career, with the best being 118 in the Alydar Stakes two months earlier. In his 2020 debut in April and even after five months off, Tom's d'Etat rallied from eighth to win the Oaklawn Mile Stakes over Improbable by three-quarters of a length with a 113 figure. In the Oaklawn Mile, Improbable had opened up a two length lead in the stretch and appeared to have victory in hand but Tom's d'Etat gained ground with every stride to win going away. Two months later Tom's d'Etat won the Clark Stakes with a 116 figure and was on a pattern for significant improvement before a bad stumble at the start of the Whitney Stakes in August, resulting in a third place finish. Still, Tom's d'Etat improved to a 117 figure in the Whitney, quite impressive in my opinion. Whitney winner Improbable came right back to win the Awesome Again Stakes and runner-up By My Standards won the Alysheba Stakes, both flattering Tom's d'Etat. Particularly as Tom's d'Etat has relished returning off similar layoffs in the past, I think he can run just as he did in the Oaklawn Mile and post the mild upset in this year's Breeders' Cup Classic.
Improbable has become a different, better, horse since the addition of blinkers before last summer's Shared Belief Stakes. Going into that race, Improbable had won three of seven races but his two just prior to the Shared Belief were poor efforts when fifth in the Kentucky Derby and sixth in the Preakness Stakes. Since then, Improbable has won four of seven, but it's his most recent three efforts which were the most impressive. After returning from five months off and being defeated by Tom's d'Etat in the Oaklawn Mile Stakes, Improbable won the Gold Cup at Santa Anita in June (at the distance of the Classic) with a 116, which was the second best of his career. Following up with wins in the Whitney and in the Awesome Again, both with career-best 120 figures, Improbable enters the Classic in the best form of his life. As impressive is the authoritative way in which Improbable has run in his last three races, each time opening up by many lengths with an eighth of a mile to go and holding that advantage to the wire while unchallenged. Granted, in the Oaklawn Mile he had opened up as well and was run down by Tom's d'Etat in the stretch but since then no other horse has worried Improbable in the late stages. Therefore if Tom's d'Etat can't repeat what he did in the Oaklawn Mile, Improbable is very likely to have a commanding lead early in the stretch and win his fourth straight grade 1 race.
About the rest: Lines of separation between most of the other eight contenders in this year's Breeders' Cup Classic are thin, but the line separating them from the top two contenders is not thin in my opinion. I'll take them in alphabetical order, starting with Authentic, whose results on the track match his name with five wins and two runner-up efforts in seven starts. Two of those came at, or very close to, this Classic distance, in the Kentucky Derby and in the Preakness Stakes. Authentic ran valiantly in both, winning the former and coming up a neck shy of Swiss Skydiver in the latter. However, he did not improve in terms of his speed figures, with both efforts resulting in 109 figures, the same as he earned winning the Haskell Stakes in July. I'm just not enamored with this pattern, particularly as I would expect a 3-year-old to continue to improve in the fall. He's a very talented horse but in my opinion he's no match for Improbable or Tom's d'Etat at this stage.
The same can be said for By My Standards, who has won four of six this year and finished second in the two others. Those two runner-up efforts came behind Improbable in the Whitney and behind Tom's d'Etat in the Foster. Although the figures earned in those races, 118 and 110, respectively, were better than the 109 figures Authentic earned in his last three races, I don't see By My Standards turning the tables on either Improbable or Tom's d'Etat in the Classic.
Global Campaign earned back-to-back 109 figures in the Monmouth Cup and in the Woodward Handicap, the latter at the distance of the Classic I don't see him moving up to the level needed to win. Additionally, Global Campaign won both races leading from start to finish with the exception that he was second with an eighth of a mile to go in the Monmouth Cup. In this year's Classic that "early" running style is shared by Authentic and possibly By My Standards as well as Maximum Security.
Maximum Security was no match for Improbable in the Awesome Again, and when winning the Pacific Classic Stakes and San Diego Handicap prior to that faced competition which, for the most part, would be overmatched in this race. He did earn a 118 figure in the Pacific Classic but the 107 in the San Diego and the 113 he earned in the Awesome Again were more a function how fast Improbable ran than the effort Maximum Security put forth. There's no doubt Maximum Security is one of the best horses in the country at this level, but perhaps not the best in this field.
Tiz the Law would be a top contender in this year's Classic if not for the fact that it appears he peaked when winning the Travers Stakes in August. After winning four straight graded stakes from February through August, with a strong pattern of improving figures (112, 113 and 115) through the Travers, Tiz the Law not only could not pass Authentic in the stretch in the Kentucky Derby, his 107 figure suggests he was not as fast in September as he was earlier in the year. Still, he's another horse in this year's Classic with no real knocks, winning six of eight races in his career and earning $2.6 million.
Tacitus (110 best figure) has run evenly in his last two races with 107 and 105 figures and doesn't appear as fast, or to have as much will to win, as many of the others. Higher Power earned a 113 figure winning the 2019 Pacific Classic but hasn't shown the same ability since and particularly as he has been beaten three to six lengths in his last three races, twice by Maximum Security, he appears a bit over his head here.
Title Ready earned a career-best 114 figure in the Stymie Stakes when second 19 months ago and has one allowance win to his credit since. He's never run the Classic distance so far in his career.
Ellis Starr is the national racing analyst for Equibase. Visit the Equibase website for more on the race or to purchase handicapping products.