Don't bank on Accelerate beating Justify for Horse of Year honors
Updated November 8, 2018 - 5:46 pm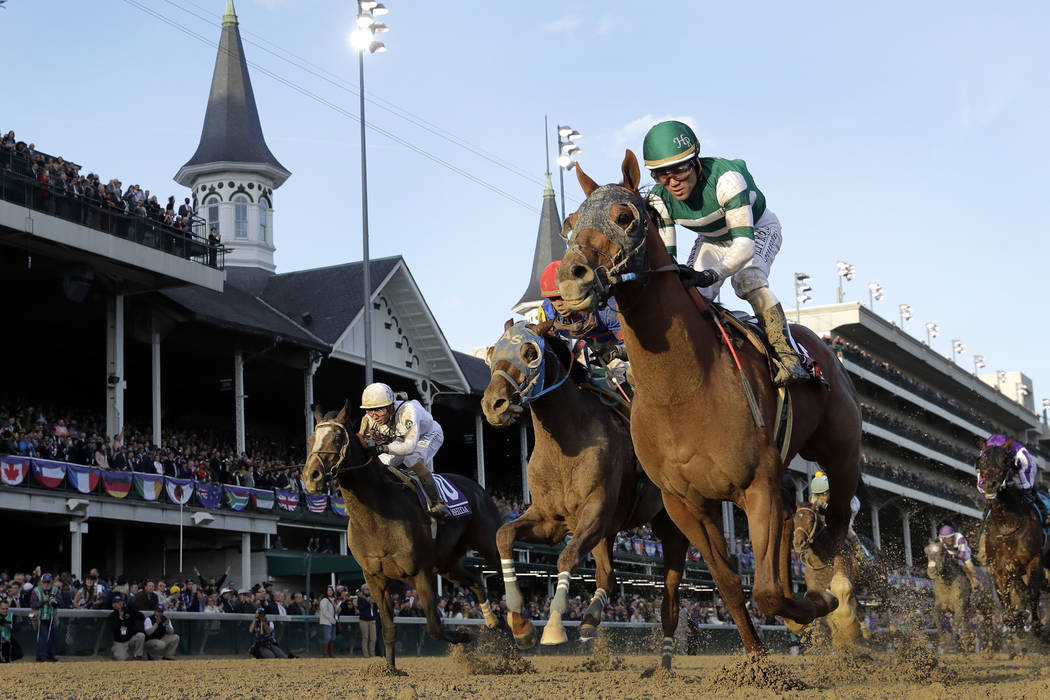 Move along, folks, there's no debate to see here.
Accelerate had barely cooled down after his Breeders' Cup Classic victory on Saturday when some observers began making the argument that he — not Justify — is most deserving of Horse of the Year honors.
Among them were Brisnet.com writer Vance Hanson, who wrote an article headlined "Why a yes for Accelerate is not a 'no' for the Triple Crown."
In it, he argued that Accelerate deserves the Horse of the Year honors because Justify never faced older horses in his undefeated six-race career.
The gist of his argument is that beating one's elders was once a virtual requirement for a 3-year-old to capture horse racing's highest year-end honor, a practice that has fallen by the wayside in recent years.
Without really saying so, he implies that we should fight back against this trend of avoiding intergenerational matchups by denying Justify Horse of the Year .
A secondary argument has been raised that this year's 3-year-old crop seems to be an especially weak bunch, so Justify was beating no one when he cruised to racing's elusive Triple Crown before being retired because of an ankle injury.
In contrast, Justify's critics say, Accelerate won six graded stakes on the year, five of them Grade 1s, against top competition of all age groups and was just a neck shy of making it seven-for-seven.
Discussing the merits of each horse is a worthwhile exercise, especially given that Eclipse Award voting is completely subjective.
But in this case, it's like participating in moot court in law school: No matter how forcefully you argue that Accelerate is a deserving honoree, the award is going to the 13th Triple Crown winner, Justify.
The reason is that the Triple Crown has attained near-mythical status since Sir Barton won the Kentucky Derby, Preakness Stakes and Belmont Derby in 1919 (though the term itself didn't come into use until around 1930).
Given the respect for tradition that permeates the racing game, I can't see a bunch of racing officials and turf writers deviating from history and making Justify the first Triple Crown winner not to also take home the Horse of the Year title.
That's not to say the decision will be right or wrong. That's just the way it is.
#RJhorseracing featured races
The #RJhorseracing handicappers this week have their eyes fixed on Laurel Park in Maryland, aiming to unlock the riches within the $100,000 Safely Kept Stakes, a seven-furlong test for 3-year-old fillies, and the $100,000 Richard W. Small Stakes, a 1⅛-mile test for 3-year-olds and up.
In the former, the crowd 'cappers are heavily supporting Split Time, a Linda Rice-trained Belmont shipper who is the 6-1 fourth choice on the morning line.
They like Estilo Feminino, the 7-2 morning line favorite, and Special Relativity (9-2) to fill out the trifecta.
"She's cutting back to seven furlongs at just the right time — at a good price," crew member Dean Wright wrote of the group's selection.
I know the risk of going against the gang when they're zeroed in on a price horse, but I like Special Relativity, who was unlucky to lose her last race when the jock dropped the whip in the stretch and would otherwise be sitting on a three-race win streak. I'll take Estilo Femenino to place and the fresh long shot Smokinpaddylassie (8-1) for the show.
The crowd 'cappers are climbing back in off their limb in the Richard W.
Small Stakes, lining up behind 4-1 morning line favorite Something Awesome, winner of two straight stakes races before faltering in the sloppy Pimlico Special (Grade 3). They like Unbridled Juan (8-1) and Name Changer (9-2) underneath.
"Throw out the Pimlico Special. Otherwise he's three of four this year, four of five at Laurel and two for two at the distance," handicapper Mas Yoshinaga wrote of the crew's consensus pick.
I'll take Name Changer, the defending champion and a recent Grade 3 winner, on top over Something Awesome and Doctor Mounty (7-2).
Mike Brunker's horse racing column appears Friday. He can be reached at mbrunker@reviewjournal.com or 702-383-4656. Follow @mike_brunker on Twitter.