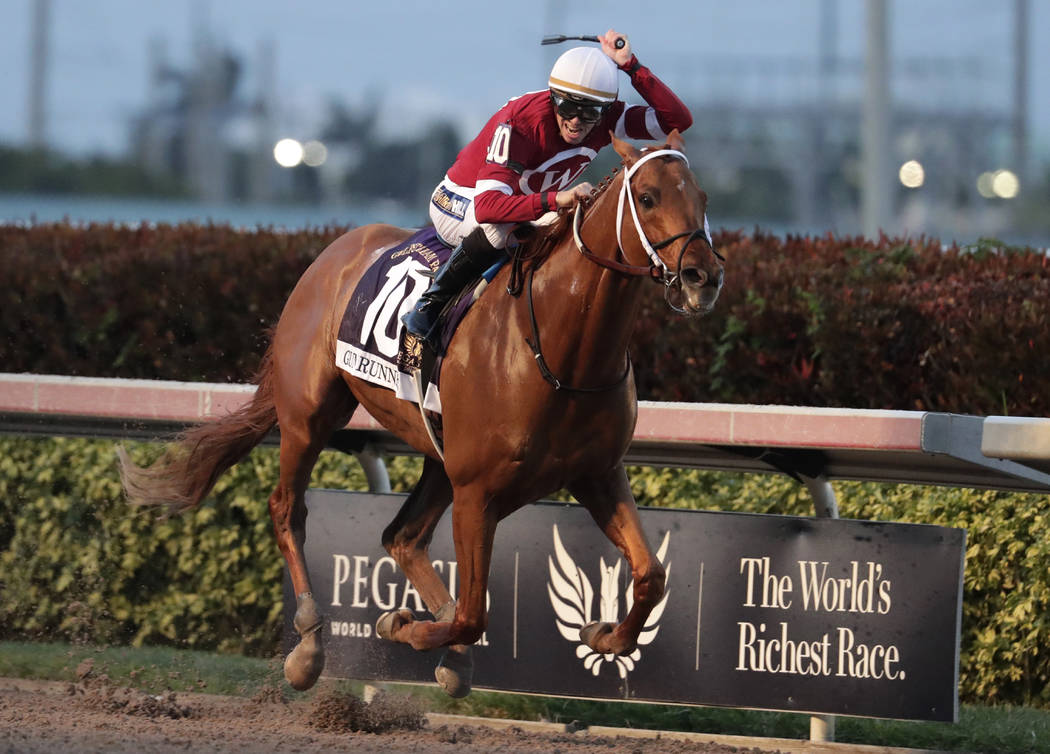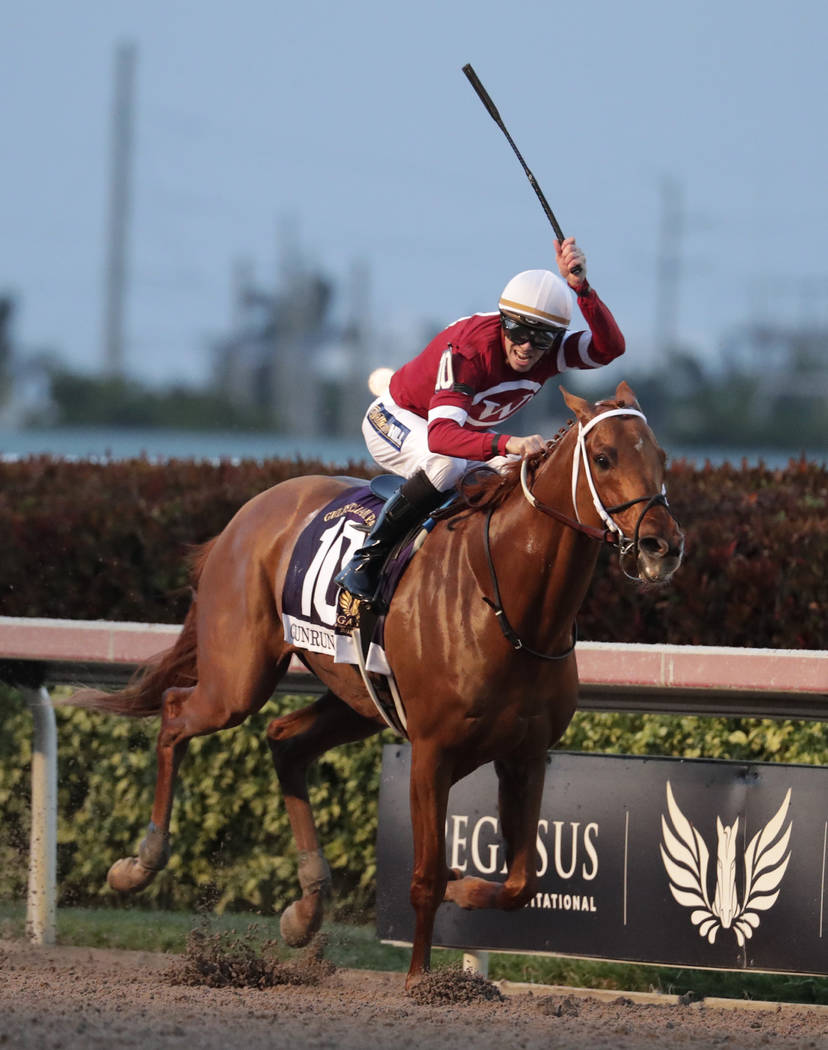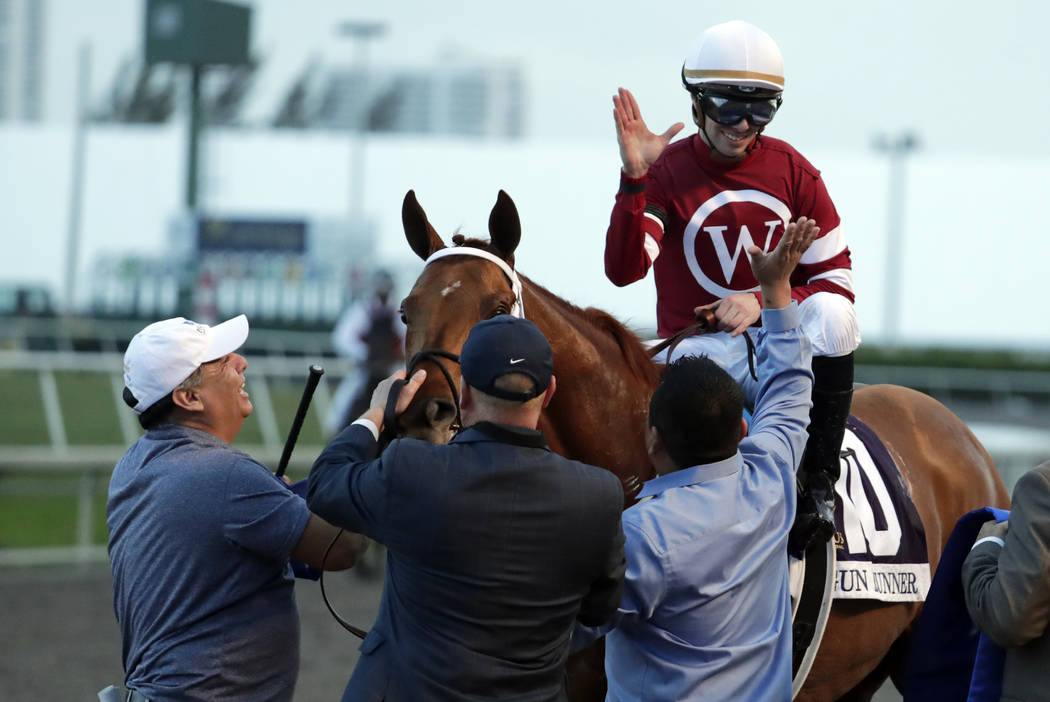 We'll head up the on-ramp and get back onto the road to Louisville momentarily, but first let's take a moment to savor Gun Runner's amazing performance Saturday in the Pegasus World Cup.
I'm still kicking myself for thinking his tough outside post position might get him beat in the $16 million race, his final appearance before heading to the breeding shed.
In doing so, I failed to realize just how special he is.
"Class laughs at things like pace and post position," Les Izmore, a member of our #RJhorseracing handicapping corps, reminded me after the race.
That wasn't red boarding — a term used to describe horseplayers who like to talk about what an obvious choice a horse was after the race is run. Les is a savvy judge of equine talent and was singing Gun Runner's praises in comparison to the competition well beforehand.
He also reviewed the race to make sure it was as strong as it appeared to the naked eye. It survived the test: Each of the first four quarter miles was run in 24 seconds or less before the pace began to wilt in the final eighth of a mile.
"A top class horse brought to the very peak of condition," Les wrote. "He may go down as one of the all-time greats. My opinion: He would have beaten American Pharoah or California Chrome if each was on their best day. Comparable, perhaps, to Seattle Slew."
I share this because there are two important lessons to take away:
First, I fell into a common trap. Horseplayers have to be contrarians to some extent and look for weaknesses in heavy favorites. But they also have to recognize when there really aren't any, particularly when high-class horses are involved.
Second, Les sets an example for us all through his diligence in reviewing races. The rewards for doing so extend beyond quantifying greatness. They also will fatten your wallet.
#RJhorseracing featured races
Our team of handicappers hops back onto the Triple Crown trail by tackling the Holy Bull Stakes (Grade 2) at Gulfstream Park and the Robert B. Lewis Stakes (Grade 3) at Santa Anita, both of which will be contested Saturday at 1 1/16th miles.
Eleven runners are suited up for the Holy Bull, led by 3-1 morning line favorite Enticed, winner of the Kentucky Jockey Club Stakes (Grade 2) at Churchill Downs in his last start.
That was more than two months ago, though, and our crew thinks he may need a race. They favor Audible (6-1), Free Drop Billy (6-1) and Mississippi (5-1).
At my peril, I'll go a different direction: Pony Up (8-1), who is in sharp form but switches from turf to dirt for trainer Todd Pletcher.
In the Robert B. Lewis Stakes, the crowd 'cappers foresee another mild upset, with Shivermetimbers (7-2) holding off 3-1 favorite Peace and distant third-place finisher Inscom (6-1).
This week's featured comment comes from Tim Lubeck, who said the group's top pick "won't get stopped this time," referring to trouble in the upper stretch in his last race, the Sham Stakes (Grade 3). He added, "Give Peace a chance" while picking him third, a quip that demands recognition.
I like Shivermetimbers as well, but I'll put my money on Inscom, another turf-to-dirt switcher coming off a big effort.
Join us next week by emailing me or searching for the #RJhorseracing hashtag on Twitter.
Mike Brunker's horse racing column appears Friday. He can be reached at mbrunker@reviewjournal.com or 702-383-4656. Follow @mike_brunker on Twitter.
Ellis Starr's Holy Bull Stakes analysis
Master Manipulator is on a pattern to run the best race of his career, good enough to post the upset in this year's Holy Bull Stakes and with none of the questions of recent form shadowing some of the other entrants. On Jan. 3, when trying two-turns for the first time, he was a different horse as he led from start to finish on relatively fast fractions and was never threatened, earning a career best 98 Equibase Speed Figure. With a lot of improving to do in his third start off the layoff and second two-turn start over the track, Master Manipulator should also benefit from Eclipse Award winning jockey Jose Ortiz riding him for the second time. With Aequor likely to go for the lead from the start on the stretchout to two-turns, Ortiz can use the tactical speed of Master Manipulator to drop him to the rail and save ground from the start before taking over in the stretch and holding off the closers.
Pony Up also makes his third start off a layoff, having finished second in both the Pulpit Stakes and Kitten's Joy Stakes on turf since being away from the races from Oct. 22 to Dec. 9. He improved to a career-best (and field high) 102 figure in the latter, missing by a neck at the finish after being seventh with an eighth of a mile to go. Pony Up can transfer that form to dirt as he continues to improve because he did finish second (beaten a half-length) in his only dirt start and because he is a half-brother to a couple of very nice horses who have won around two-turns on dirt. John Velazquez takes over riding Pony Up for the first time and trainer Todd Pletcher and Velazquez won nearly 30 percent of their races together in the last 12 months.
Audible is the other Pletcher trainee and is another Holy Bull entrant on an improving pattern of efforts and Equibase figures. After a big finish in his September debut, from 19 lengths back early to four lengths back at the wire, Audible improved to an 89 figure when breaking his maiden in November lengths. In his next start on Dec. 6, he improved a lot when winning by nine and three-quarter lengths and earning a 99 figure. While I have concerns about some of the other horses in the field returning from 60 days or longer on the bench, I don't have the same concerns with Audible because according to Stats Race Lens, Pletcher's runners have won nearly one-quarter of the time over the past two years from this type of layoff.
Ellis Starr is the national racing analyst for Equibase. Visit the Equibase website for more on the race or to purchase handicapping products.