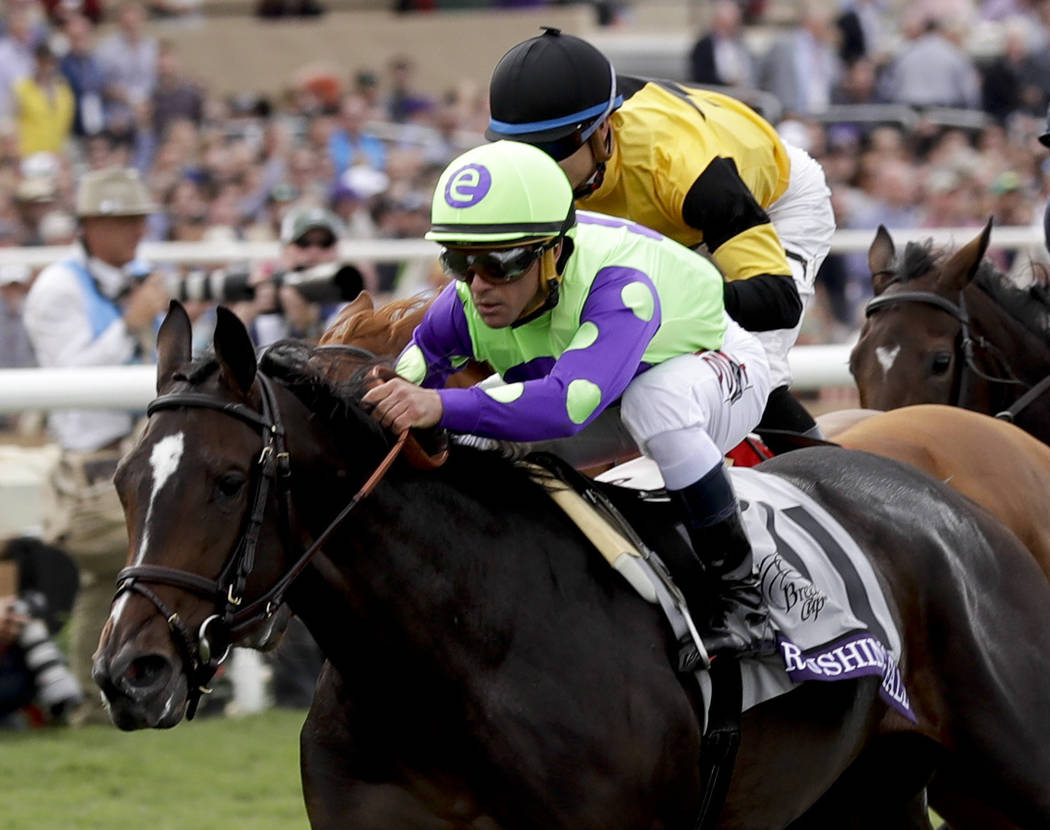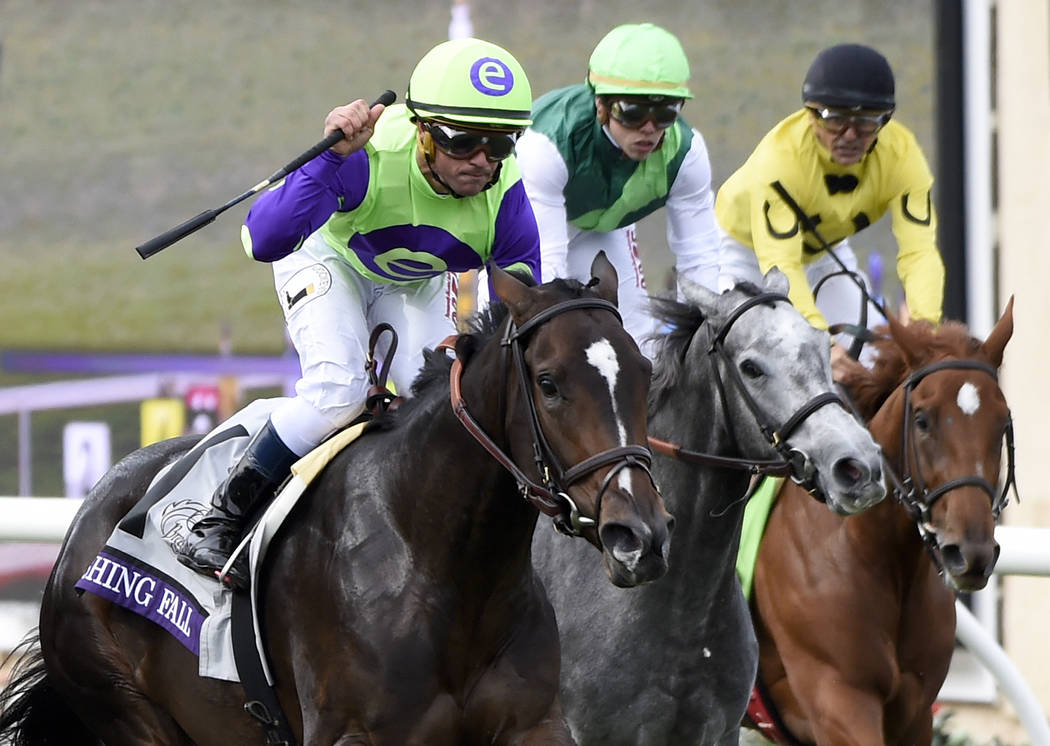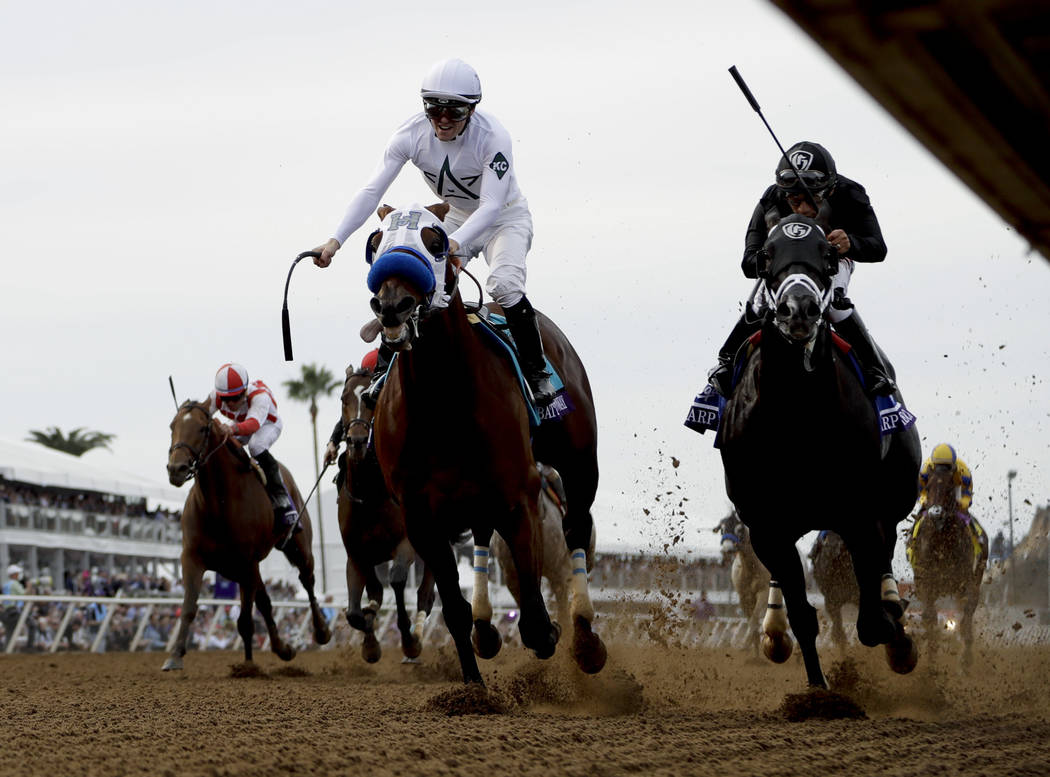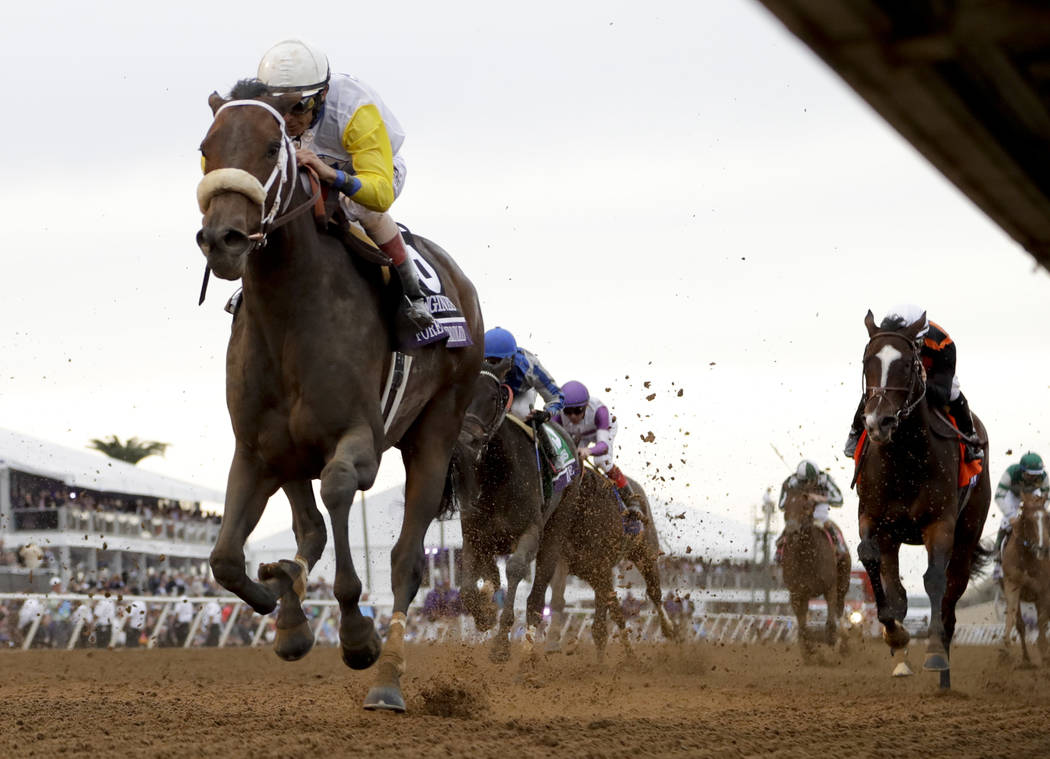 DEL MAR, Calif. — Your appetite for great racing should have been whetted by the opening day of the first Breeders' Cup at Del Mar, and Day 2 promises to build to a Classic crescendo.
While Breeders' Cup races are generally known for their unpredictability, with entrants hailing from all corners of North America and Europe, as well as the occasional entrant from another continent, fancied runners performed decently in the first four Breeders' Cup races on Friday. A favorite (Mendelssohn in the Juvenile Turf), second-choice (Rushing Fall in the Juvenile Fillies Turf) and third-choice (Forever Unbridled in the Distaff) all brought home the bacon.
But there also were also a few flops by heavily bet favorites — Happily, 2-1 in the Juvenile Fillies Turf, and Mor Spirit, 2-1 in the Dirt Mile — as well the sort of bomb you expect in these races — Battle of Midway winning the Dirt Mile and returning $30.40 to his backers.
That suggests more fireworks are likely Saturday.
So while the connections bask in glory, it's back to the desk for the rest of us to apply the lessons learned on the first day.
Here are a few things to consider as you size up the nine remaining races Saturday:
— We're working with a small sample here, with Del Mar only running since Wednesday, but Friday's races in particular seem to indicate that the middle of the dirt track is the place to be for the stretch run. The winners of both Breeders' Cup dirt races and every other dirt race on Friday's undercard were won by horses racing off the rail. Most winners were closing, but even the lone wire-to-wire winner stayed in the three path down the stretch.
That's not atypical for Del Mar, and it doesn't mean you can just automatically bet on horses with outside post positions, but it does suggest that a horse drawn inside facing significant pace pressure might be in for it.
— The European horses flocked to California to give the new Del Mar turf course a try and went 1-for-2, with the Aiden O'Brien-trained Mendelssohn taking down the Juvenile Turf with an inside stalking trip. What was interesting to me was that both winners were running close to the pace by the second call and had enough left to hold off the runners closing from the back of the pack.
Again, that's too small a sample to use confidently, but if the trend holds in the early grass races, it might be time to take a stand against European closers who don't possess any early lick.
One of the top European horses, Ulysses, was scratched from Saturday's $4 million Turf upon the recommendation of track veterinarians. Ulysses was the early 7-2 favorite.
— Hall of Fame trainer Bob Baffert might be expected to dominate a Breeders' Cup in his backyard, but he went 0-for-3 Friday — with Cupid and Mor Spirit checking in at the back of the pack in the Dirt Mile and Abel Tasman finishing a closing second in the Distaff. It's hard to imagine that he'll go home empty-handed, especially when he saddles four of the 11 runners entered for the $6 million Classic, but it's worth keeping an eye on how his horses perform in the earlier races.
— Having run well previously over the Del Mar track isn't an automatic ticket for success. Stellar Wind, who was 3-for-3 over the seaside oval entering the Distaff, had a troubled start and faded to last late.
#RJhorseracing handicappers
Our Review-Journal handicappers had a decent first day, tabbing Juvenile Fillies Turf winner Rushing Fall. Her $8 win price means it was a break-even day on win bets, but that should mean the bankroll is in good shape for Saturday, unless you spent too much chasing exotics.
Yours truly had a blind-squirrel moment and landed on Battle of Midway in the Dirt Mile for that $30.40 payoff.
Listen to analysis on the rest of the races here:
Contact Mike Brunker at mbrunker@reviewjournal.com or 702-383-4656. Follow @mike_brunker on Twitter.
Breeders' Cup winners on Friday
Distaff — Forever Unbridled, $9.40
Juvenile Turf — Mendelssohn, $11.60
Juvenile Fillies Turf — Rushing Fall, $8
Dirt Mile — Battle of Midway, $30.40
Saturday's Breeders' Cup picks
Juvenile Fillies
Mike Brunker: 1. Moonshine Memories; 2. Maya Malibu; 3. Gio Game
#RJhorseracing handicappers: 1. Heavenly Love; 2. Moonshine Memories and Separation of Powers (tie)
Turf Sprint
Brunker: 1. Holding Gold; 2. Disco Partner; 3. Lady Aurelia
#RJhorseracing handicappers: 1. Lady Aurelia; 2. Marsha; 3. Disco Partner
Filly & Mare Sprint
Brunker: 1. Constellation; 2. Highway Star; 3. Skye Diamonds
#RJhorseracing handicappers: 1. Unique Bella; 2. Curlin's Approval and By the Moon (tie)
Filly & Mare Turf
Brunker: 1. Senga; 2. Lady Eli; 3. Rhododendron
#RJhorseracing handicappers: 1. Lady Eli; 2. War Flag; 3. Zipessa
Sprint
Brunker: 1. Imperial Hint; 2. Drefong; 3. Mind Your Biscuits
#RJhorseracing handicappers: 1. Imperial Hint; 2. Drefong; 3. Roy H
Mile
Brunker: 1. Ribchester; 2. World Approval; 3. Roly Poly
#RJhorseracing handicappers: 1. Suedois; 2. Ribchester and World Approval (tie)
Juvenile
Brunker: 1. Bolt d'Oro; 2. Firenze Fire; 3. Free Drop Billy
#RJhorseracing handicappers: 1. Bolt d'Oro; 2. Free Drop Billy; 3. The Tabulator
Turf
Brunker: 1. Ulysses; 2. Highland Reel; 3. Talismanic
#RJhorseracing handicappers: 1. Beach Patrol; 2. Ulysses; 3. Sadler's Joy
Note: Picks were made before Ulysses was scratched from the race.
Classic
Brunker: 1. Gun Runner; 2. Arrogate; 3. Collected
#RJhorseracing handicappers: 1. West Coast; 2. Collected; 3. Gun Runner