Mudders rejoice! 'Off' track racing at Santa Anita not gone for good
Updated December 26, 2019 - 4:56 pm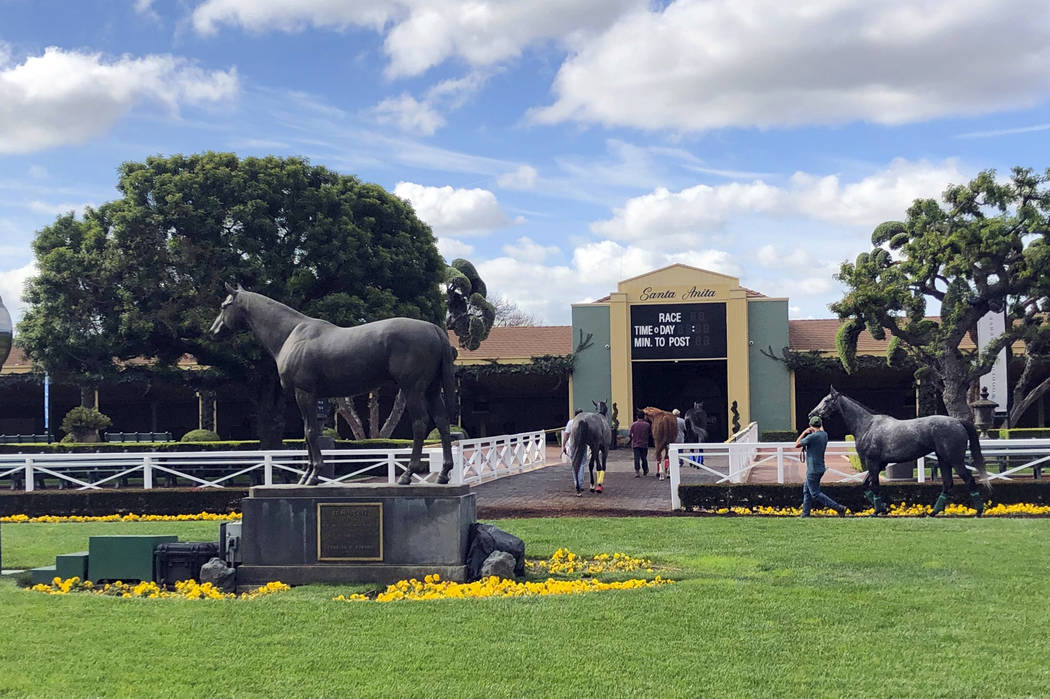 Are the days of "His father was a mudder … his mother was a mudder" done in Southern California?
For those unfamiliar with the "Seinfeld" episode where Kramer visits a New York City OTB parlor to bet on a mudlark, I highly recommend a visit to YouTube to catch up on that classic piece of horse player humor.
But apart from that, perhaps you wondered as I did whether the decision to postpone the traditional opening day at Santa Anita on Dec. 26 to Saturday when rain showed up in the forecast meant the track will no longer conduct racing any time precipitation appears likely.
Happily, for those who relish trying to figure out whether a horse will handle a track that is rated "sloppy," "muddy," "heavy" or "good," the answer is no.
Mike Willman, director of publicity at the Great Race Place, explained Thursday that the call to cancel the Boxing Day card was based on the specific forecast, not a blanket policy to avoid racing on "off" tracks. And in this case, the call was the right one, he said.
"It really rained heavily overnight, the snow fell way down the mountain and it's 46 degrees here," he said. "We would have been off the grass and our gate would have suffered."
Instead, the track will present its strong opening day 11-race card, featuring three Grade 1 stakes, two Grade 2s and a Grade 3, on a day forecast to be sunny with a high temperature in the low 60s.
Officials at the Arcadia track are understandably gun shy about equine safety after last year's god-awful winter-spring meet, which saw 30 horses die from injuries suffered while racing or training.
But unless a forecast calls for really bad weather, the show will go on, Willman said.
"We want to be as safe as we can. We want to be as proactive as we can," he said. "But it's not a clear cut black-and-white thing. Common sense is what's required."
As for Saturday's card, if you're planning a trip to the track or intend to watch and wager at your favorite racebook, get there early. First post time is 11 a.m., with admission gates opening at 9 a.m.
#RJhorseracing featured races
The #RJhorseracing handicappers would not speak to me for months if I didn't let them dip into Santa Anita's Saturday card, which will be highlighted by what is expected to be the penultimate start of Omaha Beach's abbreviated career in the $300,000 Malibu Stakes. But since that race only drew five competitors, we're focused on more challenging fare: the $300,000 American Oaks, a 1 1/4-mile Grade 1 turf race for 3-year-old fillies, and the $200,000 Mathis Brothers Mile, a Grade 2 mile turf race for 3-year-olds.
In the former, the crew is solidly behind 2-1 morning line favorite Lady Prancealot, who steps up in class off a win in the Grade 3 Valley View Stakes at Keeneland in her last start. They see Apache Princess (5-1) and Mucho Unusual (4-1) filling out the top placings.
I agree that Lady Prancealot is the one to beat, but there are lots of questions to be answered at a distance most of these lasses have never even tried. I'll go instead with Giza Goddess (7-2), who starting outside the only other speed horse in the field and I hope can she relax a bit off moderate early fractions and then kick away at the top of the stretch. I'll take Lady Prancealot to place and pick long shot K P Slickem (15-1) in third.
In the Mathis Brothers Mile, the crowd 'cappers can't say no to Mo. That would be Mo Forza, the 9-5 morning line favorite who comes in riding a three-race win streak. They have Neptune's Storm (3-1) as their solid pick for second, and Bob and Jackie (6-1) barely hanging on for third.
Mo Forza is the obvious horse in here, but I've got to take a shot with Kingly (6-1), who appears capable of controlling this one on the front end. Bob Baffert isn't well known for training turf runners, but he knows what to do when he finds one in his shedrow. I'll use Mo Forza and Neptune's Storm in the minor placings.
Mike Brunker's horse racing column appears Fridays. He can be reached at mbrunker@reviewjournal.com or 702-383-4656. Follow @mike_brunker on Twitter.
Ellis Starr's American Oaks analysis
Apache Princess ran the best race of her career off a short rest this past July when rallying from ninth of 10 early, gaining the lead and opening up by 1 1/2 lengths at the top of the stretch in the San Clemente Stakes, before gamely fighting to the wire to come up a neck short behind Mucho Unusual. That effort earned a strong 103 Equibase Speed Figure, which she nearly duplicated in her most recent race. That was 14 days ago in the Bear Fan Stakes, a sprint at Golden Gate Fields, in which she closed strongly from fifth of six to miss by a half-length. Stretching back out to two-turns, Apache Princess gets the services of Javier Castellano, who is in Southern California for the big stakes races on the card. With So Much Happy likely to set a solid pace, Apache Princess may have what it takes to get up in time and win the American Oaks.
Lady Prancealot (IRE) has proven to be a top turf runner in the division many times this year and last. In the fall of 2018 as a 2-year-old, Lady Prancealot (IRE) finished second in a pair of stakes, one of those the Surfer Girl Stakes on the Santa Anita turf course. This year, Lady Prancealot (IRE) has won three of seven races, two of those stakes including the Valley View Stakes at Keeneland when last seen on Oct. 18. That effort earned a career-best 106 figure which is the best last race figure in the field. Joe Bravo, who rode Lady Prancealot (IRE) to her last win when in the saddle for the first time, has the return engagement and we can expect a top effort good enough to win from this very versatile filly.
Giza Goddess comes into the American Oaks off a disappointing eighth place effort in the tougher Matriarch Stakes, in which Mucho Unusual finished ninth. Both fillies ran well enough prior to that to be a strong factor in the American Oaks if they rebound to that kind of form. Giza Goddess earned a 106 figure when second in the Autumn Miss Stakes at Santa Anita in late October and she has a tactical style which likely puts her in second place in the early stages behind likely leader So Much Happy. As such, Giza Goddess could get the lead in the stretch before the closers like Apache Princess and Lady Prancealot (IRE) get into high gear.
Mucho Unusual was the 5-2 favorite when winning the San Clemente Stakes in July with a 104 figure, rallying from last of 10 in the field and still sixth with an eighth of a mile to go. She hasn't run nearly as well in three races since including when beaten for second by Giza Goddess with no excuse in the Autumn Miss. However, Mucho Unusual gets a change in jockey to Joel Rosario, who has been aboard for her last two victories including in the San Clemente, and who has not ridden her in three defeats since then.
The rest of the American Oaks field, with their best Equibase Speed Figures, is K P Slickem (107), Pretty Point (100), So Much Happy (91) and Vibrance (103).
Ellis Starr is the national racing analyst for Equibase. Visit the Equibase website for more on the race or to purchase handicapping products.