Santa Anita's star-crossed meeting spirals into an existential crisis
Updated April 4, 2019 - 6:39 pm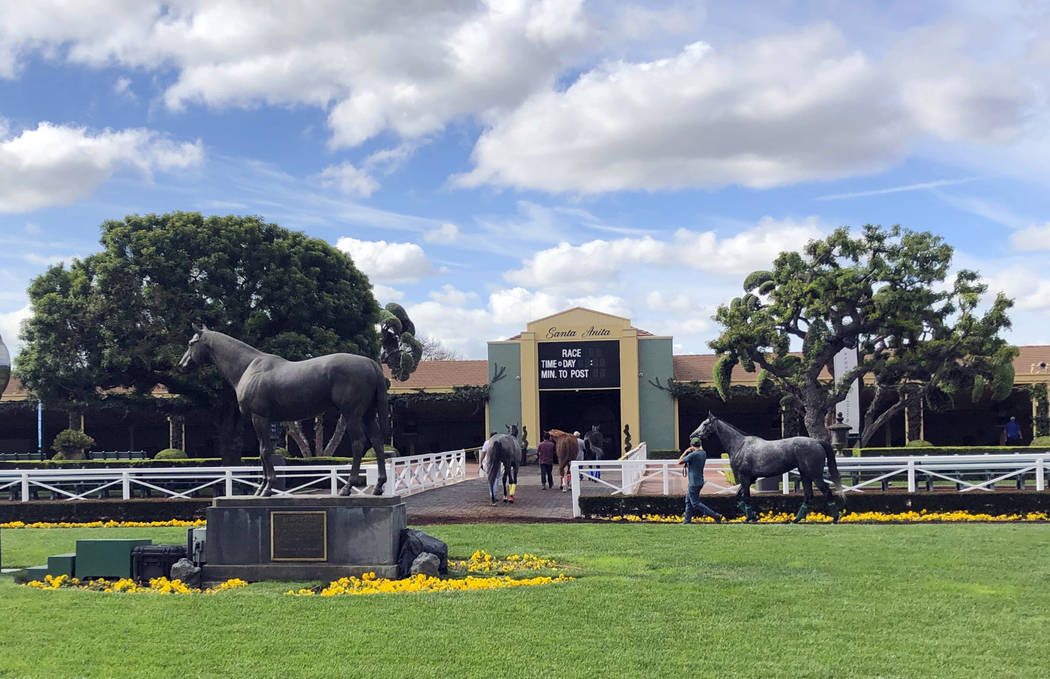 I really wanted to write this week about the Kentucky Derby, now only a month away, but I can't ignore the sound of knives being sharpened as horse racing foes look to write the sport's epitaph in California.
The controversy over the deaths of 23 horses at Santa Anita Park since the current meeting opened on Dec. 26 escalated this week with U.S. Sen. Dianne Feinstein of California entering the fray. The Democrat sent a letter to state racing officials calling for the immediate suspension of racing at the historic track in Arcadia.
But California Horse Racing Board Chairman Chuck Winner deferred, saying that state law requires him to give a 10-day notice before holding a meeting to consider shifting approved racing dates for Santa Anita to another track. He then scheduled a special board meeting April 12 to "discuss various options regarding racing dates."
"The purpose of the meeting is to have a broad discussion of all options and to take appropriate action if necessary," Winner said in a statement.
In the meantime, Santa Anita management elected to go ahead with its regularly scheduled four days of racing, which began Thursday and resulted in no serious incidents. Saturday is one of the track's signature racing days, with both the the Santa Anita Derby and the Santa Anita Handicap on the card.
In a small concession to the growing outcry, track management said it would not run any races this weekend on its unique hillside turf course, which is where Arms Runner fell while crossing the dirt main track on Sunday in the Grade 3 San Simeon Stakes.
I wrote a few weeks ago that track management made a risky bet in announcing plans to eliminate race day medications and severely limit jockeys' use of whips in an effort to placate racing critics like PETA. But that's nothing compared to the wager they are making by racing this weekend.
If, God forbid, another horse goes down, the track's fate could be sealed, with some PETA supporters already talking about a state ballot petition to prohibit what the group characterizes as a cruel sport.
There's much more to say about this situation, and I'm sure I'll return to the subject soon, but for now let's look ahead to an important weekend of racing that should clarify the Kentucky Derby picture.
#RJhorseracing featured races
With three major Derby preps on Saturday — the Wood Memorial Stakes, the Blue Grass Stakes and the aforementioned Santa Anita Derby, all run at 1 1/8th mile — the #RJhorseracing handicappers are dissecting three races instead of usual two.
The crowd 'cappers see a competitive race in the Wood Memorial, but came down narrowly on the side of 5-2 morning line favorite Tacitus over Haikal (7-2) and Tax (9-2).
I'll try my luck with Outshine (6-1), second last out in the Tampa Bay Derby, Tacitus and Final Jeopardy (8-1) in that order.
In the Blue Grass, the crew is solidly backing Win Win Win (7-2) to bounce back in his second route, with Vekoma (9-5) and Somelikeithotbrown (10-1) filling out the minor slots.
I'm down with that as far as the winner, but I have Dream Maker (12-1) and So Alive (15-1) for the place and show dough.
In the Santa Anita Derby, which drew only a six-horse field, the gang almost unanimously lined up behind Bob Baffert's 4-5 morning line favorite Game Winner. They have Baffert's other runner, Roadster (5-2) for second ahead of Instagrand (3-1).
I'm going to part company and go with Instagrand. I like the old school move his owner, OXO Equine, pulled by keeping him out of the Breeders' Cup so that he could mature for his 3-year-old season. I've got Game Winner second and Roadster third.
We're starting a new three-month handicapping contest this week, so this is a great time to get in on the fun. There's also, dare I say it, a truly fabulous prize for the top handicapper, which I'll be revealing to participants this weekend.
Mike Brunker's horse racing column appears on Fridays. He can be reached at mbrunker@reviewjournal.com or 702-383-4656. Follow @mike_brunker on Twitter.
Ellis Starr's Santa Anita Derby analysis
Watching the replay of the March 1 allowance race won by Roadster, with Nolo Contesto checking in second, it was apparent Roadster won with ease. Jockey Mike Smith, who has ridden Roadster in all three career starts, helped the colt relax in third in the early stages and when asked to change gears at the top of the stretch, Roadster responded nicely to pull away to a 2 1/2-length victory. Following the strong maiden win last July with a 90 Equibase Speed Figure, Roadster ran even better with a 96 figure effort when third in the Del Mar Futurity. Since the comeback effort earned a new career-best 104 figure and since the Santa Anita Derby will represent his second start following six months off and second race around two turns, another similar improvement makes Roadster the one to beat.
There is no taking away from the accomplishments of Game Winner in his five race career. He won four times and missed by a nose in the other, all graded stakes except his debut. In the third start of his career last fall, Game Winner earned a 111 speed figure, which is pretty much unheard of for a 2-year-old at that time of year. He backed up hat effort with a strong two length win in the Breeders' Cup Juvenile in November, although his figure regressed to 100. However, after four months off and likely a bit short of being 100 percent fit because of his work schedule being interrupted by suspended training at Santa Anita, Game Winner redeemed himself with a 110 figure last month in the Rebel Stales. Watching the replay of the Rebel, it was interesting to note that Game Winner easily passed three horses on the backstretch to go from sixth to second, but then was asked pretty hard by jockey Rosario to get to leader Omaha Beach. Making no progress for most of the last quarter mile against his rival, Game Winner really picked up the pace in the last few yards and was cutting into the eventual winner's margin with every stride, coming up a nose short on the wire. Therefore, with any improvement second off the layoff, Game Winner could be starting a new winning streak going into the Kentucky Derby next month.
Nolo Contesto stretched out to two turns for the first time in January in his second career start, winning gamely to earn a 104 figure. In that race he beat Omaha Beach by a half-length, with the runner-up flattering Nolo Contesto by winning a division of the Rebel Stakes last month. However, Nolo Contesto did not improve in the March 1 race won by Roadster, in which jockey Smith (aboard Roadster) made sure Nolo Contesto was without room to run until it was too late as Roadster had accelerated to draw off by two lengths. However, Nolo Contesto galloped out strongly after the finish to be in front of Roadster and he too can improve in his second start off a layoff, so is not without a chance to win.
Ellis Starr is the national racing analyst for Equibase. Visit the Equibase website for more on the race or to purchase handicapping products.