Why it pays to handicap the track as well as the horses
Updated August 15, 2019 - 6:47 pm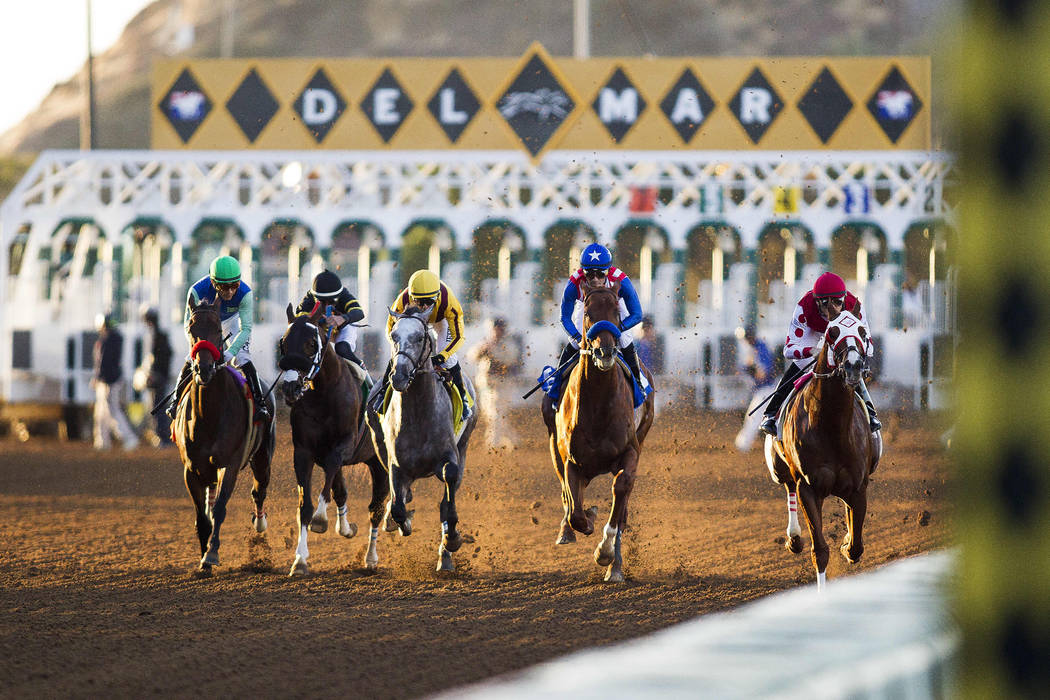 Serious baseball bettors know what happens when a ball ricochets high off the Green Monster at Fenway Park, but it amazes me how few horseplayers pay attention to the characteristics of the tracks they bet on.
Assessing the horses in a particular race is, of course, Job 1 as a handicapper. But it pays dividends to know as much as possible about the surface they're running over and whether it plays to an entrant's strength or will make the path to victory tougher.
That information isn't easy to come by. Equibase offers profiles of all U.S. and Canadian tracks, but provides only statistics on winning post positions broken into three categories: dirt sprints, dirt routes and turf races. And as every horseplayer knows, racetracks can play differently at 6 and 6½ furlongs, for example.
Del Mar and a handful of other tracks do a bit better, serving up winning posts statistics by distance. But even that is a rough tool that isn't terribly useful in most cases.
That paucity of good information enables handicappers who put in some extra work to unearth nuggets that will pay off at the betting windows.
I'm going to use Del Mar as an example, as it's a track I've spent a lot of time getting to know. It's also one of the most changeable racing surfaces anywhere. It's almost as if someone flips a switch to change it from a speed-favoring surface to a paradise for closers.
Using free race charts available via Equibase.com, I created a spreadsheet that broke down races by distance for the first three weeks of the meet that began July 17. In addition to tracking post positions, I charted position and beaten lengths of winners at the first and second calls of each race, their final fractions and noted whether they raced inside or outside on the track.
Here are a few of my learnings:
— Only three of the first 18 6-furlong sprints were won gate to wire. And those occurred on back-to-back days, July 27 and 28.
— Starters from the 3, 4, 5 and 6 posts have dominated turf races at a mile, winning 16 of 19 races.
— Only one winner of a 5 furlong turf sprint started farther out than post 7.
I don't think I need to explain how useful such knowledge is when it comes down to deciding between two horses that appear evenly matched on paper or determining when a heavily backed favorite might be up against it.
One piece of advice: Don't try doing this for every track you play. Given the time commitment required, you (or a designated friend) will drive yourself to drink if you do.
#RJhorseracing featured races
The #RJhorseracing handicapping crew is focused on Del Mar this week for two of the premier races of the meet: the $300,000 Del Mar Oaks, a 1⅛th-mile turf race for 3-year-old fillies and the $1 million Pacific Classic, a 1¼-mile test on the main track for 3-year-olds and up.
In the Oaks, the crowd 'cappers are boldly taking a stand against two East Coast shippers trained by top turf trainer Chad Brown, including the 5-2 morning line favorite, Cambier Parc. Instead, they favor local hope Much Unusual (5-1), with Cambier Parc second and Lady Prancealot (8-1) third.
I'm also going to try to beat Brown, but I'll try to do it with European mystery horse Hidden Message, who will be making her first U.S. start after two top efforts overseas and attracts Del Mar leading rider Flavien Prat. I have Cambier Parc send and Raymundos Secret (10-1) third.
In the Pacific Classic, the crew is backing 3-1 morning line favorite Seeking the Soul for the win, with Campaign (6-1) and Quip (9-2) picked for the minor placings.
"Hope he finds it, for God's sake," wrote the #RJhorseracing handicappers resident quipster, Thomas Mahoney, of the group's pick.
Seeking the Soul looks like a legitimate favorite, but his off-the-pace running style can put him in tough spots. So I'll use Quip on top and Seeking the Soul in second. For third, I'll use live long shot War Story (8-1).
Mike Brunker's horse racing column appears Fridays. He can be reached at mbrunker@reviewjournal.com or 702-383-4656. Follow @mike_brunker on Twitter.
Ellis Starr's Pacific Classic analysis
Campaign is a lightly raced 4-year-old who knows how to win, with five victories in 10 starts. Having shifted to the barn of top trainer John Sadler prior to his first start of 2019 in February, Campaign won that race with a stirring rally from ninth. He then stepped up in class to compete in the Santa Anita Handicap where he was not disgraced checking in fourth. Just eight days later, on April 14, Campaign won the Tokyo City Stakes before shipping to New York to miss by three-quarters of a length in a four-horse blanket finish in the Brooklyn Handicap. Returning to his home base in Southern California, Campaign won the Cougar II Handicap over the track last month in his most recent race. Those last four efforts earned strong Equibase Speed Figures of 110, 112, 109 and 111, respectively, which are as good as the 109 figure Seeking the Soul earned winning the Stephen Foster Stakes in June. Cutting back from 12 furlongs to 10 furlongs is one factor in Campaign's favor. Another is the fact that John Sadler is one of the best trainers on the circuit, if not in North America, in graded stakes dirt routes. A STATS Race Lens query yields over the last five years Sadler has won 28 of 117 starts in these types of races, with 49 percent of those runners finishing in the money as well. As such, Campaign gets top billing to win this year's Classic.
Quip is another lightly raced horse with tremendous upside potential as we move toward the Breeders' Cup Classic in November. Not only has he won four of nine career starts, we can make cases two of the five he did not win are irrelevant as one was his only try on a sloppy track he did not care for and the other came in a race where he had significant traffic issues. Consistently improving this year from a 100 speed figure when third in the Hal's Hope Stakes in February, to a 105 figure in the Oaklawn Handicap in April, Quip took another big step forward in the Stephen Foster. Facing the much more accomplished Seeking the Soul, Quip battled head and head for the lead with Tom's d'Etat for most of the early portions of the race then with Seeking the Soul for the length of the stretch before yielding by a neck on the wire. That effort earned a 108 figure and with another logical step forward Quip could turn the tables on Seeking the Soul at the least and very possibly run well enough to win.
Seeking the Soul makes his third start since traveling half way across the world to compete in the Dubai World Cup in March so he could run even better than when winning the Foster in June with a 109 figure. He earned the same figure in January when well beaten but clearly second in the Pegasus World Cup and his best effort came in the fall of 2017 when winning the Clark Handicap with a 117 figure. The one question regarding Seeking the Soul winning the Classic¸ however, is the same one facing nine of the 10 entrants in the race, as only Tenfold has won at the distance.
Honorable mention and consideration for use on exacta tickets must go to Tenfold, Mongolian Groom and Draft Pick. Tenfold won the 2018 Jim Dandy Stakes at nine furlongs with a 108 figure. What followed was a three-race losing streak before he won the Pimlico Special at the distance of the Classic in May with a 102 figure. He was ninth in the Foster while never showing a bit of interest but if he rebounds to his Pimlico Special form he can run well. Mongolian Groom and Draft Pick ran well over the track last month in the San Diego Stakes, earning 114 and 112 figures, respectively, I can see either or both of these two horses being in the money in the Classic to complete the exacta or trifecta.
The rest of the Pacific Classic field, with their best representative Equibase Speed Figures: Pavel (106 in last year's Classic), For the Top (ARG) (101), Higher Power (112 on Turf) and War Story (108).
Ellis Starr is the national racing analyst for Equibase. Visit the Equibase website for more on the race or to purchase handicapping products.