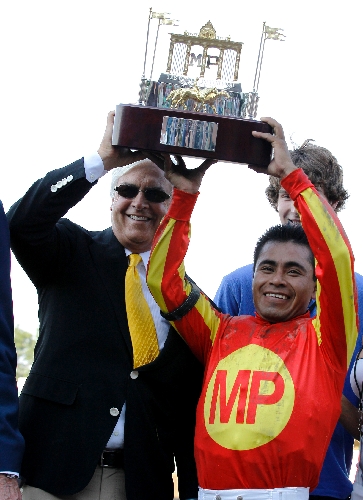 Bob Baffert did these pages proud Sunday when Coil was an impressive last-to-first winner of the $1 million Haskell Invitational at Monmouth Park. However, the silver-haired trainer has a vast arsenal of stakes horses and is ready to fire again Saturday.
A Baffert second-string 3-year-old Prayer for Relief (5-2) is favored in the $750,000 West Virginia Derby at Mountaineer Park. He comes off a sharp win in the Iowa Derby at Prairie Meadows. The son of Jump Start missed the Kentucky Derby, but he's going after a bunch of other derbies across the country.
A Baffert filly worthy of a sneaky look is American Lady (5-1) in the Grade 1 Test Stakes at Saratoga. It's her first stakes start, so she should offer a lot of value. Baffert is not one to rush a horse over his or her head, so he must feel she is ready for this type of competition.
Baffert has no horse in the Grade 1 $750,000 Whitney Handicap, also at Saratoga, which could be Saturday's best betting race. An evenly matched field of 11 has a tepid favorite in Flat Out (4-1). My vote goes to Tizway (6-1), who won the Met Mile last out and is on two months' rest. If he repeats that race, he'll upset these.
■ PENNSYLVANIA FLUBS — There's a tie for business-killing quote of the year, courtesy of two horse racing executives in Pennsylvania.
In an article in the Pittsburgh Tribune-Review, Meadows Harness president Mike Jeannot said, "There's never been any evidence that lowering the takeout increases betting handle."
Daniel Tufano, the state's director of racing, added, "If you are going to the track trying to make a fortune, find something else — there are better options."
Nice way to disrespect your fan base. By the way, the state's racetracks have some of the highest takeout rates in the country.
■ I'M ON TWITTER — I've been asked time and again if I have a Twitter account. The answer was always no — until now. I began tweeting this week, so readers are welcome to follow along if interested at @richeng4propick.
■ SOUTH POINT TOURNAMENT — The Hot August Open handicapping tournament is Aug. 12 and 13 at the South Point. The entry fee is $400. There is one final qualifier Thursday.
■ BATTLE OF THE EXES — If this match race between Chantal Sutherland and Mike Smith on Sunday mirrors the last one at Del Mar — a head-bobbing finish between Julie Krone and Pat Valenzuela — it will be must-see TV.
Richard Eng's horse racing column is published Friday in the Las Vegas Review-Journal. He can be reached at rich_eng@hotmail.com. Follow him on Twitter: @richeng4propick.