Betting tourney has bigger field, pool
January 22, 2015 - 11:25 pm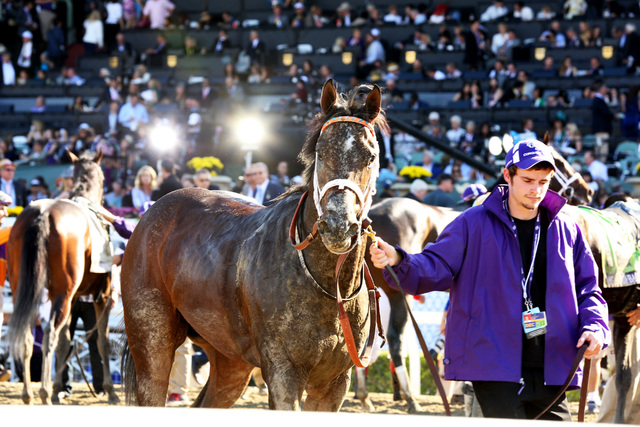 The 16th annual Daily Racing Form/National Thoroughbred Racing Association National Handicapping Championship will start today at Treasure Island. With more than 600 entries in play, the three-day tournament will have its largest field ever.
The prize pool also has increased to $2.3 million, with $800,000 going to the winner.
Air Force Lt. Col. Eric Moomey is the only player eligible for a $2 million bonus should he win the NHC. He earned this chance by winning the 2014 NHC Tour and its top prize of $75,000.
And Moomey is among 82 dual qualifiers, so his chances are doubled.
The NHC last year introduced a Day 3 final table, which is similar to the World Series of Poker final table. To get that far is no easy task.
Today and Saturday, players will make 15 mythical $2 win-place bets, eight of which are mandatory races. The top 50 then will move into Sunday with a chance to make the final table of 10.
The remainder of the field will play in a consolation tournament on Sunday.
At 3:30 p.m. Sunday, the final table featuring the 10 highest scores will be set. Those players will bet on seven more mandatory races. That will greatly magnify the strategy involved. While it is important to pick race winners, one must also keep an eye on the standings and what is needed to move up.
Jose Arias won with a score of $338.20 last year, edging Tony Brice, who won $337.00, showing how the scoring from each mythical win and place bet has value, no matter how insignificant the amount may seem at the time. Major tournaments have been won by dimes, not dollars, so every bet matters.
Treasure Island has offered a future wager on the NHC champion for the first time. Because there never has been a repeat winner, the heavy favorite was the field.
Ten former champions qualified: Arias (2014), Jim Benes (2013), Michael Beychok (2012), John Doyle (2011), Brian Troop (2010), John Conte (2009), Richard Goodall (2008), Stanley Bavlish (2007), Jamie Michelson Jr. (2005) and Steve Wolfson Jr. (2003).
Players must qualify for the NHC tournament. There is no buy-in provision. The following 13 Nevada residents qualified: Bavlish, Grant Brous, Alstyne Dilts, Jack Dougherty, Richard Goodall (two entries), Sally Goodall (two entries), Daniel Mandarino, Robert Medeiros, Jim Meeks, Michael Ray, Brian Schwade, Craig Siedler, and Dave Wang (two entries).
The inaugural class of the NHC Hall of Fame will induct posthumously Mike Mayo and Ron Rippey, who both died in 2014. They will be honored on Sunday at the Champions Dinner.
Mayo was a longtime chairman of the NHC Players' Committee. He was instrumental in creating the NHC Tour, in expanding the NHC into a three-day event and in devising the final table format.
Rippey was the 2006 NHC champion and qualified 11 times for the event. He was a highly respected public handicapper for decades at the Newark Star-Ledger in New Jersey.
Richard Eng's horse racing column is published Friday in the Las Vegas Review-Journal. He can be reached at rich_eng@hotmail.com. Follow him on Twitter: @richeng4propick.