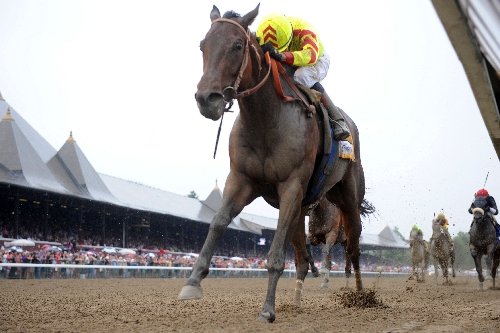 The Kentucky Derby might engage the nation's interest to horse racing for a day. But for those of us who love horse racing every day, the two-day Breeders' Cup is the Mount Rushmore of the sport.
All of the participants in the 15 Breeders' Cup races will be larger than life. And 15 times either today or Saturday, the participants will earn the thrill of a lifetime in winning a Breeders' Cup championship race.
It doesn't get any better than last year's climactic finish between Blame and Zenyatta in the Classic. But the beauty of horse race betting is we can make our own memorable moments this weekend.
Here is my handicapping of today's six Breeders' Cup races. My Saturday selections will be offered at a free handicapping seminar at 12:30 p.m. today at the Gold Coast and in Saturday's Review-Journal. On Saturday, I'll be using Twitter and Facebook to release my picks race by race.
■ JUVENILE SPRINT — No. 6 Secret Circle (6-5) will kick off the Breeders' Cup as the shortest-priced favorite of the 15 races and the most likely winner. He is unbeaten and earned a healthy 97 Beyer speed rating in two wins. No. 1 Seeker (4-1) has chased Vexor twice, but his Saratoga maiden win two races back was fast. Long shot: No. 9 Vexor (5-1).
■ JUVENILE FILLIES TURF — No. 12 Dear Lavinia (30-1) is the kind of filly who can blow up the tote board. She finished a length behind the chalk Elusive Kate at Deauville in July. She can turn the tables at a huge price disparity. No. 10 Elusive Kate (2-1) is the right favorite, but there is great value in trying to beat her. Long shot: No. 8 Hard Not to Like (15-1).
■ FILLY & MARE SPRINT — No. 3 Turbulent Descent (6-5) has been pointed for this race all year. She loves one-turn racing and is proven on dirt. She has the tactical speed to sit a perfect trip. No. 12 Pomeroys Pistol (6-1) ran second to the chalk in The Test at Saratoga. She figures to get overlooked. Long shot: No. 5 Musical Romance (20-1).
■ JUVENILE FILLIES — No. 5 Grace Hall (4-1) is unbeaten in three starts at increasingly longer distances. Sired by Empire Maker, she appears perfectly situated to upset the field. No. 9 My Miss Aurelia (5-2) will be short odds after three sparkling wins. I suspect she will not get an easy lead. Long shot: No. 10 Northern Passion (12-1).
■ FILLY & MARE TURF — No. 6 Announce (9-2) is among a strong European contingent. They will love the soft ground of the Churchill turf course. Announce has slugged it out with the best in France. No. 2 Stacelita (2-1) is a Euro who has won two Grade 1 U.S. stakes. She is facing a much tougher group today. Long shot: No. 12 Misty For Me (10-1).
■ LADIES' CLASSIC — No. 6 Royal Delta (5-2) is among many live horses for trainer Bill Mott. She has tactical speed to sit off an expected lively pace duel. No. 3 It's Tricky (5-1) is another 3-year-old filly who can benefit with Havre de Grace and Blind Luck absent. She does not need the lead to run her best. Long shot: No. 1 Miss Match (10-1).
■ WYNN HEAD-TO-HEAD — Wynn Las Vegas is offering head-to-head matchup bets on every Breeders' Cup race. I'll offer one opinion: It's Tricky (+130) over Plum Pretty (-160) in the Ladies' Classic.
■ TWIN QUINELLA — Station Casinos is offering a $20,000 Twin Quinella on Saturday. It's a lock the Classic will be the second leg of the bet.
Richard Eng's horse racing column is published Friday in the Las Vegas Review-Journal. He can be reached at rich_eng@hotmail.com. Follow him on Twitter: @richeng4propick.