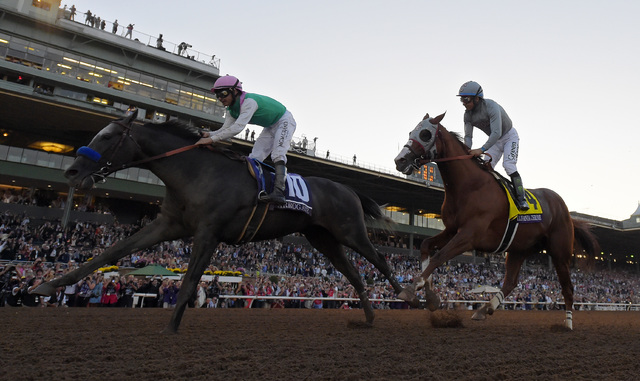 The Eclipse Award deadline for voting is Tuesday. But I went all in already, so I will share my vote in each division.
I will begin with my Horse of the Year vote for, in order, California Chrome, Arrogate and Songbird. I know that Arrogate beat California Chrome in their only meeting in the Breeders' Cup Classic. But Chrome won all six races before getting upset in the Classic. His yearlong body of work put him over the top.
Arrogate did get my vote for top 3-year-old. Even though he did not compete in the Triple Crown, this Bob Baffert colt defines a late bloomer. He won five races in a row beginning in June, including sizzling wins in the Travers and Classic.
Songbird earned my vote for best 3-year-old filly. She lost by an inch to older mare Beholder in the Breeders' Cup Distaff. Songbird won all seven starts before that and clearly had a Horse of the Year type resume.
Beholder was my vote for top older female. She won the Distaff over Songbird. It would be Beholder's final career start. She also ran second in the Pacific Classic against males, losing to California Chrome. Chrome was by far the best older male in the country.
In the two 2-year-old divisions, one was an easy choice and one was difficult.
My easy choice for top 2-year-old male was Classic Empire, winner of the Breeders' Cup Juvenile. His only loss came in the Hopeful at Saratoga, where he wheeled in the starting gate. Fortunately he was not injured and returned to win the Breeders' Futurity and Juvenile.
For best 2-year-old filly, I went with a grass runner, New Money Honey. She won the Breeders' Cup Juvenile Fillies Turf and the Miss Grillo.
I could not separate any of the dirt fillies, as they took turns beating each other. Champagne Room was an upset winner at 33-1 in the Breeders' Cup Juvenile Fillies, but was beaten in the Chandelier and Del Mar Debutante.
In the two sprint categories, my top male sprinter was Drefong, who edged his Bob Baffert stablemate Lord Nelson. Interestingly enough, both horses were undefeated in four starts. Drefong won the Breeders' Cup Sprint, which cinched this ballot.
I made Taris my choice as top female sprinter. She had an abbreviated campaign, but was a lights out winner of the Human Distaff at Churchill Downs. Finest City won the Breeders' Cup Filly and Mare Sprint, but had a weak resume going into the race.
My votes for top turf horses went to Tourist in the male category and Tepin for top female grass horse. Rawnaq got my vote for best steeplechase horse.
In the human divisions, my votes were: Ken and Sarah Ramsay, owner; WinStar Farms, breeder; Javier Castellano, jockey; Luis Ocasio, apprentice jockey; Chad Brown, trainer.
ARROGATE TUNEUP
Arrogate is entered for the San Pasqual on Sunday at Santa Anita Park. It will be his final tuneup before shipping to Gulfstream Park for the $12 million Pegasus World Cup on Jan. 28. In the World Cup, he is set for a rematch against California Chrome among a field of 12.
Richard Eng's horse racing column is published Friday in the Las Vegas Review-Journal. You can email him at rich_eng@hotmail.com and follow him on Twitter @richeng4propick.