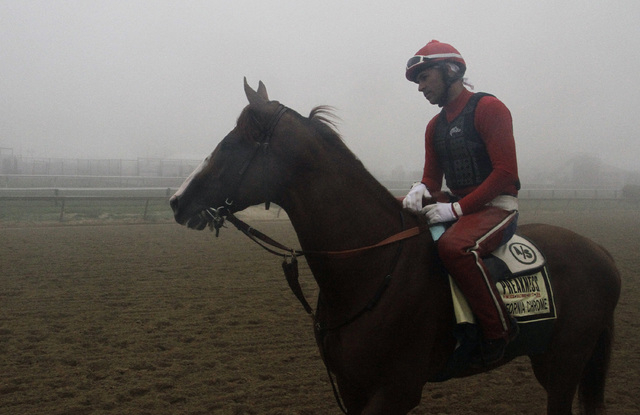 Two weeks ago, I thought Kentucky Derby favorite California Chrome was vulnerable because of a projected fast early pace. Well, that fast pace never materialized.
Instead, the first half-mile was a tepid 47 1/5. Jockey Victor Espinoza had California Chrome sitting calmly in third and pounced on tiring leaders turning for home. They spurted out to a five-length lead and coasted home to victory.
The final Derby time, 2:03 3/5, was slow. But the key for me was the way California Chrome toyed with the field. He proved again he has the tactical speed necessary to make his own trip.
He was so much the best that only two other Derby horses — General a Rod and Ride On Curlin — have accepted a rematch in Baltimore. Many others will freshen up until the Belmont Stakes on June 7. Expect a big Belmont field, including Commanding Curve, Danza, Wicked Strong, Samraat and Tonalist.
California Chrome (3-5) will be an overwhelming favorite, according to Pimlico morning line maker Keith Feustle.
I'll project again that the Preakness early pace will be fast. Certainly faster than in the Derby. Pure speed types such as Social Inclusion (5-1), Bayern (10-1) and Pablo Del Monte (20-1) must rush up because they need the lead to succeed.
General a Rod (15-1), Ring Weekend (20-1) and even California Chrome could inherit the early lead if, by some miracle, no one sends like in the Derby.
I think the best horse, California Chrome, will win the Preakness and set up a Triple Crown try in the Belmont. If I were Espinoza, I would practically ignore the others horses and ride his own race.
If California Chrome grinds out his own fractions to the top of the stretch and stays in the clear, his late kick should get the job done. Espinoza has five wins in five rides on the colt, so he knows everything about him.
My next choice is General a Rod. He has an opportunity to redeem himself by saving ground and stalking the early leaders. He lost all chance in the Derby after a poor start. But Joel Rosario wisely protected him late. Javier Castellano, who rode General a Rod in the Fountain of Youth, replaces Rosario.
My third choice is Ride On Curlin (10-1), another excuse horse coming out of the Derby. He zigzagged all over the Churchill Downs track before finally rallying well but way too late.
Ride On Curlin gets a new rider in Rosario, who likes to take horses back and make one late run. His riding style is perfectly suited to this colt's running style.
My final pick is Social Inclusion, who has one chance of winning: to be the speed of the speed. Once the gate opens, jockey Luis Contreras should go to the front and try to bottom out the field. His Gulfstream Park track record win March 12 shows he is more than capable of a freakish race.
■ PREAKNESS SEMINAR — The South Point will host a free handicapping seminar on the Preakness at 6 p.m. today. The analysts will be John Kelly of EOG.com, South Point house handicapper Patrick McQuiggan and Ralph Siraco of "Race Day Las Vegas" radio show.
Richard Eng's horse racing column is published Friday in the Las Vegas Review-Journal. He can be reached at rich_eng@hotmail.com. Follow him on Twitter: @richeng4propick.