California Chrome trainer goes extra mile for terminally ill woman
October 16, 2014 - 2:34 pm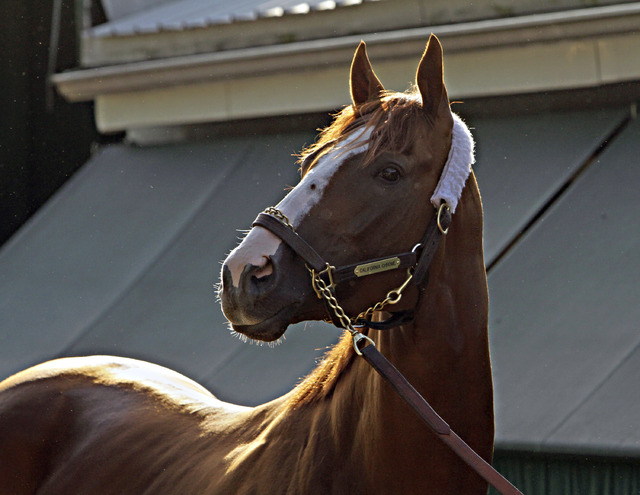 If you are undecided on whether you want to meet trainer Art Sherman in the Sam's Town race book at 10 a.m. Monday, let me share a story about the man.
The Fresno Bee reported last weekend that Sherman, the trainer for California Chrome, hosted a woman from Fresno, Calif., Jeralynn Stout, who is terminally ill with cancer.
Stout's best friend, Karon Penny, had asked her to make one wish before going into hospice. Her wish was to meet California Chrome, the Kentucky Derby and Preakness winner.
Through mutual friends in horse racing, Sherman was contacted, and a date for Stout's visit was scheduled for Aug. 15 at Los Alamitos.
The group arrived at 5 a.m. at Los Alamitos and was greeted by Sherman and the owners of California Chrome, Steve Coburn and Perry Martin.
"They really gave us the royal treatment," Penny told the Fresno Bee. "My mother and aunt are in their 80s, and Jeralynn was obviously unwell. But they had a three-row golf cart ready to drive us around."
They saw California Chrome exercise over the racetrack, get bathed and fed, and Stout was allowed to share time with the horse.
"I told him he had to win the Breeders' Cup," Stout said. "I swear to God he understood. I've been around a lot of horses, and they're all smart, but he understood me. I don't know how anyone could feel any better than I did at that moment."
Stout has since stopped her chemotherapy treatments and is in hospice.
As for Sherman, Coburn and Martin, this is the kind of story that seldom gets out in the public domain. In fact, many celebrity types shun the publicity for personal reasons. Many believe that an act of kindness is done from the heart, and not for any personal gain.
Regardless, if you didn't know a thing about Art Sherman before, hopefully you do now.
JOCKEY DEATHS — It has been a gruesome week for jockeys as three deaths, two in Australia and one in the U.S., has cast a pall over the sport.
The two jockeys in Australia were females — Caitlin Forrest, 19, and Carly-Mae Pye, 26. The U.S. jockey was apprentice Juan Saez, 17, who died in a spill at Indiana Grand racetrack Tuesday.
There never has been a doubt about the dangers in horse racing. It is the only sport in which the competitors are followed by an ambulance.
Horse racing, like in auto racing, is an inherently dangerous sport in which participants have died. Rules are in place to protect those on the track, but obviously even more needs to be done.
WISE DAN — Since my column last week, Wise Dan was injured and will miss the Breeders' Cup. His owner, Morton Fink, hopes to run Wise Dan next year as an 8-year-old.
I had argued that the Classic, with the top four morning-line favorites being 3-year-olds, was a good spot for Wise Dan to win a third Horse of the Year title. It's still a wide-open field.
And now with Wise Dan out of the Mile on turf, that race becomes wide open. Wise Dan would have been a short-priced horse.
Richard Eng's horse racing column is published Friday in the Las Vegas Review-Journal. He can be reached at rich_eng@hotmail.com. Follow him on Twitter: @richeng4propick.