Close calls make Triple Crown curse sting so much more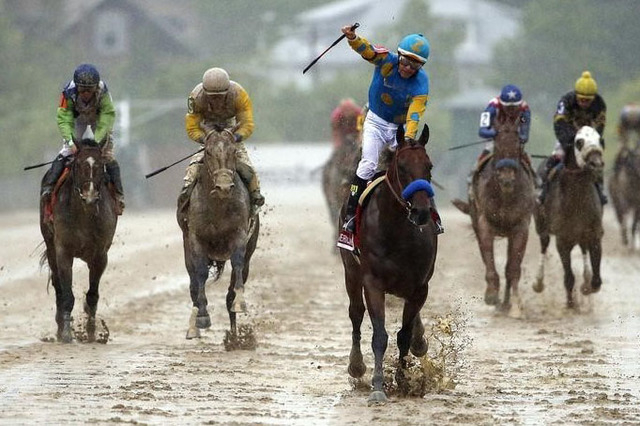 The curse on the Triple Crown is nowhere near as long as the curse on the Chicago Cubs. But I argue it may be many times more lethal considering how many close calls there have been.
The Cubs' curse is based upon a billy goat. The Cubs have not won a World Series since 1908 and have not played in one since 1945.
Horse racing has not had a Triple Crown winner since Affirmed (1978). But the sport has been at the altar 13 times in 36 years without getting a ring on the finger. Now that's frustrating.
Spectacular Bid (1979) may be the best horse among the near misses. I started my horse racing career the week of his Belmont, so the Bid is my own personal yardstick.
I remember that first week as if it had occurred yesterday. Trainer Bud Delp had his jockey Ronnie Franklin ride some races at Belmont Park to get used to the massive 1½-mile oval.
In one of the races, Angel Cordero Jr. gave Franklin a hard time out there. When the two got back to the jock's room they had a brawl that had more action than 12 rounds of Mayweather-Pacquiao.
Regardless, the Belmont result still seemed anticlimactic. The question was how far the Bid would win by, not if he would win.
The press box was so full of media that co-worker John Mehrtens and I went atop the light green roof at Belmont to watch the race from above.
Franklin did many things wrong that race. First, he sent the Bid after a 90-1 long shot Gallant Best despite that colt having no chance of winning. After putting that one away in sprinter fractions, Franklin kept after his mount around the far turn.
By the eighth pole, the Bid was spent, struggling to finish a tired third to Coastal and Golden Act.
Afterward, Delp blamed the loss on the Bid stepping on a safety pin. I am convinced to this day the Bid could have won had kitchen tongs been glued to his feet instead of horse shoes.
I blame it on a major case of overconfidence, and we've been cursed ever since.
Which brings us to the present. With each Triple Crown hopeful, like American Pharoah, my brain reminds me if the Bid can lose, so can so-and-so horse.
Coastal was a fresh, fit and dangerous foe that day. On paper, he looked no different than Carpe Diem, Frosted, Materiality or Mubtaahij.
One good thing about Bob Baffert and Victor Espinoza is they won't be cocky. They know if American Pharoah can win the Belmont Stakes by an inch, it will look like a mile in the history books.
■ BELMONT STAKES SEMINARS — There will be two seminars that I know of next week, both at 6 p.m. Friday.
At the South Point, John Kelly of eog.com, Patrick McQuiggan of cashiersline.com and house handicapper for the South Point, Ralph Siraco of the "Race Day Las Vegas" radio show and Toby Turrell, noted Southern California clocker, will opine about the Belmont.
There will also be a South Point ballroom party next Saturday.
At Sunset Station, Brian Blessing of the "Sportsbook Radio" show, noted author Steve Davidowitz, Chuck Esposito, race and sports director at Sunset Station, and I will offer our views of the race.
■ TWIN QUINELLA — Station Casinos will offer a $33,333 Twin Quinella next Saturday featuring the Belmont Stakes and one other race.
Richard Eng's horse racing column is published Friday in the Las Vegas Review-Journal. He can be reached at rich_eng@hotmail.com. Follow him on Twitter: @richeng4propick.