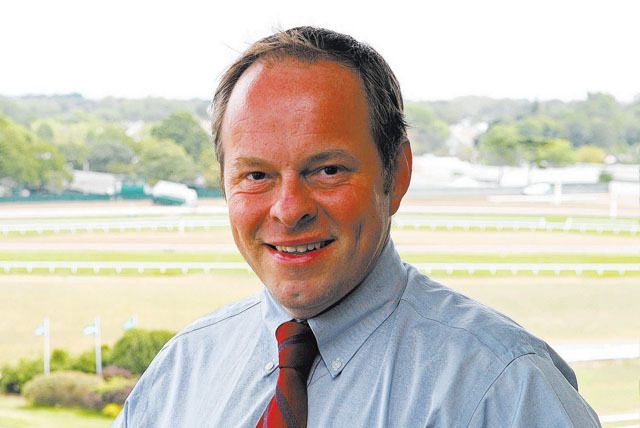 The first time I met Larry Collmus was in 1985 in the press box at Garden State Park. Collmus was an 18-year-old high school graduate who wanted to become a race caller.
Today, some 29 years later, Collmus has landed one of the plum jobs in horse racing as the new track announcer at Churchill Downs.
He'll be replacing Mark Johnson, who finished a five-year run at Churchill. No matter how his bosses sugarcoat it, this was not his choice.
Collmus will call races at Gulfstream Park and Churchill Downs, two premier American tracks. Usually when a announcer gets a new gig, it sets up some sort of domino effect.
Collmus has been the announcer at Monmouth Park for 20 years. The track will need to replace him. Also, the Gulfstream and Churchill meets overlap, so someone will need to fill in in Florida when Collmus ships to Louisville, Ky.
One suggestion is to contact Vic Stauffer, who is available after the closure of Hollywood Park.
It has taken three decades for Collmus to move to the top of his craft.
His first full-time gig was at age 20 at the Birmingham Turf Club in Alabama. Yes, there used to be horse racing in the land of Nick Saban.
Collmus spent four seasons at Golden Gate Fields. For years, he had an East Coast circuit of Monmouth Park and Suffolk Downs in Boston. His calls of the Haskell at Monmouth and of Cigar in the Mass Cap at Suffolk are well worth calling up on YouTube.
When Tom Durkin resigned from NBC Sports as the voice of the Triple Crown three years ago, Collmus grabbed the baton, and the quality of work has been seamless. Next, he added the Breeders' Cup in 2012.
I've long considered calling races one of the toughest announcing jobs in sports. A track announcer must memorize the names of a field of horses, then link them by color to the silks that the jockeys wear. After the race is run, he must use a mental eraser and repeat the process over and over again.
If you want to try it, just pick a five-horse field on TVG or HRTV and do this process off the TV. Then imagine a professional, such as Collmus, doing it for a 14-horse field. Eight or nine times a day. It's not easy.
Collmus will become only the seventh track announcer in the history of Churchill Downs. Before Johnson, came Kurt Becker, Luke Kruytbosch, Mike Battaglia, Chic Anderson and Gene Schmidt.
Each of them had a distinctive style, but none was more unique than Johnson. He came over from England and won the job in an audition in 2008.
The comment I heard the most about Johnson from racing fans was he was never a good fit for Churchill Downs and Kentucky racing. An announcer becomes the audio signature of the racetrack.
Now Churchill and the world's most famous horse race, the Kentucky Derby, will revert to a traditional American race caller.
Richard Eng's horse racing column is published Friday in the Las Vegas Review-Journal. He can be reached at rich_eng@hotmail.com. Follow him on Twitter: @richeng4propick.