French jockeys winning with patience, savvy in US
September 16, 2016 - 12:28 am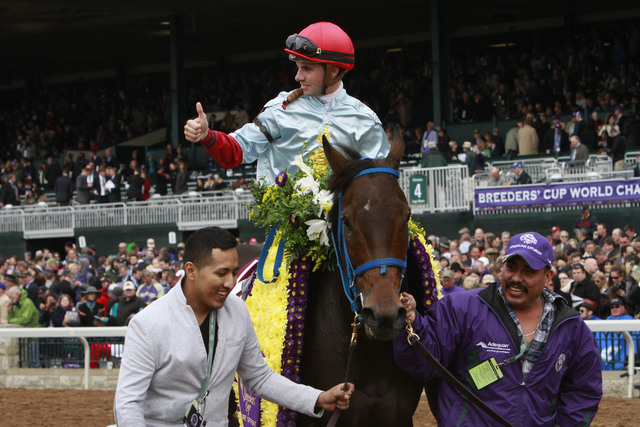 When I began my horse racing career at the New York Racing Association, two of my favorite jockeys were Frenchman Jean Cruguet and Jean-Luc Samyn. "Samyn on the Green" was an often-used phrase showing how horseplayers thought both riders were superior on the grass.
Samyn won plenty of graded stakes on dirt, especially for the late trainer P.G. Johnson, and Cruguet was the regular rider of Seattle Slew, the 1977 Triple Crown champion. A good rider can win over any surface, going short or long.
Three decades later, there is a new wave of French-born riders tearing up American racing: Florent Geroux, Julien Leparoux and Flavien Prat.
At the start of this week in the national jockey standings, Geroux was fifth ($12.7 million in purses won), Prat 10th ($8.5 million) and Leparoux 11th ($8.0 million). Leparoux should be a lot higher except he missed two months because of a wrist injury.
Leparoux, 33, is the senior citizen of the three. He began his apprentice year in late 2005 and won an Eclipse Award in 2006 after winning 403 races. He followed with another Eclipse Award for leading rider in 2009.
Leparoux is the regular rider on turf champion Tepin, who won the 2015 Breeders' Cup Mile.
Geroux, 29, needed about seven years in the United States to now become an "overnight sensation." You can't tell his story with mentioning his agent, Doug Bredar. When the two hooked up, Bredar was looking for a new challenge after working as a racing secretary at many major racetracks.
They had moderate success, but they stuck with each other until 2015, when Geroux won two Breeders' Cup races — the Turf Sprint on Mongolian Saturday and the Juvenile Fillies Turf on Catch a Glimpse. The phone has not stopped ringing since.
Geroux gave an excellent ride on Gun Runner, who ran third in this year's Kentucky Derby.
Prat, 24, served his apprenticeship in France and came to the U.S. as a journeyman jockey. He spent a few winters working for Hall of Fame trainer Richard Mandella, who started using Prat in 2015. He now rides first call for the barn.
Based in Southern California, Prat should be busy at the two-day Breeders' Cup on Nov. 4 and 5 at Santa Anita Park.
If these jockeys have one thing in common, other than being French, it's that all three ride with a patience and intelligence gleaned from spending their early years around European racing. The horses and horsemen there are not speed crazy. Getting good position and saving some of a horse's energy for the last part of the race is a key to winning.
WYNN HORSE RACING APP
Friday is the first day you can sign up for the Wynn Las Vegas horse racing phone app. The first 150 sign-ups with a $500 deposit or more will receive a free subscription to DRF.com. That will include 20 free past performance downloads.
Also, John Avello will open his Kentucky Derby future book Friday at Wynn. He has odds listed for more than 250 2-year-olds. The top three horses on the opening line are Klimt (25-1), Straight Fire (30-1) and Big Gray Rocket (35-1).
Richard Eng's horse racing column is published Friday in the Las Vegas Review-Journal. You can buy his Santa Anita picks starting Sept. 30 at racedaylasvegas.com. You can email him at rich_eng@hotmail.com and follow him on Twitter @richeng4propick