Horses prep for Breeders' Cup at Pennsylvania Derby, Cotillion
September 18, 2014 - 8:27 pm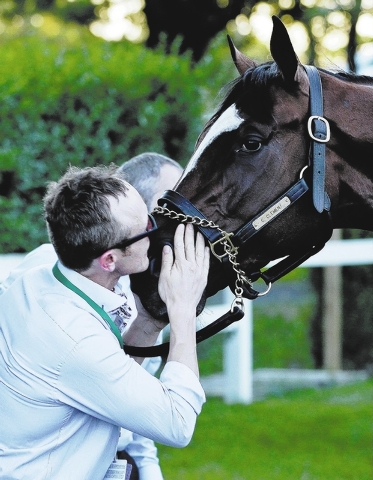 If timing is everything, then a tip of the hat to Parx Racing for its wise scheduling of the Pennsylvania Derby and Cotillion on Saturday.
Both stakes offer a $1 million purse. But they also offer 3-year-olds of both sexes a prep for the Breeders' Cup, where they can stay within their age group and not face older horses.
It has attracted, without doubt, the two leaders of their division — the colt California Chrome and the filly Untapable — to Bensalem, Pa. But both are coming off last-out losses and a vacation that gives their opponents some sliver of hope.
California Chrome (1-1) failed to win the Triple Crown in losing the Belmont Stakes. His wins in the Kentucky Derby, Preakness and Santa Anita Derby have him atop the heap.
But his bad rail draw and shipping cross country are both negatives. Also, he hates dirt being kicked in his face, and clearly Bayern (7-2) will be in front of him. Tapiture (5-1) has looked sharp in winning the West Virginia Derby and Matt Winn. This race has been his main goal all summer, and I give him a puncher's chance to upset.
The connections of Shared Belief will be watching this race intently from afar. They believe they can still win the Eclipse 3-year-old title, especially if California Chrome loses.
Untapable (7-5) figures to have an easier go. Her main foe, Stopchargingmaria (7-2), most likely will scratch and await the Beldame at Belmont Park on Sept. 27.
If that happens, the odds on Untapable will drop to at least 4-5.
Her one defeat this year was in the Haskell, where she lost facing males. She has been off for two months, but facing her own gender in the Cotillion is a big class drop.
Untapable's back-speed figures from wins in the Mother Goose, Kentucky Oaks and Fair Grounds Oaks are all fast enough to crush this group, if repeated.
I don't see her losing, at any price.
Parx has a dirt surface that, for some reason, shippers can have trouble handling. Joint Return (8-1) is a price horse who has trained well and raced well over Parx in the past. She has a late closing style in which she will pass many tired horses in the stretch.
■ SUFFOLK CLOSING — Suffolk Downs, located in a top 10 market of Boston, will race for the last time Sept. 29. It will stay open for simulcasting until the end of the year, then shut down for good.
The end for Suffolk came when it lost a bid for a Massachusetts casino license to Nevada-based Wynn Resorts.
Suffolk had done well in introducing untold numbers of college students to the sport. This was due in part to the density of colleges in the Boston area.
Bill Veeck, known mainly for his baseball prowess, ran Suffolk for three years starting in 1969. He wrote a book about it named "Thirty Tons a Day." It's still a fascinating read of an outsider's view on horse racing.
■ WYNN DERBY FUTURE BOOK OPENS — The Wynn Las Vegas Kentucky Derby Future Book opened this week. John Avello, Wynn director of race and sports, has listed odds on more than 250 2-year-olds. Remember that the first ones in line usually get the better odds.
Richard Eng's horse racing column is published Friday in the Las Vegas Review-Journal. He can be reached at rich_eng@hotmail.com. Follow him on Twitter: @richeng4propick.