Influx of imports bucks recent Breeders' Cup trend
October 24, 2008 - 9:00 pm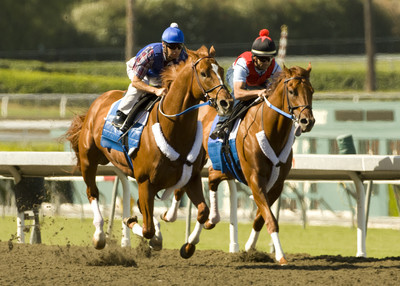 In recent years, the Breeders' Cup has had a hard time justifying the "World Championships" part of its title. Foreign runners were lacking in quantity and surely in quality. Not so this year.
At least 30 horses that were based in Europe this year will run in the 14 Breeders' Cup races today and Saturday. That is a trend breaker. In 2003, the last time the event was held in Southern California, the Euros won three races. This year I think they'll do better.
The main reason for the renaissance is the Pro-Ride synthetic surface. Naysayers had predicted the opposite would occur. Nine of the 30 Euros will race on the main track, and most have a puncher's chance.
An incredible 61 grade and Group 1 winners passed the entry box. That tells me the quality of racing will be top-notch.
I expect the two strongest favorites, Zenyatta and Curlin, to win. Beyond that, bombs away.
It's interesting how many racing experts think Curlin will lose in the $5 million Breeders' Cup Classic. His recent Beyer speed figures on dirt (111, 112 and 110) hardly show a horse on the decline. His last workout over Pro-Ride was rated excellent by most clockers.
A victory would earn Curlin back-to-back Classic wins and Horse of the Year titles.
The Classic field is not as imposing as it might seem. There are two horses to fear: Duke of Marmalade and Go Between.
The Duke underachieved badly in a winless 3-year-old season. This year he blossomed with five Group 1 wins, all at a classic distance.
Go Between won the Pacific Classic and was second in the Santa Anita Handicap and Hollywood Gold Cup. Clearly he loves it out here and the synthetic surfaces.
The rest just don't appear fast enough. I probably will single Zenyatta and Curlin in my Pick 4 tickets. Also, Station Casinos will offer a rich $20,000 twin quinella wager Saturday.
* BIG BROWN — I hate to say I told you so about Big Brown facing Curlin. In my column on May 30, I wrote "both horses probably will not show up" at the Breeders' Cup.
Big Brown and Curlin were stabled on the East Coast. Both of their trainers had reservations early on about shipping west and running over a synthetic surface. I suggested a proactive move to match them in the fall at an East Coast track.
Health always is an issue when dealing with a perishable commodity. Waiting five months for the Breeders' Cup was just tempting fate.
* UPSETS — Two pluses and two minuses to consider.
My top picks in the Marathon (Muhannak, 20-1) and Turf Sprint (True to Tradition, 15-1) are both big bombs.
Trainer Ralph Beckett told the London Telegraph that "the Marathon is absolutely made for Muhannak." Beckett has pointed him for this race all season.
Trainer Scott Lake has an enviable mark in the Sprint, and he should have True to Tradition at his absolute best Saturday.
Finally, two popular horses that I will bet against are Square Eddie (Juvenile) and Midnight Lute (Sprint).
Richard Eng's horse racing column is published Friday. He can be reached at rich_eng@hotmail.com.