Juveniles chase big purses in Breeders' Cup preview
October 7, 2011 - 1:01 am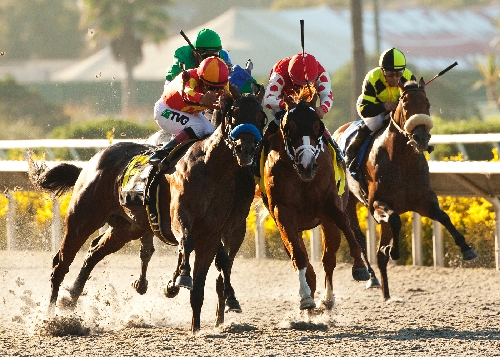 One big difference between a great racehorse and an NBA star is the horse won't go on strike over money. We'll see plenty of star power racing after big money in 12 Grade 1 and 2 stakes in a second Breeders' Cup preview weekend.
Keeneland, which opens today, will host six of those stakes. Belmont Park will offer three, Santa Anita two and Hawthorne will have the Hawthorne Gold Cup.
Keeneland, located in Lexington, Ky., is a popular signal in Las Vegas race books for good reasons: big purses, large fields, competitive first-class racing. That lends itself to terrific payoffs at the betting windows.
The prep races I like to focus on involve the 2-year-olds. The work done handicapping these juveniles will serve you well moving forward into next spring's Triple Crown races. And there are always futures bets at Wynn Las Vegas if you can mine nuggets early on.
I'll take a look at the two key juvenile races Saturday: the Breeders' Futurity at Keeneland and the Champagne at Belmont Park.
The Breeders' Futurity drew an overflow field of 16 2-year-olds. Majestic City (7-2) is favored because of his good races against Drill and Creative Cause in Southern California. This colt is better suited as a late closing sprinter because of his pedigree by City Zip.
The horses I prefer include Shared Property (4-1), Take Charge Indy (5-1) and Lucky Chappy (8-1). Shared Property and Take Charge Indy ran 1-2 in the Arlington-Washington Futurity last out. Lucky Chappy is a Team Valor private purchase from Italy who should relish the Polytrack at Keeneland. Team Valor raced Animal Kingdom, who won last year's Kentucky Derby.
The Champagne in the Daily Racing Form looks like a two-horse race between Union Rags (7-5) and Alpha (5-2). Union Rags won the Saratoga Special over sloppy going at the Spa. Alpha was a six-length winner in his debut and has the best distance pedigree in the field by champion Bernardini. A live long shot might be Takes the Gold (6-1) for trainer Richard Dutrow.
■ OCTOBER TOURNAMENTS — This is a last reminder for two major handicapping tournaments next week.
Treasure Island will host a one-day DRF/NTRA National Handicapping Championship qualifier Oct. 15. The entry fee is $400, and three seats to the NHC will be awarded.
The Orleans will host its Fall Classic from Oct. 13 to 15. The entry fee is $500, and the top 25 finishers will qualify for next year's Horseplayer World Series.
Richard Eng's horse racing column is published Friday in the Las Vegas Review-Journal. He can be reached at rich_eng@hotmail.com.