McCraken gets nod to win Kentucky Derby
Updated May 4, 2017 - 7:00 pm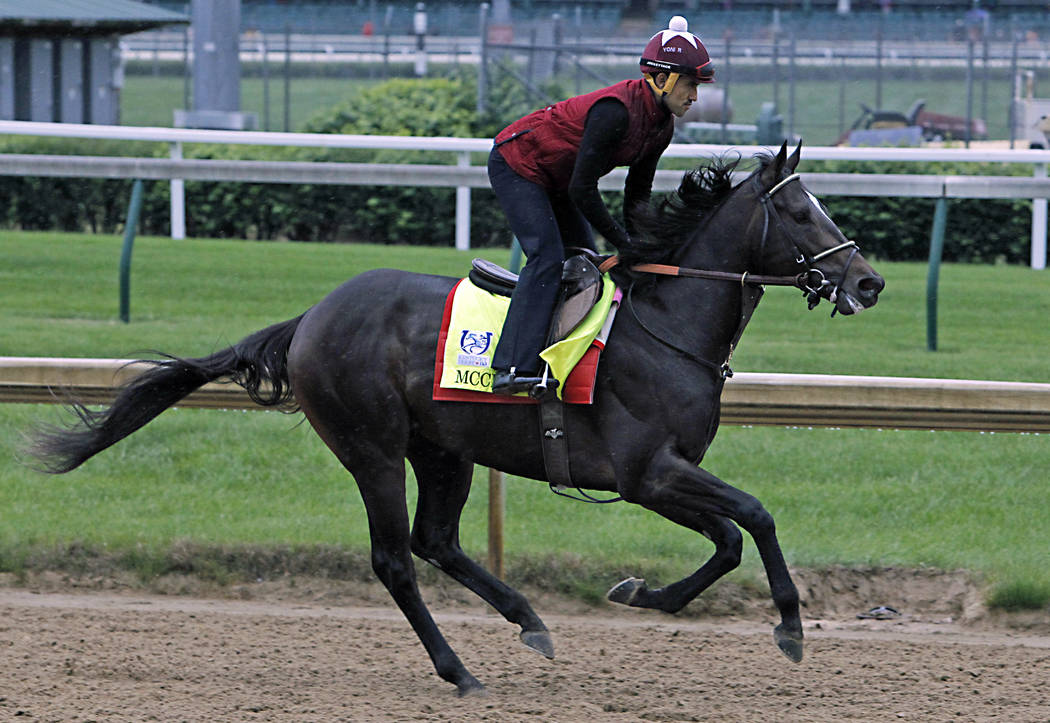 Is it possible for an event to represent the best and the worst at the same time? To me, the Kentucky Derby does.
It is by far the most popular event in horse racing. The nation gets swept up in "the greatest two minutes in sports." The negative comes after the race. Most novices do not turn into horse racing fans and lose interest again until next year.
If we could come up with a way to make this one day of passion long term, you would become a rich person.
Many experts are calling this the most wide-open Derby in years. When I hear that, I get cynical. Wide open was in 2009 when Mine That Bird destroyed the field at 50-1 odds.
Mine that Bird taught me that it is better to like some horses more rather than say a horse has no shot. While strange things happen in the Derby, the race has been more formful since the advent of the Derby Points system. One of the reasons is there is not as much cheap early speed to affect the outcome.
My top Kentucky Derby choice is McCraken (5-1). His trainer, Ian Wilkes, was the assistant to Carl Nafzger for years. Their barn produced two Derby winners in Unbridled (1990) and Street Sense (2007).
History can be a great teacher. Unbridled and Street Sense lost their final Derby prep. Each ran second in the Blue Grass. Nafzger was a master at getting these horses to peak on Derby day.
What did McCraken do in his final prep? He ran third in the Blue Grass. While Wilkes would have rather won the race, he has a Cheshire cat grin knowing his horse has room to improve and is ready to peak on Saturday.
If you liked Irish War Cry (6-1), the time to bet him in the Wynn Derby Future book was after the Fountain of Youth. He lost by more than 20 lengths and was in big trouble.
A lesser trainer than Graham Motion might have panicked. But Motion, who won the Derby with Animal Kingdom (2011), knew he had time to regroup. When Irish War Cry returned in the Wood Memorial, he was a new horse.
If you watch the Wood replay, jockey Rajiv Maragh never touches the horse with his stick. This colt looks loaded.
Classic Empire (4-1) won the Arkansas Derby in gritty fashion. He can be a bad actor at times, and in the crowded paddock on Derby day, he'll need to keep his composure.
Classic Empire was champion 2-year-old, so his talent level is over the top. He just needs to behave and run his "A" game.
Gormley (15-1) has the same connections as Derby winner Giacomo (2005) in owners Anne and Jerry Moss and trainer John Shirreffs. Plus, his jockey, Victor Espinoza, just got voted into the Hall of Fame. His resume includes three Derby wins on War Emblem (2002), California Chrome (2014) and American Pharoah (2015). American Pharoah, of course, won the Triple Crown that year.
Gormley won the Santa Anita Derby but is getting as much respect as a maiden winner at Aqueduct. A main reason is the time of the Santa Anita Derby was many lengths slower than the winner of the Santa Anita Oaks, Paradise Woods.
My final pick is Irap (20-1), who won the Blue Grass over McCraken. Irap was a maiden that day, which indicates his raw ability. His owner, J. Paul Reddam, his trainer, Doug O'Neill, and his jockey, Mario Gutierrez, have won the Derby twice with I'll Have Another (2012) and Nyquist (2016).
Eng's picks
McCraken, Irish War Cry, Classic Empire, Gormley, Irap.
Richard Eng's horse racing column is published Friday in the Las Vegas Review-Journal. You can buy his Santa Anita Park picks at racedaylasvegas.com. You can email him at rich_eng@hotmail.com and follow @richeng4propick on Twitter.