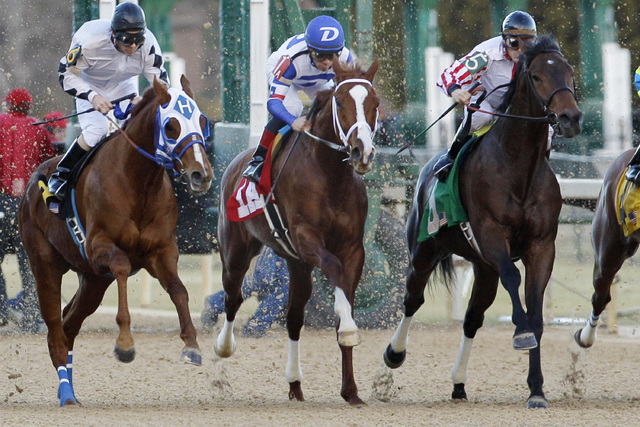 The horse racing season is coming out of hibernation and there is no better sign of that than opening day Friday at Oaklawn Park in Hot Springs, Arkansas.
The track has long been on my bucket list. It is located in the bucolic Hot Springs National Park. The biggest day of the season is when more than 70,000 fans attend Arkansas Derby day. The daily racing product has gotten better and better, too.
The jockeys, trainers and owners in horse racing are a lot like pro golfers. They go where the money is. Oaklawn purses have climbed steadily each year due to profits from Instant Racing and other casino type games.
Their management has done well to prosper in today's competitive entertainment environment. There was a time when their betting menu was best described as old school. Oaklawn had to be dragged into the new era of exotic multi-race and multi-horse bets kicking and screaming.
But now they offer a betting menu and product as good as any in the country.
A new idea Oaklawn is trying this meet is truly a "back to the future" style move. Show bets made on-track will have a low 10 percent takeout. Show bets made off-track will still have a 17 percent takeout. What this does is create a 7 percent bonus in the price of show payouts made on-track.
This may seem like small potatoes, but it is not. Win, place and show straight bets used to be the only wagers offered at the track. Now they are treated like a bad stepchild. I like the move and here is why.
Jackpot pools make news because of the potential for large payouts. However, a systematic flaw is by its very nature it takes money out of the hands of many and rewards the very few. This has a dramatic negative effect on churn which is what helps increase overall handle at the track.
Straight bets are cashed a lot more often. For newcomers to horse racing, straight bets are easily understood and nothing beats the feeling of cashing tickets.
Churn is also healthy for a pari-mutuel business. It not only increases a track's overall handle but it extends the life of a player's bankroll.
Maybe the show offer can help attract the sports bettor mentality. For example, most sports bets pay 11 to 10 odds and your team must win. A show bet wins if your horse finishes first, second or third. Add in the 7 percent bonus and a big bettor could grind out a profit.
In other Oaklawn changes, Vic Stauffer will be the new track announcer. Stauffer has not called full-time since the closure of Hollywood Park in 2013, but he is one of the best in the business.
PEGASUS WORLD CUP
One by one the field is taking shape for the $12-million Pegasus World Cup to be run at Gulfstream Park on Jan. 28. The probables now include Arrogate, Breaking Lucky, California Chrome, Eragon, Keen Ice, Neolithic, Semper Fortis, Shaman Ghost and War Story.
There are three spots open in the maximum 12 horse field. Those will be filled for two reasons. One is each stall was previously purchased for $1-million and secondly there is a $250,000 participation bonus for starting and finishing the race.
Richard Eng's horse racing column is published Friday in the Las Vegas Review-Journal. You can buy his Santa Anita Park picks at www.racedaylasvegas.com. You can email him at rich_eng@hotmail.com and follow him on Twitter @richeng4propick.