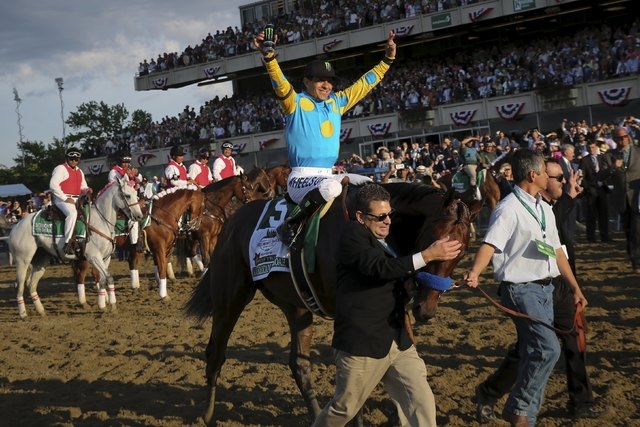 One bet that has been dropping in popularity is the Pick 6, a wager in which one must select the winners of all six designated races.
One reason is cost. If the Pick 6 has a $2 minimum, a small ticket can quickly get expensive. For example, a $2 ticket using two horses in all six races will cost $128.
The Pick 6 pool, especially in Southern California, is full of sharks who will bet four- and five-figure tickets. What they need each day is for minnows like us willing to try beating them with $64, $96 and $128 tickets.
The one Pick 6 wager that is arcing against this trend is the Rainbow Pick 6 at Gulfstream Park. Its carry-over going into Thursday's card is $2,178,642.
To win the Rainbow pool, one player must hold a unique ticket.
Since the bet has a 20-cent minimum, horseplayers are willing to take a big shot at the rich carry-over.
But to get to a unique ticket, a horseplayer must use lots and lots of long shots. And that is where the little guy has a chance to win.
A shark can try buying out the Rainbow pool, but as long as others share with him, the ultimate solo prize will elude him.
Bettors such as me only look at the Pick 6 when there is a big carry-over. For followers of the Rainbow 6 carry-over, it becomes really attractive, and here's why.
If I played an efficient ticket such as one single and three horses in the other five races, my cost is $48.60. It's a Pick 6 ticket with enough wiggle room to have a couple of midpriced winners. My target goal is just to get to all six winners.
Meanwhile, a big player has a different goal than I do. He wants that solo prize, so many of his winners must be of the knockout variety. One $50 winner would probably eliminate my ticket.
Multiple big-price winners would do the same in eliminating many more Pick 6 players. It's difficult to do, which is why the reward is so great.
If I catch a series of formful races in which the biggest winner is, say, a $15 horse, I have a good chance at perfection. So do many others, and that's a key point. If I share with others and we each get a $5,000 to $10,000 payoff, I would be delighted.
I'm betting into the fact there won't be a unique ticket and hoping for a formful day in which my smaller ticket can ride through six winners.
The overlay is in all of the wasted money used on hapless long shots on other people's tickets.
n TREASURE ISLAND – The date for the 18th annual National Handicapping Championship at Treasure Island has been set for Jan 27 to 29. The NHC is sponsored by the Daily Racing Form and the National Thoroughbred Racing Association.
n TWIN QUINELLA – Station and Fiesta race books will offer a $10,000 Twin Quinella bet every Saturday through the end of April. That is twice the usual jackpot amount.
n AMERICAN PHAROAH – Ashford Stud reported that American Pharoah, the 2015 Triple Crown champion, got his first mare in foal. The mare is Untouched Talent, who is the dam of Bodemeister. In 2012, Bodemeister won the Grade 1 Arkansas Derby and ran second in the Kentucky Derby and Preakness.
American Pharoah stands for a stud fee of $200,000.
Richard Eng's horse racing column is published Friday in the Las Vegas Review-Journal. He can be reached at rich_eng@hotmail.com. Follow him on Twitter: @richeng4propick.