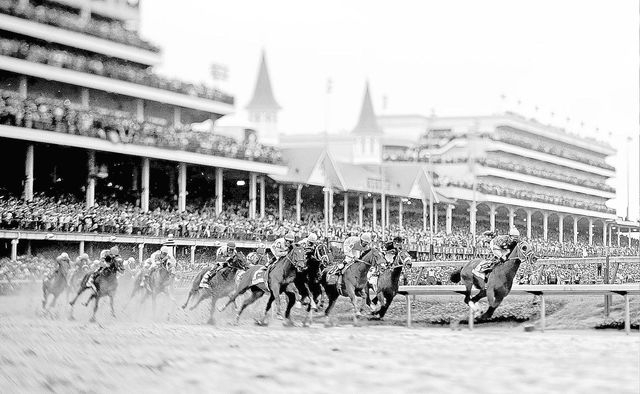 Decades ago, the horse racing industry would study the Las Vegas casino business hoping to emulate its success. The business here was booming, and racing was starting to take on water.
Well, some of those lessons must have been forgotten.
In separate news stories, which both go to the heart of getting people to attend the races in person, two companies are making it more expensive.
Jennie Rees of the Louisville Courier-Journal wrote that Churchill Downs no longer allows loyal Twin Spires Club members a discount that reduces general admission to $1.
At the same time, Steve Crist in the Daily Racing Form reported that the New York Racing Association wants to increase admission at its racetracks for the grandstand from $3 to $5 and the clubhouse from $5 to $8.
Meanwhile, even with casinos opening in dozens of states from coast to coast, the admission remains the same — free.
It is a basic tenet in gambling that you don't charge your patrons for the express privilege of losing their money. While the casinos and racetracks advertise smiling faces of young people winning money, the reality is closer to 80 percent to 90 percent of the players lose.
Let me put this another way. In Economics 101, you are taught if sales are going down, the one thing you don't do is raise prices. A good reason for raising the price would be if the product was so improved, and became so popular, that to the consumer it was worth paying more.
The executives at Churchill Downs and the NYRA cannot say these things, at least with a straight face.
Raising admission and parking fees, which also is being considered, at minimum takes away money that would be bet into the pari-mutuel pool. A horse racing venue is in a unique position. It wants every person there to gamble big, and win big, because that money will be bet, or churned, through the system over and over again.
This also is an example of horse racing competing with itself.
If fewer people go to the racetrack, they probably still will bet but through their phones or Internet accounts. For Twin Spires and NYRA Rewards, that could be a more efficient way of handling their player's action.
However, are we watching a self-fulfilling prophecy of horse racing becoming a studio sport?
These two companies are making it cheaper, and more convenient, to bet at home.
But therein lies the rub of trying to grow the sport to newcomers. Live racing is the optimum experience in this sport. The next level would be a first-class race-book facility like we see in Las Vegas.
I'm not sure how many newcomers will be enticed by making a phone bet.
One of these days, a racing executive will have a eureka moment. Maybe a good way of growing revenues is to increase the handle by lowering the takeout.
That is a formula that just might work.
Richard Eng's horse racing column is published Friday in the Las Vegas Review-Journal. He can be reached at rich_eng@hotmail.com. Follow him on Twitter: @richeng4propick.