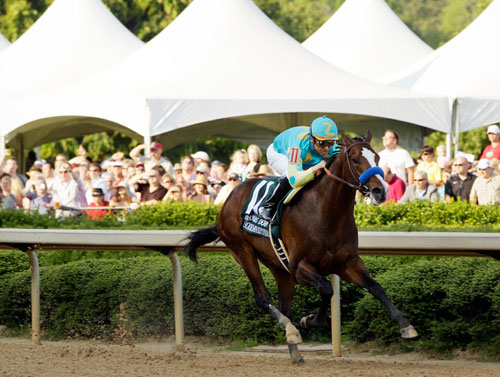 By definition, the 2011 Breeders' Cup Juvenile does not qualify as a key race. This is despite the fact that nine of the 13 starters have won a graded stakes in 2012.
A key race is where at least two horses in the field win in their next starts. It signifies class and quality. Once two horses win, then handicappers respect the rest of the field in their next starts.
The reason the Juvenile is not a key race is not all nine horses won in their next starts after the Breeders' Cup. However, the spirit of a key race is there.
This is an amazing statistic considering the putrid history of past Juvenile fields. It is food for thought that this generation of 3-year-olds might be the most talented in the past few decades.
The 2012 winners' list is outstanding: Hansen (Gotham, Grade 3); Union Rags (Fountain of Youth, G2); Creative Cause (San Felipe, G2); Dullahan (Blue Grass, G1); Take Charge Indy (Florida Derby, G1); Drill (San Vicente, G2); Alpha (Withers, G3); Daddy Long Legs (UAE Derby, G2); and Prospective (Tampa Bay Derby, G2).
Ironically, the likely Kentucky Derby favorite, the Bob Baffert-trained Bodemeister, is not among the nine. The 3-year-old colt's daylight win in the Arkansas Derby is the most visually impressive prep of the spring.
The only thing guaranteed to Bodemeister in the Derby is jockey Mike Smith will be wearing a bull's-eye on his back. Since the Derby field was expanded to 20 starters, history tells us it is difficult to win wire to wire. There usually are too many speed horses for one to break free on the front end.
One theory espoused by Patrick McQuiggan, house handicapper at the South Point, is this is one of the first generations, post-Big Brown, that is steroid free from birth to 3-year-old season.
After Big Brown won the 2008 Derby and Preakness, his trainer, Rick Dutrow, told the media he used steroids on Big Brown. Since then, the sport has worked hard to end the use of steroids on horses.
Whether the performance of this year's 3-year-olds is a statistical anomaly or based upon improvements in the sport, it clearly is a positive.
The career of a top racehorse is short. Thus, it would be a revelation if recognizable horses at age 2 developed and ran well as 3- and 4-year-olds. Building continuity and name recognition of racing's equine stars would wear well with the public.
Meanwhile, all this does not get us any closer to finding the Derby winner. The fact that a dozen or so horses are taking turns winning the prep races means that not one is head and shoulders above the others leading up to the Kentucky Derby.
Richard Eng's horse racing column is published Friday in the Las Vegas Review-Journal. He can be reached at rich_eng@hotmail.com. Follow him on Twitter: @richeng4propick.