Trainer Baffert holds pair of aces in Kentucky Derby
April 30, 2015 - 11:28 pm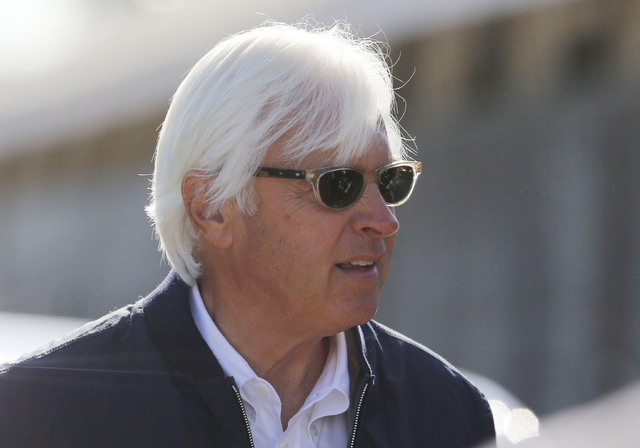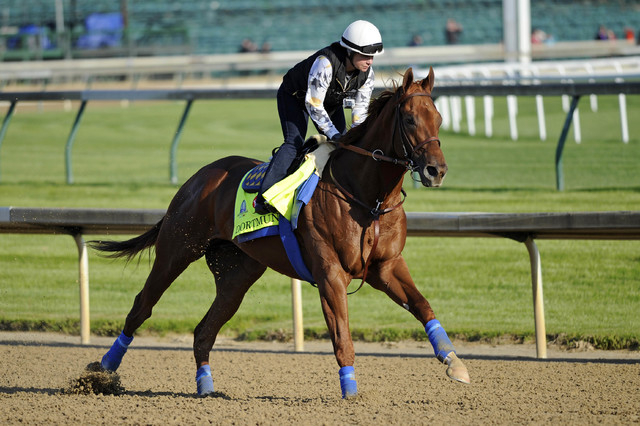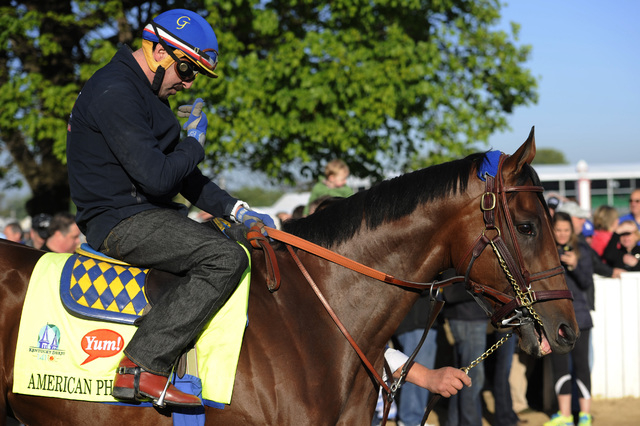 Trainer Bob Baffert has two good reasons to feel confident about winning his fourth Kentucky Derby at Churchill Downs on Saturday. They are American Pharoah (5-2) and Dortmund (3-1).
He has two aces in the hole, while other trainers are holding jacks and 10s. But as we have learned through history, the Kentucky Derby rarely goes as planned.
If the Derby is run like a ballet, American Pharoah will win. He is poetry in motion. If it's a street fight, which it is more often, then I prefer Dortmund.
Dortmund is a huge 17-hands horse. Smaller horses will bounce off him like Nerf balls as he motors his way around.
Both Baffert horses have early speed, but they will not duel one another. One will lead and one will stalk. I'm guessing the latter would be Dortmund.
As brilliant as American Pharoah has been, he has not been tested. It's not his fault because no one can get near him. However, the Kentucky Derby seldom is won the way War Emblem (2002) did, nearly unopposed, wire to wire.
Typically there is a contested early pace. That is followed by half the field falling apart from the top of the stretch as horses either tire or discover they're not bred to go this far. That's when a host of long-shot plodders close through the field.
I had liked Carpe Diem (8-1) as a contender until he drew post 2. His jockey John Velazquez now has few options inside a 20-horse field, and none of them are good.
A horse I believe can pair up big races is Frosted (15-1). He won the Wood Memorial with style under Joel Rosario. He sat back and made one run. If he can repeat his Wood race, he might give the Baffert colts their money's worth.
Then there is Firing Line (12-1). He twice came within inches of beating Dortmund in the Los Alamitos Futurity and Robert Lewis. If you like Dortmund, you should like Firing Line, too.
In every Derby, there are long shots that close from far back to finish in the money. Four deep closers I am going to use in vertical wagers include Danzig Moon (30-1), International Star (20-1), Keen Ice (50-1) and War Story (50-1).
If one of them can finish in the money with Dortmund, I most likely will cash a vertical bet or two.
Dortmund has the physique that could hold up to the grueling nature of three Triple Crown races in five weeks. We have not had a Triple Crown champion in 36 years since Affirmed in 1978.
Odds are we are not going to have one this year either, no matter how easily the Derby is won.
The hype on American Pharoah has been over the top. It's been fueled by two things. Baffert has called the horse the best he's ever trained, and he has trained a lot of great ones.
Then highly respected Southern California clocker Gary Young compared American Pharoah to Triple Crown champion Seattle Slew (1977). That's like calling Bryce Harper the next Babe Ruth.
First, let's get through Saturday to see if Baffert's pair of aces is good enough to win the pot.
ENG'S PICKS — Dortmund, Frosted, American Pharoah, International Star, Firing Line
■ PINCAY APPEARANCE — Hall of Fame jockey Laffit Pincay Jr. will be at the Green Valley Ranch race book Saturday from 12:30 to 3:30 p.m. He will be available for autographs and photos.
Richard Eng's horse racing column is published Friday in the Las Vegas Review-Journal. He can be reached at rich_eng@hotmail.com. Follow him on Twitter: @richeng4propick