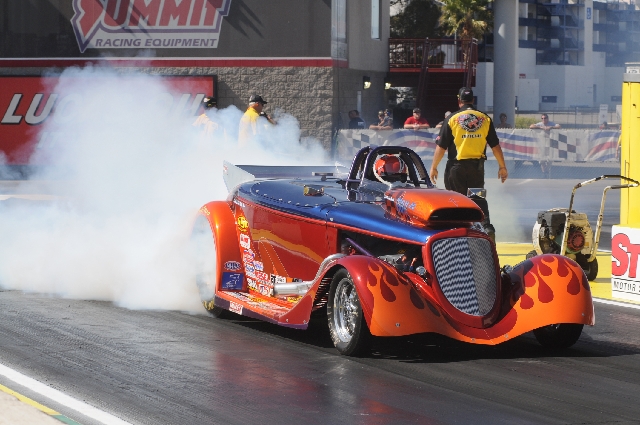 I received an email Tuesday night saying there would be a funeral Friday in Albuquerque, N.M., for Derek Sanchez. Rosary at 9:30 a.m., service at 10 at Risen Savior Catholic Community church, burial to follow at Gate of Heaven cemetery, next to the church, on Wyoming Boulevard Northeast.
The email said the Park Inn by Radisson had a special room rate of $79 plus tax for the out-of-town people who wanted to pay their respects.
The email was from a man named Jeff Nolte, a Phoenix businessman who supported Sanchez's NHRA Super Gas racing team. They also were close friends.
Sanchez was the drag racer who died from injuries suffered in a crash at the SummitRacing.com Nationals at The Strip at Las Vegas Motor Speedway on April 6.
His 1933 Ford hot rod was like a full-sized Hot Wheels car: brilliant orange and red teardrop paint job, engine scoop, open cockpit. It just looked fast. Like it should be doing 360-degree loops around a bright orange plastic track off the dining room table.
It could zip from one end of a drag strip to the other in around 9.5 seconds.
It didn't make it to the other end until a little past 7 p.m. April 6.
The official statement said Sanchez crashed at a high rate of speed at the top end of the track during the second round of Super Gas eliminations. That the '33 Ford made a violent left turn and smacked the wall. The statement said Sanchez, 47, was communicating with rescue workers; he would be taken to a hospital for observation.
Because Sanchez competes in the sportsman classes — a lot of drag racing fans go for beers when the sportsman classes are running — and because he supposedly was communicating with rescue workers, nobody made too much of his crash. Had it been John Force or one of the Top Fuel guys, it would have been different.
Five days later there was another statement. It said Sanchez had died from his injuries, that the NHRA was deeply saddened, that it wanted to pass along sincere condolences to the entire Sanchez family.
This is what the statement always says when a racer from one of the support classes dies.
There are more than 40,000 drivers licensed by the NHRA. It's impossible to know them all on a first-name basis. So sometimes when one is killed, you get the deeply saddened/sincere condolences statement, and maybe there's a moment of silence at the next race, and maybe your heart is a bit heavier than it was before. And then engines are started and you move on. It's the nature of things in auto racing.
But another man had died while racing cars at the local track.
No, Derek Sanchez wasn't Dan Wheldon. He had not won the Indianapolis 500 twice, had not perished in a spectacular wreck on national TV chasing a $1 million jackpot, had not gotten his wife's initials tattooed on his wrist just the night before.
But there had to be something interesting about Sanchez, too, something more to remember him by than a cursory expression of grief from the sanctioning body.
And this is how I learned that Sanchez loved books. Books! And that he loved books so much he got a librarian's job at the San Luis Library in Yuma, Ariz., and that he was working on a master's degree in library studies from the University of Arizona. And that sometimes when he was sitting in his hot rod in the staging lanes, he would pull out a book and begin to read.
"A lot of us called him the 150 mile-per-hour librarian," his friend Jeff Nolte said.
That's something you don't see every day — don't see any day, in fact, with John Force.
Nolte and Sanchez met at a chamber of commerce function in Phoenix where Sanchez owned a transmission shop. Sanchez showed Nolte pictures of the '55 Chevy he was racing at the time; that started a friendship that would endure 13 years.
Endure until the brilliant orange and red '33 Ford hot rod turned violently to the left at the top end of the track.
Nolte said Sanchez was single but that he had a family, his drag racing family. He was an amazing guy with three hands — left, right, helping.
Except in his race car, he was mostly quiet and introverted, probably because he loved books.
Las Vegas Review-Journal sports columnist Ron Kantowski can be reached at rkantowski@reviewjournal.com or 702-383-0352. Follow him on Twitter: @ronkantowski.