51s' Viola relives his role in the greatest college baseball game ever played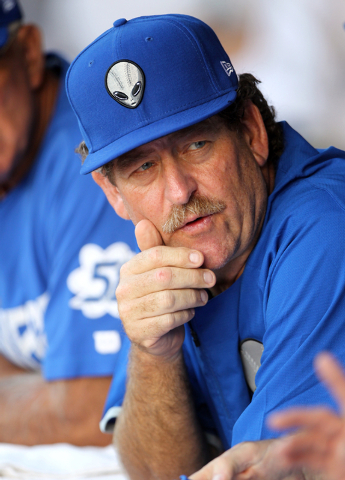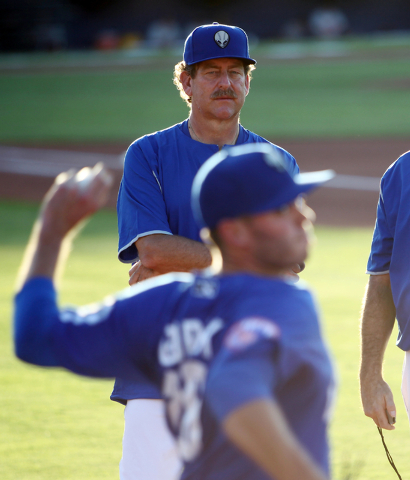 Game 2 of the best-of-3 finals at the College World Series is tonight. Virginia vs. Vanderbilt. Virginia is trying to become the first Atlantic Coast Conference team to win the title since 1955. Vanderbilt's only national title is in women's bowling.
Hopefully it'll be a good game. Maybe it'll even be a great game.
Will it be the Greatest College Baseball Game Ever Played?
Probably not. That one already is spoken for.
May 21, 1981. NCAA Northeast Regional, Yale Field, New Haven, Conn. St. John's vs. Yale. Ron Darling throws 11 no-hit innings for Yale. Ron Darling strikes out 16 St. John's batters, throws about 190 pitches. Or maybe it was a bazillion pitches.
Ron Darling loses to Frank Viola and St. John's 1-0 in 12 innings.
Both men would pitch for the New York Mets. Darling is now a Mets broadcaster; Viola is pitching coach for the 51s, the Mets' Triple-A farm club. Viola remembers that game well.
But then how could you forget it?
Roger Angell, one of the greatest baseball writers who ever lived — who still lives, at age 93 — doesn't forget it. He was there, though it was sort of by accident. In 1981, Angell had been wanting to interview Smokey Joe Wood, who went 34-5 for the Red Sox with a 1.91 ERA in 1912.
Smokey Joe was getting on in years. He would have been 92 on May 21, 1981. Smokey Joe Wood had been the Yale baseball coach; he had coached the Elis for 20 seasons.
Yale was playing St. John's in the regionals. Smokey Joe Wood suggested to Roger Angell they meet up at the game.
Nobody really knew Ron Darling and Frank Viola then, at least not in the way we know them now, as guys who were outstanding major league pitchers. Roger Angell had gone to write about Smokey Joe Wood when he noticed a hell of a ballgame was breaking out down there between the chalk lines.
Wrote Angell, in one of his countless fabulous essays for The New Yorker:
"The two pitchers held us — each as intent and calm and purposeful as the other. Ron Darling never deviating from the purity of his stylish body-lean and leg-crook and his riding, down-thrusting delivery, poured fastballs through the diminishing daylight. He looked as fast as ever now, or faster, and in both the ninth and tenth he dismissed the side in order and with four more strikeouts. Viola was dominant in his own fashion, also setting down the Yale hitters, one, two, three, in the ninth and tenth, with a handful of pitches. His rhythm — the constant variety of speeds and location on his pitches — had the enemy batters leaning and swaying with his motion, and, as antistrophe, was almost as exciting to watch as Darling's flare and flame."
Frank Viola was sitting in the corner of the 51s dugout the other day, talking about that game. Reliving it. He can still see practically every pitch. He can still see the pitches — feel them, even — that Darling threw to Steve Scalfa, the St. John's leadoff hitter, in the first inning.
He knew the Redmen, which is what St. John's was called in 1981, were in trouble. Big trouble.
"We were a bunch of Long Island guys, Brooklyn guys," Viola said, "We had attitudes. And after the first couple of hitters came in we were like, 'This is the best pitcher we've ever seen.' We were just totally defeated. That was totally unusual for a St. John's team back then."
Darling was unhittable that day. Viola was pretty good, too.
On and on it went.
"To this day, it was the best-pitched game I've ever seen," Frank Viola said.
Viola won the American League Cy Young Award in 1988 with the Twins. The season before, he was Most Valuable Player of the World Series. He pitched Game 7, beating the Cardinals 4-2. It still wasn't as good as that game he pitched against Ron Darling when they were college kids, he said.
On and on it went, wrote Roger Angell:
"With two out in the top of the eleventh, a St. John's batter nudged a soft little roller up the first-base line — such an easy, waiting, schoolboy sort of chance that the Yale first baseman, O'Connor, allowed the ball to carom off his mitt: a miserable little butchery, except that the second baseman, seeing his pitcher sprinting for the bag, now snatched up the ball and flipped it toward him almost despairingly. Darling took the toss while diving full-length at the bag and, rolling in the dirt, beat the runner by a hair."
"Oh, my!" said Joe Wood. "Oh, my, oh, my!"
Steve Scalfa led off the 12th inning with a soft liner into left field. Clean single. The St. John's players, their attitudes long gone, gave Ron Darling a standing ovation from the top step of the dugout.
His no-hitter was over. And then so, too, was the game, after Scalfa came around to score.
"I got the job done," said Viola, who allowed seven hits to Darling's one, finishing with eight strikeouts to Darling's 16. "But it seemed like every time I came off the field we were losing. That's how dominant Ron was in his performance that day."
When I asked Frank Viola how many people were at that game, that great game, to watch him and Ron Darling pitch, he said around 1,000, give or take a few.
And how many have approached him over the years, insisting they had seen it?
"Musta been 25,000."
Las Vegas Review-Journal sports columnist Ron Kantowski can be reached at rkantowski@reviewjournal.com or 702-383-0352. Follow him on Twitter: @ronkantowski.