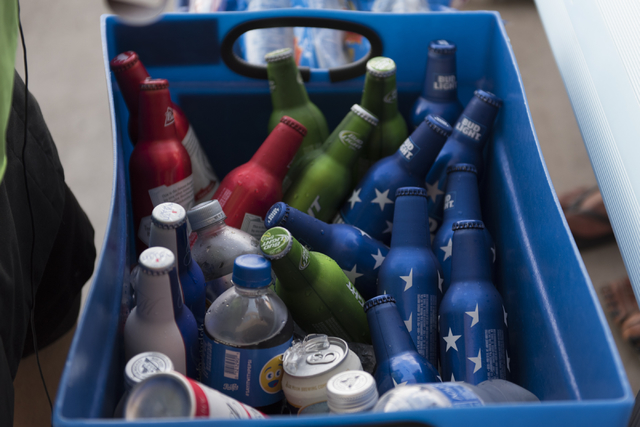 A couple of weeks ago in this space, or a similar space, it was asked if Las Vegas was moving beyond minor league sports as an entertainment source. That was the impression I was getting with the Golden Knights preparing to drop the puck and the Raiders' imminent move to town dominating news cycles.
That was before I perused these Fan Cost Indexes on the internet.
The Fan Cost Index is the average price for a family of four to attend a sporting event. It includes two adult average price tickets, two child tickets, four small soft drinks, two small beers, four hot dogs, two programs, two adult-size souvenir caps and parking. (We're No. 1 giant foam finger not included.)
The FCI to attend a Los Angeles Kings game, the closest NHL franchise to Las Vegas, is $384.99. (It's $509.80 in Boston.)
The FCI to attend a Raiders game is $430.62. (It's $685.10 in Chicago.)
In minor league baseball, it's $64.18 across the board, according to the latest survey. It's slightly higher in Triple A. It's slightly lower at Cashman Field on Thursday nights when a small beer costs $1.
This is where one might want to cup hands around ears multiple times — like they do in baseball when asking for a replay review.
51s president Don Logan believes the Triple-A team is going to do just fine when the Golden Knights drop the puck and the Raiders move to town. Especially if the 51s' owners finally step to the plate and commit to a new ballpark.
"(In) major league sports, the economics are completely different. Ticket pricings, food and beverage, parking, (merchandise), everything is at a level we don't have to operate at," Logan said. "We're about affordable family entertainment."
He talked about Triple-A ballclubs in Nashville, which also is home to NFL and NHL teams, and Sacramento, which has the Kings, who are sort of like an NBA team. They hold their own or more than hold their own. Sacramento's River Cats are considered one of the most successful franchises in minor league baseball history.
"I don't think it's going to be any different here. I think it potentially could help us," Logan said of the advent of major league sports in Southern Nevada. "It's gonna raise the spectre of sports, and we're the baseball team. I really don't think (the impact) is going to be that bad."
Who wants to play w/ a @tableau dashboard w/ 25 years of Fan Cost Index data by league/team? https://t.co/eFPaIQkgyl #sportsbiz #SSAC17 pic.twitter.com/Dto3ipzTAn

— Russell Scibetti (@rscibetti) February 21, 2017
0:03
* Remember when NFL draft swami Mel Kiper Jr. said UNLV's Jason Thomas would have been the first quarterback selected had he declared for the pros after his junior year? A lot of gurus are saying similar things about Wyoming's Josh Allen. In a 69-66 overtime loss to the Rebels in November, Allen led the Cowboys on a 97-yard drive and threw a touchdown pass on the final play of regulation. He completed 14 of 31 passes for a quarterback rating of 71.9. UNLV's Kurt Palendech completed 20 of 32 passes and had a QB rating of 85.1.
Traveled to Laramie, Wyoming to see the quarterback with "mythical" talent up close. On Josh Allen: https://t.co/BqcIABl8LZ

— Adam Kramer (@KegsnEggs) May 11, 2017
* Next month will have been six years since I wrote about a Centennial High softball player named Kassidy Merritt, who was battling a rare form of brain cancer. It really had a grip on her; it was touch-and-go for the longest time and she had to forgo a promising softball career. But I recently heard from her mother, Massiel, who said Kassidy soon will graduate from Utah State, where she is a student manager for the softball team. Fight on, Kass.
* Tuesday's column on the local U.S. Open qualifier and UNLV golfer Taylor Montgomery and his caddie and father, Monte, brought back a nice memory for Las Vegan Mike Lewis. Lewis son' Scott, who attended Coronado High and The Meadows School, qualified in similar fashion for the 2009 U.S. Open at Bethpage on Long Island, where dad served as son's bag man. "It was one of the thrills of my life," Mike Lewis wrote in an email.
Contact Ron Kantowski at rkantowski@reviewjournal.com or 702-383-0352. Follow @ronkantowski on Twitter.
Fan Cost Index
The average cost for a family of four to attend a professional sporting event:
* NFL: $502.84
* NHL: $361.84
* NBA: $339.02
* MLB: $219.63
Source: Data Marketing report, via Rodney Fort's Sports Business Data. Figures are for last available season.