Ace fisherman, 14, ready to cast lot in U.S. Open
August 14, 2013 - 9:00 pm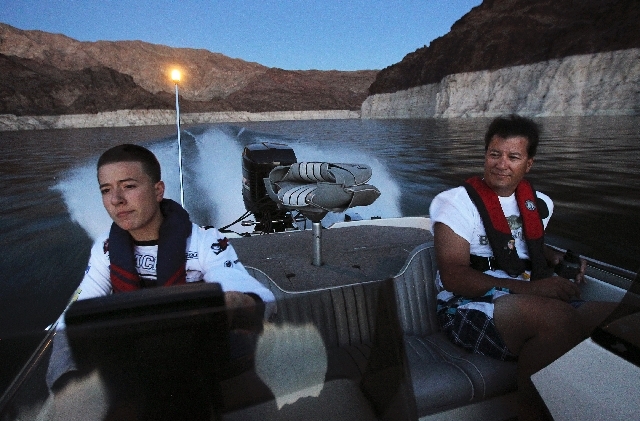 You can tell by looking at him that the kid likes to fish.
For starters, he's wearing one of those brightly colored shirts with sponsor patches. These used to be worn solely in NASCAR on the pit road; now they are worn on lakes where bullfrogs croak and guys troll for largemouth bass in tournaments that are shown on television.
The kid is toting two fishing rods made of composite alloy that cost $500 each. And he's wearing a dark green ball cap that says "Charlie's Worms" on the front in embroidered letters. Only a true fisherman would wear a cap that says "Charlie's Worms" or "Bob's Bait and Tackle."
Though the kid speaks with a deep voice, the kid is only 14, two years too young to be a pro fisherman on the bass tour. So he had to get a special dispensation from the sanctioning body allowing him to compete in the U.S. Open on Sept. 9-11 on Lake Mead, which is like the Super Bowl of bass fishing for anglers in the Western states who wear caps advertising worm shops.
The kid's name is Zach Holt. According to the fishing people, he'll become the third teenager to troll for bass in the U.S. Open, which has been around for 31 years — since before the developers starting draining Lake Mead to irrigate putting greens.
Paul Holt, the kid's father, wanted to meet out on the lake at 4 a.m., which is when the fish get hungry.
(Lindsay Lohan should become a pro bass fisherman.)
But that is much too early for most sports writers, so we agreed to meet at 10 a.m. at one of the urban ponds, at Lorenzi Park. Only there weren't any fish in that particular urban pond, because the grand reopening isn't until Friday. A fence surrounded everything.
A man wearing a hard hat said we had to go, but at least he let me finish talking to the fishing kid and his relatives, though he didn't look too pleased about it.
This is how I learned that Zach Holt began fishing when he was 10.
His grandfather Dan Holt had pulled this old boat that had been gathering dust and probably field mice from the back of his property and gave it to Paul Holt, the kid's father. After liberal applications of elbow grease and Armor All made that old boat waterproof again, Paul Holt, who is part Chickasaw, took it out on the Colorado River to look for petroglyphs along the shoreline.
Paul said he would see guys catch these big stripers, and it looked like great fun. Zach thought just being out on the lake with his old man was great fun. When he got a little older, his dad even would let him drive the boat.
So eventually, they got a couple of poles and a bag of anchovies, and they began to fish.
Maybe this is how Bill Dance and all the great ones get started, but I sort of doubt it. Bill Dance doesn't seem the kind of guy who would be interested in Native American petroglyphs, not even at halftime of a Tennessee football game.
This is Zach's first year fishing in the Bass Anglers Federation. He's fifth in the points, as they say in NASCAR, which is pretty good for a 14-year-old. If there were a chase for the bass fishing championship, he'd be in it, ahead of Kurt Busch.
But even with a special dispensation from the sanctioning body, it costs $600 to enter the U.S. Open, and though Paul Holt is a Teamster, the labor union boys usually don't get involved in fish matters. Unless it entails guys driving trucks full of them from the docks.
So Zach put up an ad on Craigslist and began mowing lawns to raise the money. He was halfway there when a member of his fishing club, who already had paid his entry, had to bow out because of injury and suggested his entry be transferred to the kid.
So now the kid is in, and he has picked up a sponsorship from the Adoption Awareness people and another from Charlie's Worms, a bait and tackle shop in Stuart, Fla.
He's hoping that when the siren sounds and the fishin' magicians hit the water, there will be a slight breeze on Callville Bay, because a breeze causes the water to ripple, and when the water ripples those bass can't see that well and they become confused. And when they become confused, they might take a bite out of the kid's rubber lure that wiggles like a crawfish.
Guys from the city have this notion that fishing is something one does when one is too old to play baseball, or when one can't hit a 7-iron worth a damn. Maybe it's something you do to relax when you have a stressful job.
Zach Holt will be a freshman at Eldorado High in a couple of weeks. Fishing is not something he does to relax.
When I asked what was the best part about being out there on the lake alone with the fish, the kid thought about it for like a nanosecond.
"Catching them," he said.
Las Vegas Review-Journal sports columnist Ron Kantowski can be reached at rkantowski@reviewjournal.com or 702-383-0352. Follow him on Twitter: @ronkantowski.