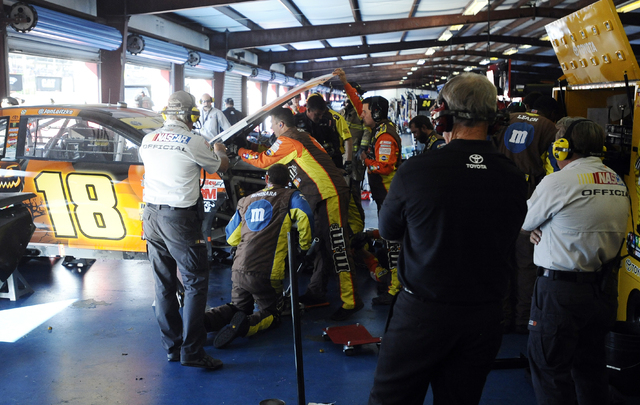 Kyle Busch was off to his best start ever in the NASCAR Chase, which is what big-time stock car racing calls its playoffs, before some non-Chase drivers crashed into the Las Vegas speed demon and a bunch of other cars in Alabama on Sunday. So now Busch is out of the Chase.
One mistake (by somebody else) is all it takes to put you out. Good thing the SATs aren't like NASCAR. I would have never made it to college.
The Washington Nationals tied for the best record in baseball this year, and they're out of the playoffs, too, having been bounced by the Giants. But at least they were eliminated by another playoff team and not by somebody like the Arizona Diamondbacks who had no business being there.
"There's a base hit off Romo, and here comes Bryce Harper around third base to score the tying run and … uh-oh, Arizona's Paul Goldschmidt has run onto the field, and Harper trips over him, and he's out at home, out by a mile … and Harper is really steamed, ladies and gentlemen, and here comes Matt Williams to argue with home plate umpire Joe West … But this play is not reviewable, and that's the beauty of this new playoff system, folks. It really adds to the postseason drama when the pros are playing football …"
The weekend in Alabama had started with Busch posting a picture of him and wife Samantha on his Twitter account wearing period clothing while posing in front of classic cars, and saying that he and Sam were going to become parents. Kurt Busch, who also has been eliminated from the NASCAR playoffs, posted something about becoming a good uncle.
It might have ended with Kyle Busch crying uncle, had he stopped to talk with reporters before retreating to the sanctuary of his hauler, where wrenches probably were tossed.
He had started the race in Alabama third in points, with top 10 finishes in every one of these Chase races. All he had to do was finish 24th to move onto the next round of playoffs and a date with the Kansas City Royals, or at least that Brad Keselowski guy who is now winning nearly all of the races.
Busch was minding his business, running around the back of the pack at Talladega, which is what you are supposed to do once the playoffs start, I guess. This was on Lap 102.
Then two guys who were not minding their business got in the way.
Aric Almirola slammed into the back of JJ Yeley, and then about 10 other cars got slammed into, and one was the No. 18 M & M's Joe Gibbs Racing Toyota driven by Kyle Busch. The wreck knocked the peanut right of the shell.
"The rear suspension was broken, the track bar was messed up, the spindles were bent, the brake studs and the spindle broke, the right front upper control arm was broke and then you had all the body damage," crew chief Dave Rogers said.
Other than that, the car was fine.
So Busch was able to get back on the track some 40 laps later. His car looked like something Dick Dastardy and Muttley might have driven in the "Wacky Races."
If enough nonplayoff cars crashed into other playoff cars, Busch might have still advanced to the next round. But not enough did, and so Kyle Busch now knows what it is to be Bryce Harper, had Paul Goldschmidt actually run into him rounding third base against the Giants.
When the steam rising from between Busch's ears finally dissipated, they released a sheet of his quotes. None questioned NASCAR's decision to change the Chase format again because the pros are playing football, because NASCAR frowns on that sort of thing, and they dock you points or whatever.
Besides, the rules are the same for everybody. Even Dale Earnhardt Jr. And Jimmie Johnson, who almost never gets run into. Those two didn't advance to the next playoff round, either.
(With around 15 laps to go, somebody in the press room at the Shriners Open at TPC Summerlin said Danica Patrick was leading, so the weekend in Alabama wasn't a total washout for NASCAR, though she got shuffled back to 19th at the finish.)
At the end of the day, I'm not sure this is what NASCAR wanted, a chase for its championship without a Junior and without a Johnson. That's what NASCAR now has. Enjoy the rest of the playoffs, Joey Logano fans.
Las Vegas Review-Journal sports columnist Ron Kantowski can be reached at rkantowski@reviewjournal.com or 702-383-0352. Follow him on Twitter: @ronkantowski