Amid Madness, local KU fans make fine company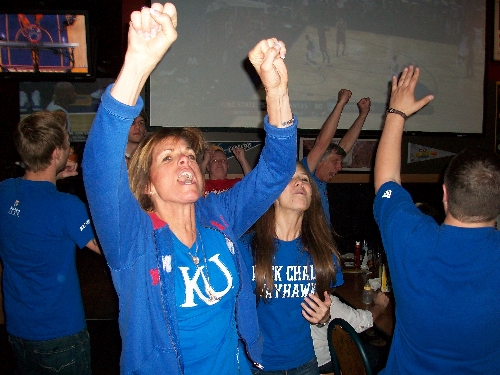 I married a Kansas girl which, this time of year, means I also am betrothed to Dr. James Naismith, Phog Allen, Clyde Lovellette, Wilt Chamberlain, JoJo White, Danny Manning, Paul Pierce, Larry Brown and Bill Self. And some guy named Roger Morningstar.
There were about 35 other guys who had wed Kansas girls — as well as a few unattached Jayhawks looking for a good time and/or a guard who could knock down a jump shot — who had flocked to the Buffalo Wild Wings on Eastern near Siena Heights in Henderson to watch KU edge North Carolina State on Friday night in a Midwest Region semifinal.
These Rockers and Chalkers are the most vocal of the 719 registered KU alumni in the Las Vegas Valley, 115 of whom are card-carrying members of the KU Alumni Association.
Their leader is a pleasant woman named Dee Clifford, who attended Kansas when a guy named Dave Robisch (who would later be part of an infamous trade for Dan Issel) played for the Jayhawks.
Kansas made the Final Four the year Dee Clifford and Dave Robisch graduated in 1971, but lost to UCLA when everybody lost to UCLA.
That was Kansas' fifth trip to the Final Four, and the Jayhawks have been back eight times since. I think it's that long-haul success, combined with a heavy helping of Midwestern loyalty and sense of community, that explains how 75 KU fans in the middle of the desert are able to find each other every March when Madness ensues, and whenever the Jayhawks are good in football, which isn't that often.
"It's almost like a sickness," Clifford said a few minutes after she placed the last Big Jay centerpiece on the long banquet tables where the KU alumni and one guy who had bet on the Spurs would be sitting.
So it's like being a Cubs fan, except that KU wins a lot.
Generally speaking, I have discovered that most people from Kansas are as pleasant as Dee Clifford. They cheer for their team, respect yours and do not complain about the officials all that much. Some even are good tippers, said our waitress Diane Waldron, who was wearing a Rock Chalk T-shirt and is asked for by name by Jayhawks patrons, even if she went to Purdue.
This, as I said, is because people from Kansas are pleasant, at least when the Jayhawks don't draw Bucknell in the first round. And also because Diane Waldron never forgets who had the buffalo wings with the teriyaki sauce and who had the ones with the spicy garlic.
Not all KU fans to whom I spoke were former rock musicians from Wichita or educators from Topeka or dairy farmers from Junction City or beef packers from Emporia.
One was a former homecoming queen from Las Vegas High who played for the Lady Rebels.
Cindi Davis was Cindi Powell when she was sixth man for the UNLV women's basketball team under Dan Ayala. One of her teammates was known as Kathy Ricks then; now she's Kathy Olivier, the Lady Rebels' coach.
Davis became an honorary Jayhawk during Kansas' championship season of 2008 when she and her former boyfriend would fly to Lawrence for some games before Mario Chalmers knocked down that 3-pointer against Memphis. On one of those flights, she met a KU grad named Angela Mai, who was more or less doing the same thing.
On Friday night they stood side by side, fingers interwoven in silent supplication, eyes closed, when N.C. State had the ball in the closing seconds with a chance to tie.
It was exactly 13.5 seconds later when they thrust their fists into the air in the company of about 73 other Kansas supporters, and one guy wearing a Indiana ballcap who had his dobber down.
So today, the Kansas girl I married wants me to take her back to the Buffalo Wild Wings on Eastern near Siena Heights for the Kansas-North Carolina game.
I suppose it could be worse.
I could have married a girl from Kentucky.
Las Vegas Review-Journal sports columnist Ron Kantowski can be reached at rkantowski@reviewjournal.com or 702-383-0352. Follow him on Twitter: @ronkantowski.