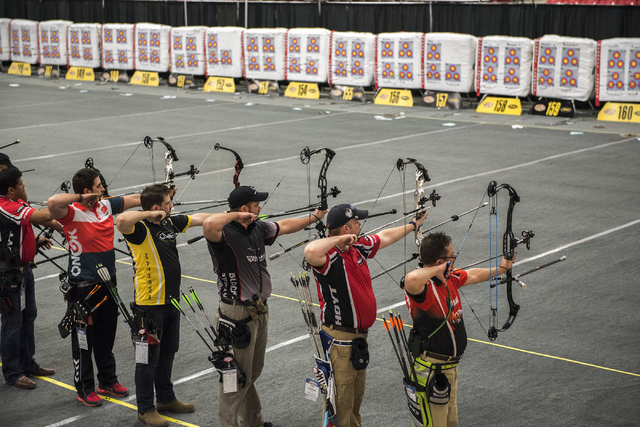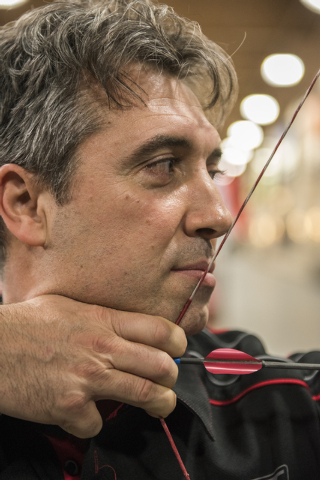 My earliest recollection of the sport of archery was listening to Bullwinkle J. Moose recite Henry W. Longfellow's "I Shot an Arrow Into the Air" poem on "The Rocky &Bullwinkle Show."
"I shot an arrow into the air. It fell to earth, I knew not where …"
That was how Longfellow's "The Arrow and the Song" began. Bullwinkle's version was a tad less formal, as I recall, and may or may not have included a nod to Boris Badenov and Natasha.
Fast forward to this weekend, when more than 2,500 archers are shooting arrows into the air at the Vegas Shoot at South Point Arena, and its surrounding convention halls, and its surrounding rodeo pavilions, and maybe even the Steak 'n Shake downstairs. When these arrows fall to earth, they mostly land in the middle of targets 20 yards away.
Especially when the pros reach into quivers. The pros almost never miss.
The Vegas Shoot is the largest indoor archery tournament in the world. Archers come from faraway places to reach into quivers. Such as South Dakota. And Spain.
I was hoping to run into Jennifer Lawrence of the "Hunger Games" or Oliver Queen, aka Green Arrow, the vigilante superhero from the DC Comics. Or perhaps even some men in tights, as in that Robin Hood movie remake.
Alas, the first archer of repute I met was Bruce Cull, president of the Vegas Shoot. As the person who introduced us said, Bruce is from South Dakota, where it's almost always pheasant season.
The best man at Bruce Cull's wedding was Ted Nugent, so it can be assumed he knows his way around a bow and arrow.
As hundreds of archers strolled by toting high-tech compound bows featuring wheels and pulleys and whatnot, Cull told me he once shot a 2,200-pound Cape buffalo with bow and arrow. This takes skill, and perhaps some overinflated footballs, because to shoot a 2,200-pound buffalo with a bow and arrow, one must be within close proximity — no more than 20 or 30 yards — of said buffalo.
"You have to get from here to that door with a 2,200-pound animal," Cull said, nodding to an office across the hall. "It gets your blood pressure up a little more" than traditional hunting with a rifle.
The second famous archer I met at the Vegas Shoot was Juan Carlos Holgado, a suave and debonair man from the Extremadura region of Spain, near Portugal. In 1992, Holgado won an Olympic gold medal shooting arrows on his home turf, or at least turf in Barcelona, an accomplishment that for many months made him a rock star when he went to dinner or the movies. Passionate Spanish people mobbed him for autographs.
"It was like Ronaldo," Holgado said in referencing international soccer star Cristiano Ronaldo of Portugal, who plays for the Spanish club Real Madrid.
I asked Juan Carlos if he ever gets asked to shoot an apple off a person's head with his bow and arrow. He said, yes, all the time. But he refuses to do it, because children might be watching, and then they might try it at home with their little brother or one of the neighbor kids.
But just for grins, he once put an apple on the head of a silhouette, and he shot an arrow just as he sneezed, and it struck near where the hairline of the silhouette would start, if silhouettes had hairlines.
I made a mental note never to ask Juan Carlos Holgado to shoot an apple off my head.
"I did many sports, but to progress in the sport of archery, you have to know yourself real well," he says about what attracted him to bows and arrows. "You have to be honest. You have fears, you have desires, you have wishes. If you are not honest with yourself, you cannot progress."
Juan Carlos Holgado sounded like Ricardo Montalban when he spoke of the romance of shooting arrows with a bow, though Montalban was from Mexico.
"Archery is the only sport where I found out who I really am," he said.
Juan Carlos said movies such as "Hunger Games" and "Brave," a Walt Disney Pictures Pixar film about a bow-and-arrow wielding Scottish princess, have introduced the sport to a new audience, namely women and children.
Lots of women and children lugging bows and arrows were roaming the arena and convention areas and the Priefert Pavilion where you could practice shooting at targets for $5, or bypass the long line with a $40 fast pass.
Juan Carlos Holgado, the Olympic gold medalist, said South Korea and France probably are the biggest archery nations but that the sport is growing fast in the U.S., thanks to those popular movies. The Vegas Shoot, now in its 15th year, keeps getting bigger, too.
It's a far cry from when Henry Longfellow shot an arrow into the air, not knowing where it might land.
When I asked Bruce Cull, Ted Nugent's pal, about what William Tell would make of these high-tech bows with the pulleys and the wheels and the Vegas Shoot, which pays $275,000 in cash and prizes, or what Robin Hood might think of it, he mulled it over for a second before chuckling.
"There'd probably be a lot more merry men," he said.
Las Vegas Review-Journal sports columnist Ron Kantowski can be reached at rkantowski@reviewjournal.com or 702-383-0352. Follow him on Twitter: @ronkantowski.