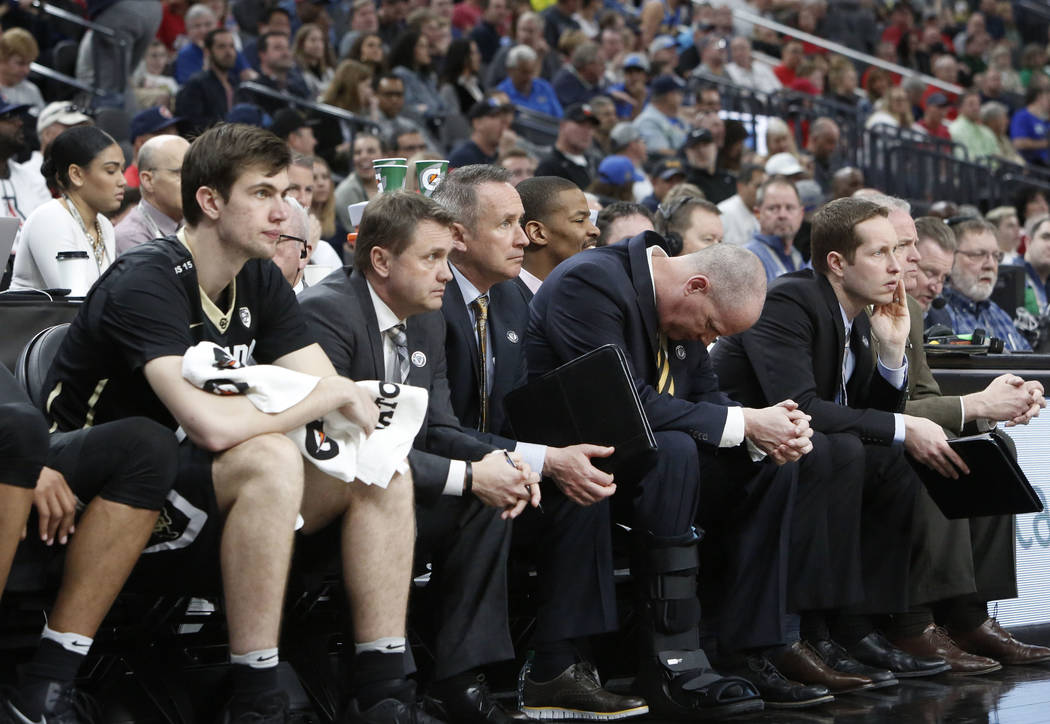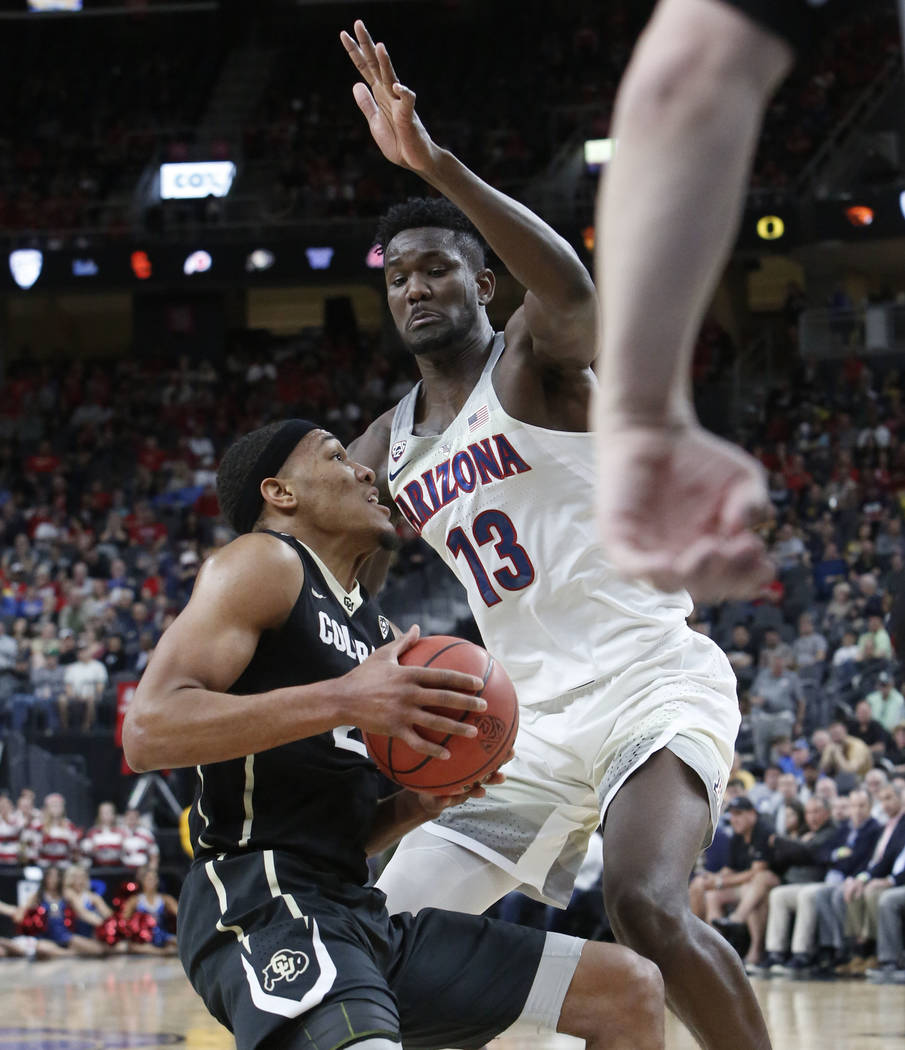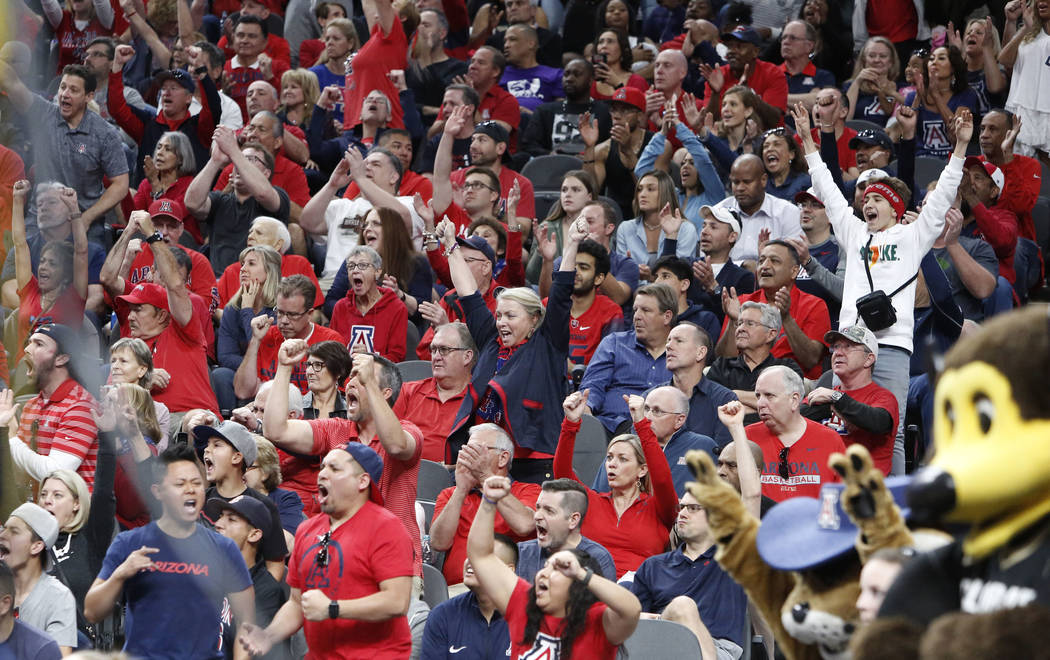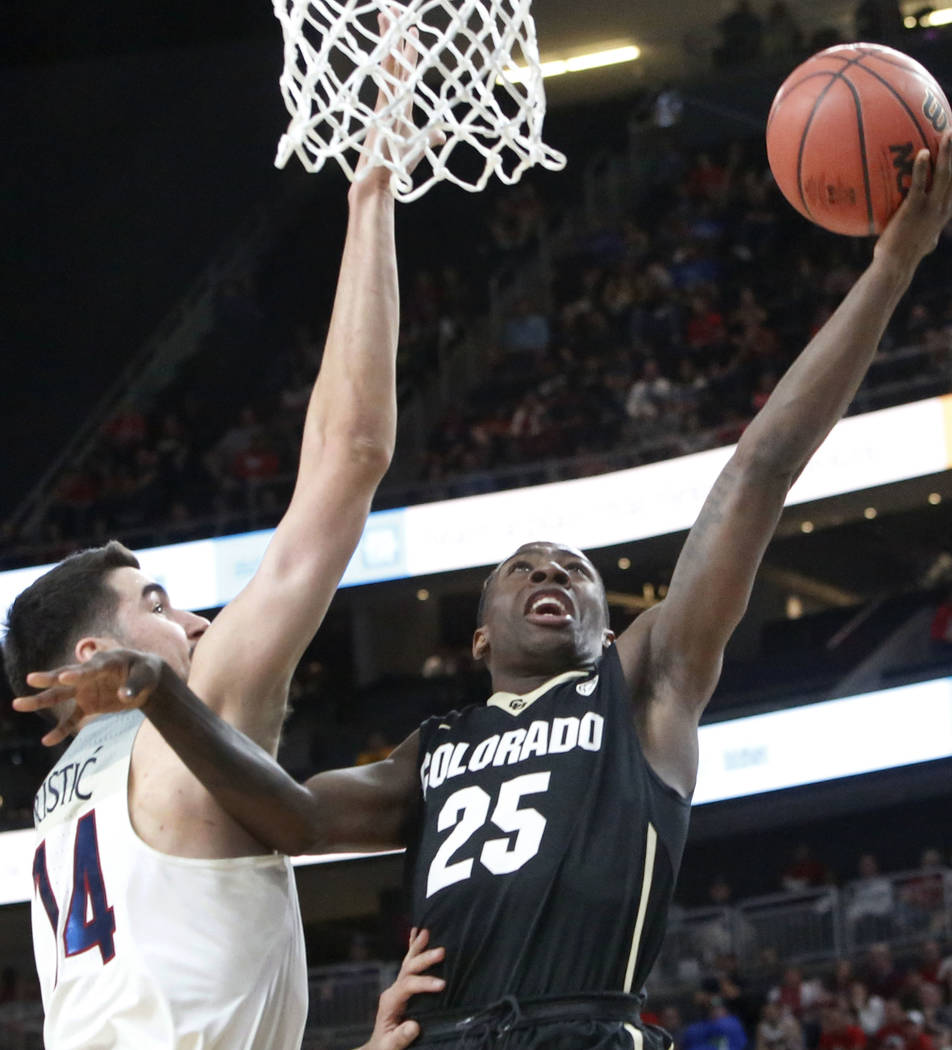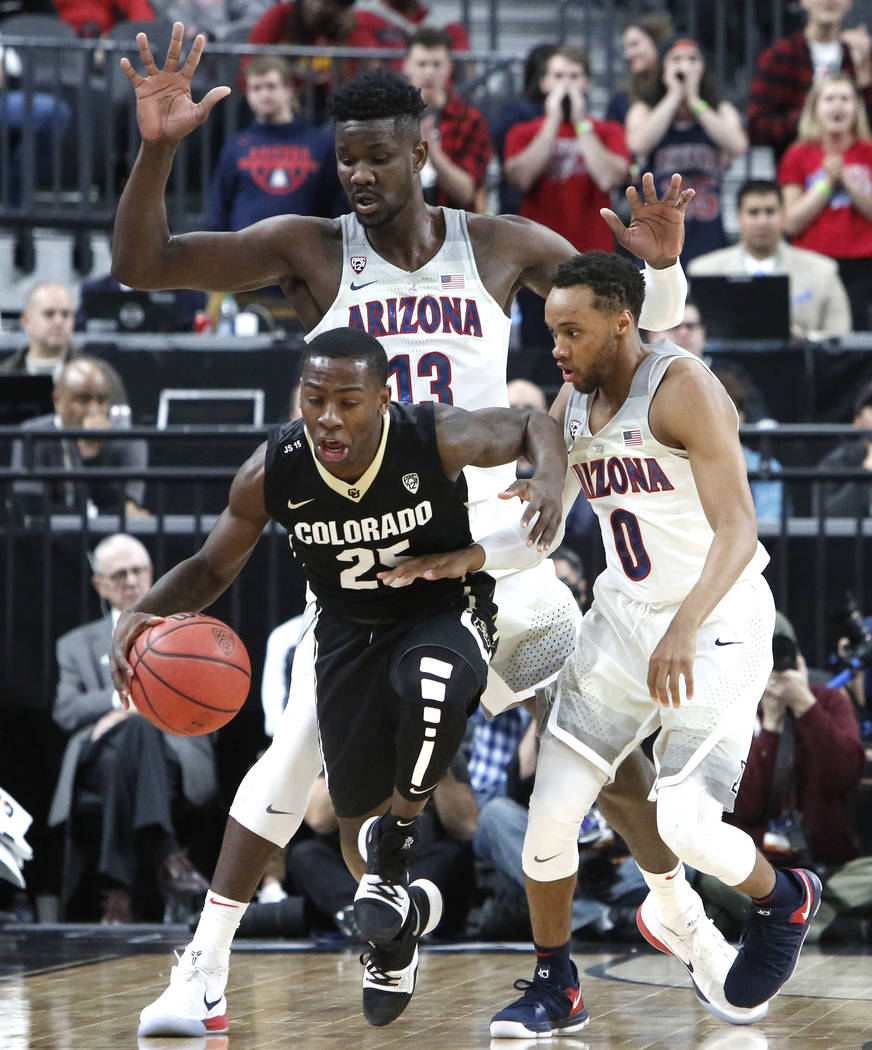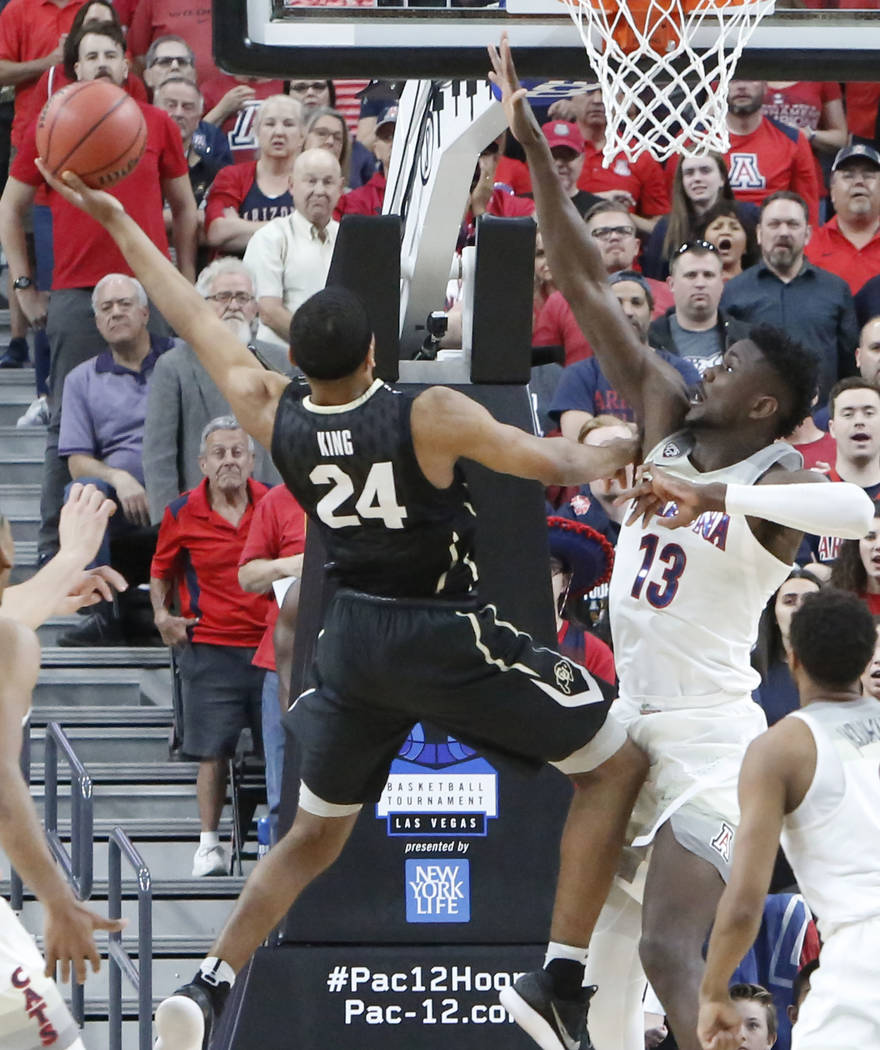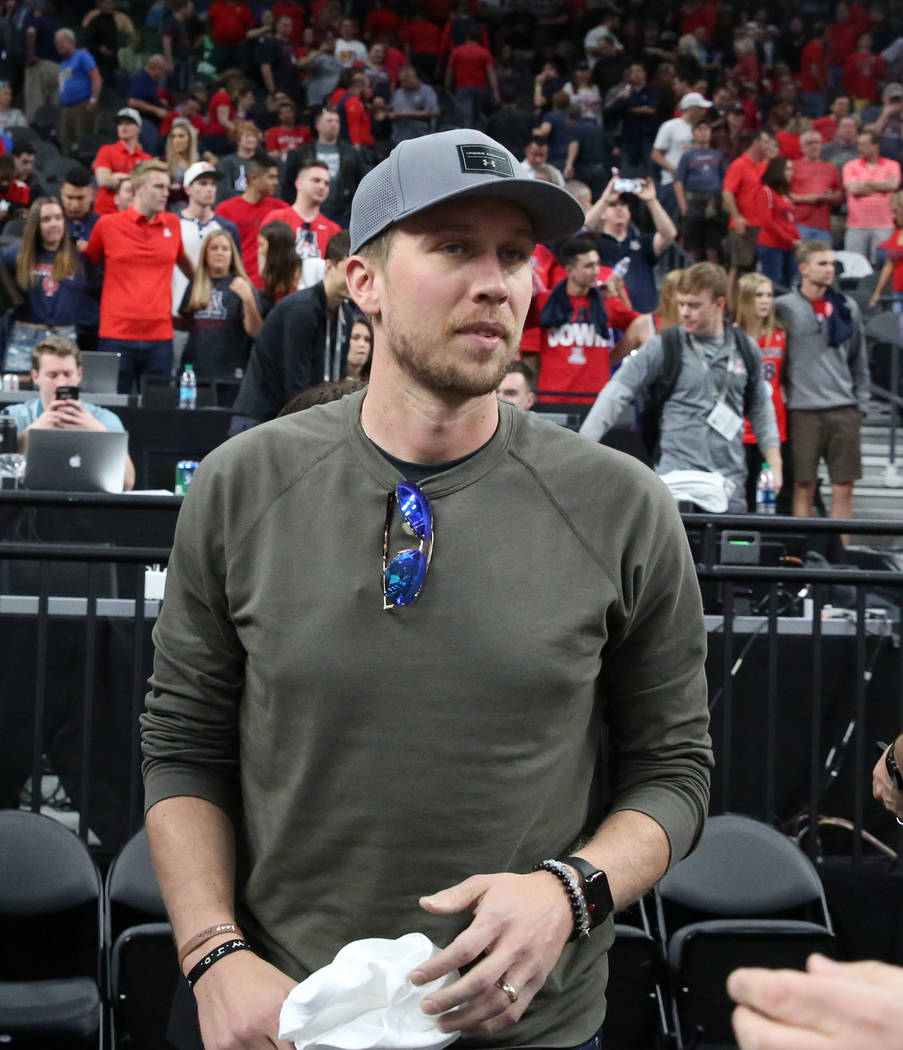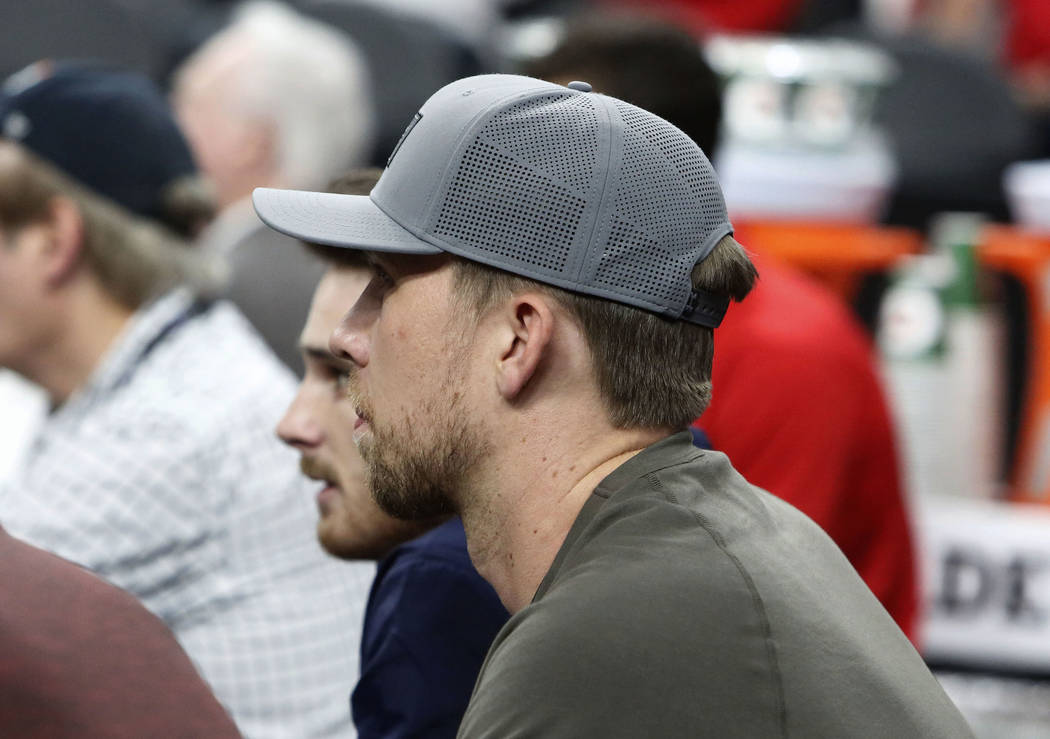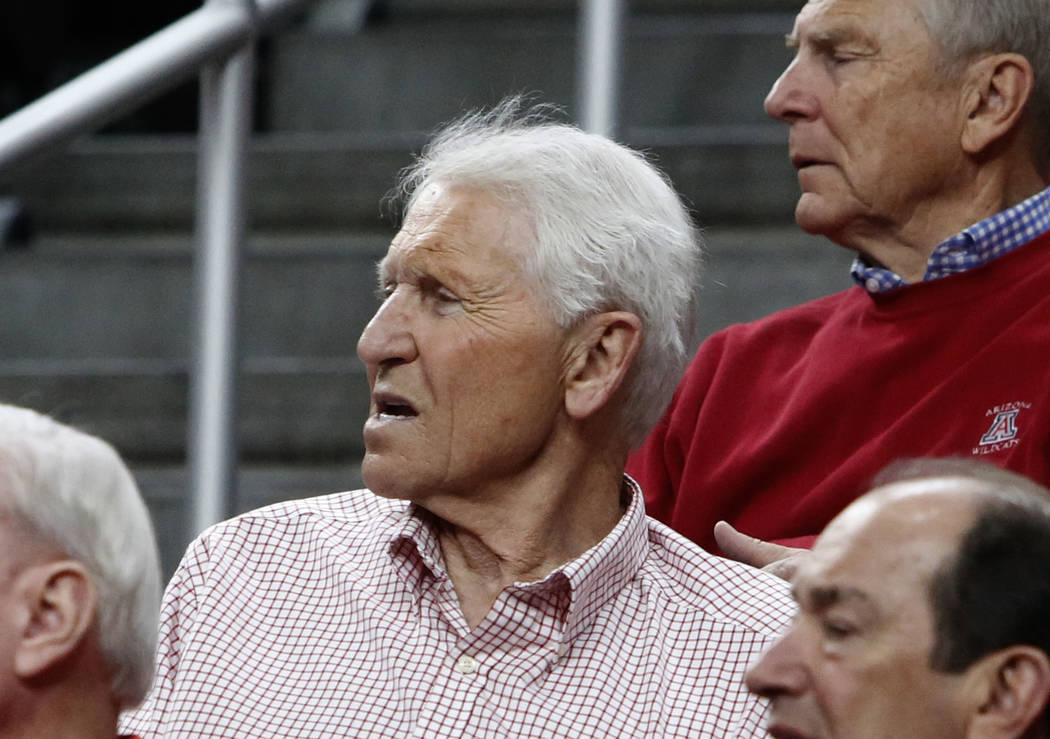 You knew it was coming.
As embattled Arizona basketball coach Sean Miller shook hands with myriad Colorado Buffaloes after the Wildcats' 83-67 victory in the Pac-12 tournament quarterfinals Thursday, leather-lunged fans sitting behind the CU bench at T-Mobile Arena let him have it.
The words were harsh.
At least three or four were among the seven George Carlin said one could never say on television.
On Feb. 23, ESPN reported that Miller was caught on an FBI wiretap discussing a $100,000 payment with agent Christian Dawkins that would guarantee freshman blue-chipper Deandre Ayton would sign with the Wildcats. That was when another of George Carlin's seven verboten words hit the fan. Or fans, plural, in the case of those exercising First Amendment rights behind the Colorado bench.
Miller ignored the barbs, which is what one would expect. Wildcats star Allonzo Trier of Henderson's Findlay Prep, who failed two tests for performance enhancing drugs before having his suspension lifted via appeal, exchanged pleasantries with the leather-lunged fans. Which is also what one would expect, kids being kids and all.
Thursday's game was the first time Miller had faced a hostile crowd since the wiretap report, the first time he had addressed the basketball media in a communal setting.
It didn't go all that well.
Addressing the W word
There were several questions about the wiretap during the official postgame news conference. Only one referred to it by name.
Q: You called the ESPN report about the wiretap defamatory. Do you intend to pursue that legally?
Miller: I've already made my statement.
Q: But I don't think you addressed whether or not you'd pursue it legally.
Miller: I've already made my statement.
Sean Miller's upper lip was so stiff you could bounce a basketball off it.
I'm not aware of any relationship Miller may have with former UNLV coach Lon Kruger, who is trying to rally his troops at Oklahoma. But he should call Kruger posthaste and ask to borrow the keys to the Sooner Schooner.
It's time to circle the wagons.
The assumption among college basketball cognoscente is that the W word is going to be a huge distraction if not an all-out impediment as Arizona continues down the maddening path of postseason play. Long term, a charge such as this, if proven true, cannot be a good thing. But at least one expert believes Miller might be able to use it to his benefit in the here and now.
Us against them
"They've had their struggles, but that could wind up helping them, almost galvanizing the group," former UCLA and St. John's coach and current Pac-12 broadcaster Steve Lavin told Steve Cofield and Las Vegas Sports Network sidekick Adam Hill of the Review-Journal before the tournament.
"Really, Arizona at full strength has lost two games, (so) they'd be No. 1 or 2 in the country and a one seed and poised to win a national title. But because of their struggles, I actually think they're more likely to make a run at the national title than if they hadn't gone through all that adversity. Absolutely. Very similar to some of Jerry Tarkanian's (UNLV) teams that made runs to the Final Four, the one that won the national title."
Lavin makes a valid point.
Us against them.
Develop a foxhole mentality.
Circle the wagons.
"It's interesting how that works," Lavin said. "When you have people in your family, or individuals you care about go through struggles and adversity or deal with hardships, often times you rally around those people, and it creates a cause or a purpose or a hard edge."
But here's the difference between Sean Miller and Jerry Tarkanian based on what was witnessed Thursday.
Instead of dodging the questions about the W word or responding in bellicose fashion, Tark would have smiled and answered each and every one, and when the moderator said "We'll take one more question," Tark would have taken two or three or four.
He would have you eating from his hand, and you would have walked out of the news conference convinced that Jerry Tarkanian was right and it was all the NCAA's fault.
Contact Ron Kantowski at rkantowski@reviewjournal.com or 702-383-0352. Follow @ronkantowski on Twitter.