Army staff sergeant surprises stepfather at NFR family reunion
December 5, 2017 - 4:58 pm
Updated December 5, 2017 - 5:47 pm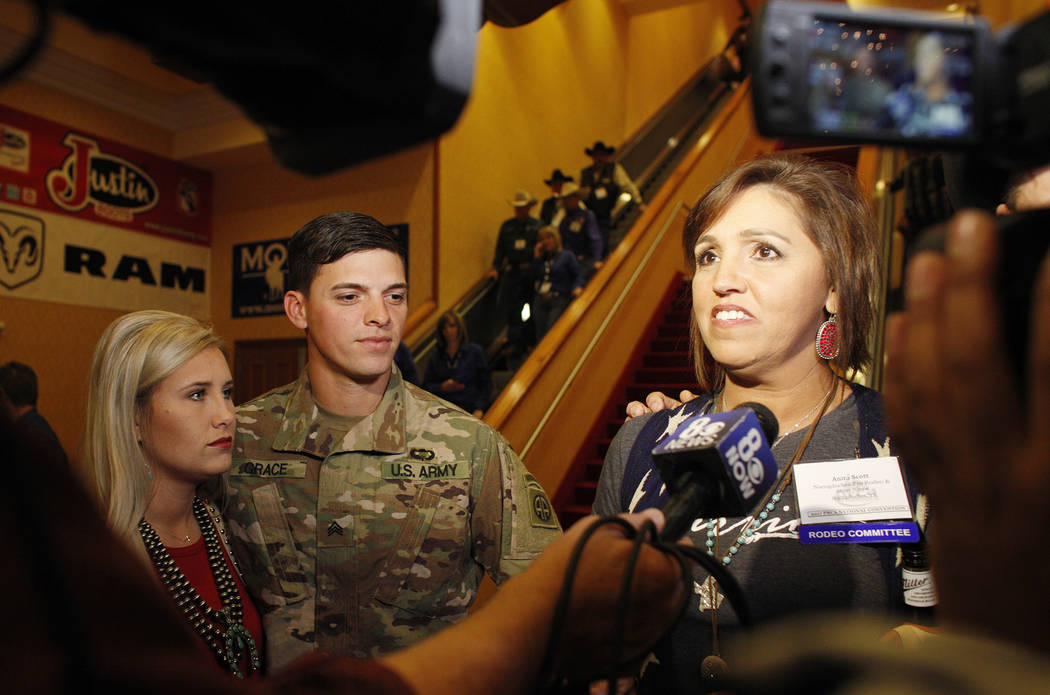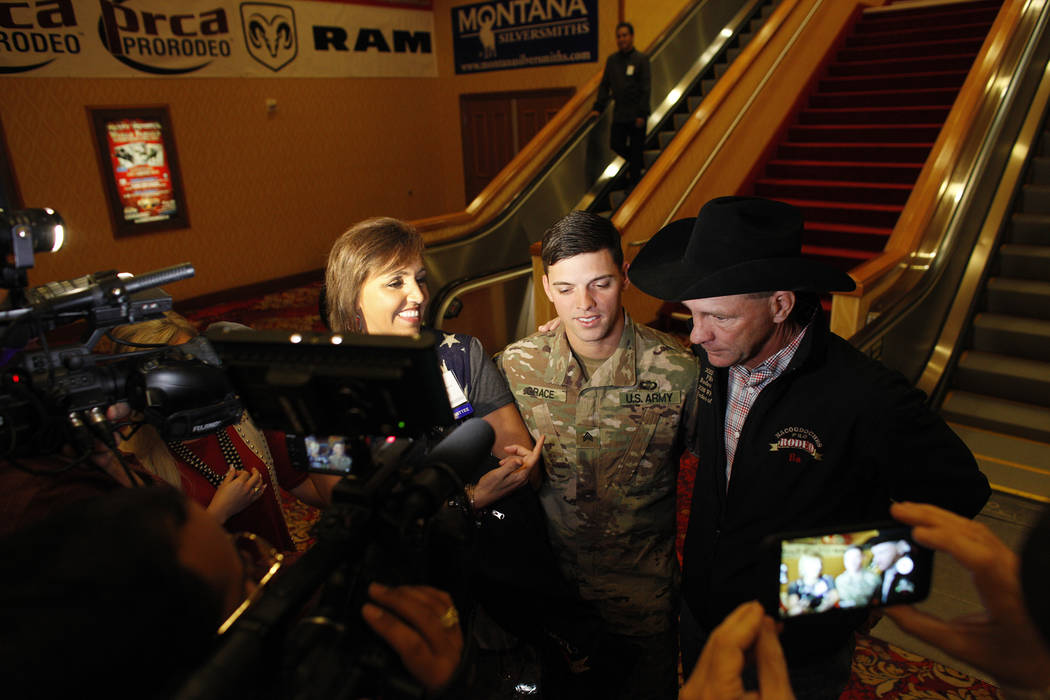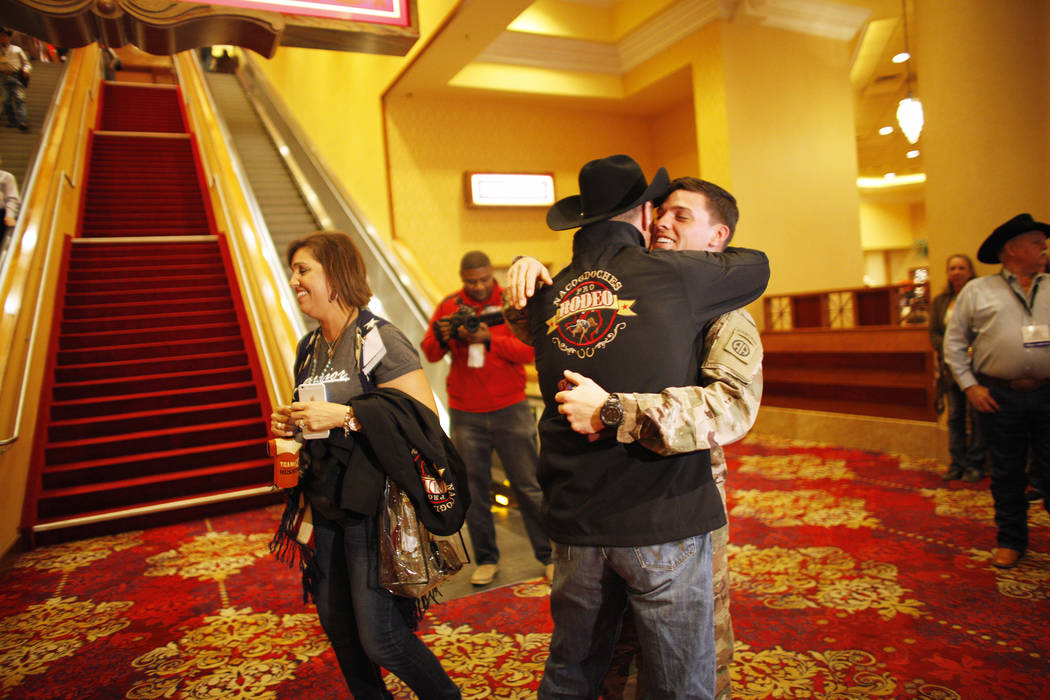 Many compelling moments will transpire during the 2017 installment of the National Finals Rodeo starting Thursday at the Thomas & Mack Center.
It will be difficult to top the one witnessed Tuesday at South Point.
It was just past noon. A slight man with a wiry build wearing a black cowboy hat embraced a younger man, also slight, but wearing U.S. Army fatigues. This was near the big bronze statue of NFR founding father Benny Binion and his horse in the corridor leading to the South Point Arena & Equestrian Center.
This was Bo Scott and U.S. Army Staff Sgt. Timothy A. Grace, of Nacogdoches, Texas.
The wiry cowboy had tears in his eyes. His stepson is on his second tour of military duty. First Iraq, now Afghanistan. Try coming out of that chute. They hadn't seen each other in forever, unless one counts pixelated Facebook transmissions. Bo Scott didn't expect to see his son on this day, either. He expected to pick up NFR tickets.
That is what the woman wearing the stars and stripes shawl had told him. They were there to pick up rodeo tickets, said Anita Scott, Bo's wife — Staff Sgt. Grace's mother. The reunion was a surprise for Bo, an early Christmas present. The best Christmas present.
The three embraced at the foot of the escalator to the conference center. The sergeant's wife, Bailey, joined in. Anita backed away for a moment as Bo hugged Tim. She patted her husband on the back. Love taps. Bo Scott went right on hugging her son. Their son. People in the runway near the big statue of Benny Binion and his horse began to cheer.
Not all were sure what they were cheering, only that it appeared emotional and from the heart. It had to be something special.
It was.
Those NFR cowboys better have their spurs on tight.
Best surprise ever
"I wasn't expecting it," Bo Scott said. "We talked about him making it back (to the NFR), but then I understood that it was going to be late December until he got back. And here he is."
Staff Sgt. Grace, who is 27 but looks 17, turned to his mother. "Who do we all have to thank?"
Anita Scott thanked Las Vegas Events vice president Michael Mack, who coordinated the reunion with a Texas-sized assist from South Point, the NFR's home away from home.
"There were so many behind the scenes that I'm sure must have helped," she said. "So thank y'all so much for being here."
Her son left Afghanistan on Wednesday, beginning an odyssey that took him to Kuwait, Turkey, Germany, Baltimore, Charlotte, Fayetteville in North Carolina. He left Raleigh-Durham on Tuesday morning for Las Vegas. That's a wild ride that not even Ty Murray in his prime could have imagined.
"To be able to be with each other on Christmas is an awfully good feeling," said the former 82nd Airborne Division paratrooper who has 15 months remaining on his second stint with Uncle Sam.
Bullish on the rodeo
Bo Scott said he was a former bull rider. He looks and talks the part. Staff Sgt. Grace looks more like a young Tom Cruise in "Top Gun" than a grizzled cowpoke. He said perhaps he would try riding a bull after rejoining civilian life, but his heart is set on becoming a highway patrolman.
"It's gonna be a lot of catching up," said the man who raised him about how they would spend the holidays. "He's got a lot on his mind, for sure. He's been in a bad place."
Now they were in a much different place. The distant rumble of tanks had been suppressed by the jingle-jangle of slot machines.
Fifteen minutes ago, Bo Scott was in the Coronado Cafe coffee shop, wondering what was taking his wife so long to pick up those rodeo tickets.
Contact Ron Kantowski at rkantowski@reviewjournal.com or 702-383-0352. Follow @ronkantowski on Twitter.
Staff Sgt. Timothy A. Grace
Home: Nacogdoches, Texas
Age: 27
Wife: Bailey
Joined U.S. Army: January 2013
Military career: Operation Inherit Reserve, Iraq; Swift Response, Poland; Operation Freedom Sentinel, Afghanistan.
Honors: Army Commendation Medal; Distinguished Honor Graduate, Warrior Leader Course.