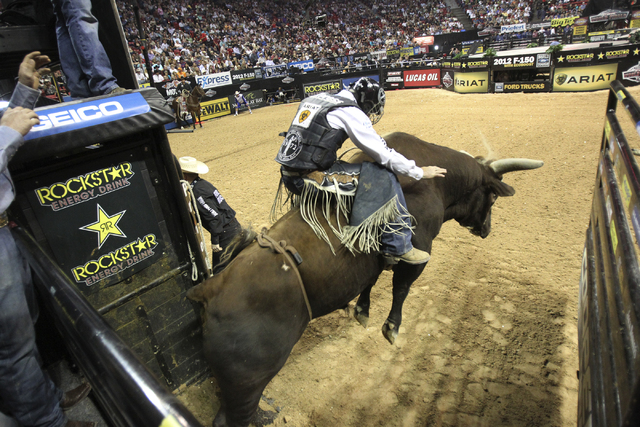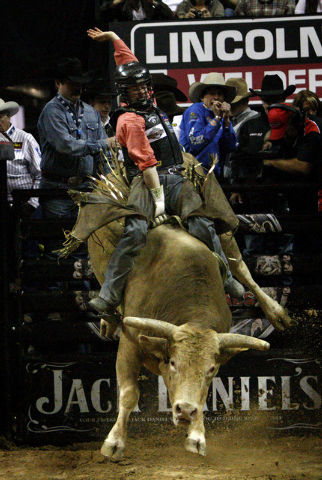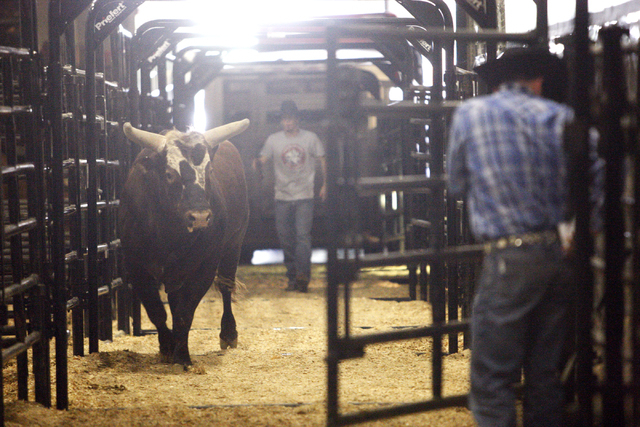 You might have missed it amid all the Super Bowl weather reports, but Bushwacker the bull — the baddest bucking bull on the planet — announced his retirement in Oklahoma City the other day. He'll buck for the last time in October, at the 2014 Professional Bull Riders World Finals at the Thomas &Mack Center, after which it is expected the bullriders will throw him a hell of a going away party.
Unlike John Elway and Wayne Gretzky, Bushwacker did not make his own retirement announcement. This was most likely due to the fact that Bushwacker is a bull and does not speak.
Yes, Mr. Ed, the TV talking horse of the 1960s and of Nick at Nite reruns, was known to speak from time to time. But only when he had something to say. And only to his owner, Wilbur Post.
Bushwacker the bull is owned by a man from California named Julio Moreno who has never heard him speak, only snort.
But what if Bushwacker could talk?
His retirement news conference might have gone something like this:
(Bushwacker crashes through a brick wall, leaving a trail of bull snot and his outline, a la the old Schlitz Malt Liquor bull. He takes a seat on the dais, next to Julio Moreno, taps the microphone with a giant hoof. There is a screech of feedback.)
Bushwacker the Bull: "Is this thing on?"
BTB: "Uh-oh. Guess what day it is? Guess. What. Day. It. Is. Huh? Anybody? Julie? Guess what day it is? Oh, c'mon. I know you can hear me. Mike, Mike, Mike, Mike, Mike: What day is it, Mike? Ha, ha, ha, ha, ha! Listen. Guess what today is: It's the day I announce my retirement. Woo-woo! I'll open it up to questions."
(I think if Bushwacker could talk, he would sound exactly like the Geico Camel. Or perhaps Terry Bradshaw.)
A man wearing a plaid shirt with snaps instead of buttons raises his hand:
"Dusty Spurs, Cheyenne Bugle. Bush, if I may call you that, you had bucked off a record 42 consecutive riders before J.B. Mauney rode you in Tulsa last year. You are only 8 years old; some bulls buck until they are 11 or 12. Why quit now?"
BTB: "Asteroid, Smackdown, Shepherd Hills Tested, Rango, Mick E. Mouse … there are some good young bulls coming up. I think I still can buck with the best of 'em. But Willie Mays thought he still could play center field, too, when the Giants traded him to the Mets. One day, you are making over-the-shoulder catches in the World Series; the next day, they are putting a ring through your nose and hitting you seventh, behind Felix Millan."
Another man wearing a plaid shirt with snaps instead of buttons raises his hand:
"Tuff E. Nuff, Lotabull.com. Congrats on a great career, Bushwacker. Anaheim, Arlington, Albuquerque, Fresno, Nampa, Billings, Las Vegas, Tulsa, Nashville, Biloxi, Las Vegas, again, for the World Finals. Except for Fresno, that's a heck of a retirement tour. Your thoughts?
BTB: "I heard the Twins gave Mariano Rivera a rocking chair made of broken bats during his retirement tour. I wouldn't mind having one of those. Maybe they could make mine out of the broken collarbones of those Brazilian dudes who refused to get off my back."
A man with the outline of a can of smokeless tobacco embedded into his Wranglers, standing back by the complimentary beef jerky next to Flint Rasmussen, the rodeo clown, motions for the wireless microphone.
"Sam Yosemite, Fort Worth Star-Telegram. Bushwacker, you've been featured in the Wall Street Journal, USA Today, 'CBS This Morning' and ESPN's 'E:60' to name only a few. ESPN The Magazine said you had a better body than LPGA golfer Natalie Gulbis, even without her wood covers. You have achieved the second-highest bull score ever recorded, your career buckoff percentage is 96 percent, your average buckoff time is 3.31 seconds. You must be awfully proud of everything you have accomplished."
BTB: "Yeah, I am. And don't forget that a straw of my semen sells for $3,000. Eat your heart out, Brad Pitt."
The microphone is handed to a woman with long, dark hair who sort of looks like Crystal Gayle, only with crow's feet. She is wearing a lacy bodice.
"Crystal Gayle, Academy of Country Music Awards, Top Female Vocalist, 1976, 1977, 1979. Can you talk about your retirement plans, Bushwacker? Have you given any thought to what you might like to do?"
BTB: "Thanks, Crystal. By the way, your brown eyes still look pretty blue to me. Or maybe it's just the light in here. Hump Day-y-y! To answer your question, I've been contacted by the Black &Decker people, who want to put my name on a new line of lawn-trimming equipment. Sort of like those George Foreman grills. I've still got a couple of Applebee's in Texas that I'm responsible for, and a car dealership in Montana. And sometimes I like to make comments, or at least paw at the dirt, when I'm watching the PBR on the CBS Sports Network. So there's always the broadcast booth."
Julio Moreno leans over to take the microphone from Bushwacker.
"He'll have a pasture, maybe 15 acres, irrigated, nice clover, a little barn to come under. And he'll probably have 20 girlfriends with him at all times. I'm sure he'll enjoy that."
Bushwacker the bull, taking the microphone back from Julio Moreno and affecting a Lou Gehrig impression:
"Today I consider myself the luckiest bull on the face of the earth."
Las Vegas Review-Journal sports columnist Ron Kantowski can be reached at rkantowski@reviewjournal.com or 702-383-0352. Follow him on Twitter: @ronkantowski