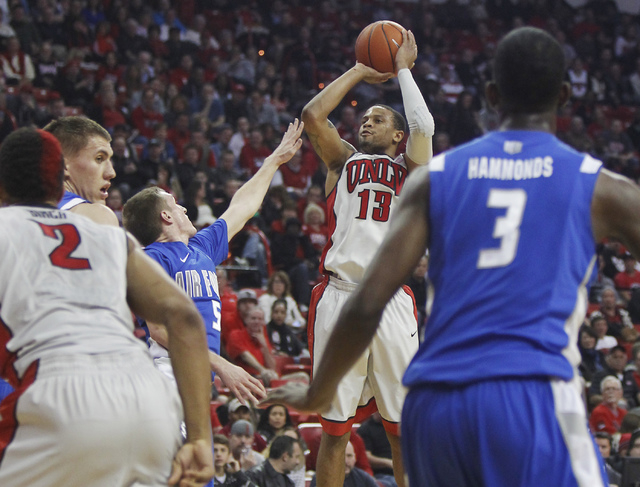 Until Saturday night, when they left the backdoor open and lost to Princeton West at home, it had been going pretty well for the Rebels. The basketball Rebels.
(These days you almost have to make the distinction between the football Rebels and the basketball Rebels, because until Wednesday, it had been going pretty well for the football Rebels, too.)
No more losses at home to Dixie State that don't count. No more losses at home to UC Santa Barbara that do. No more close calls against Gomez, Morticia, Lurch, Uncle Fester and the rest of Addams State. I mean Adams State. With no additional "D." Which sort of described the Rebels in November.
But then they went on the road, and they played some defense, and they made some free throws, and they nearly knocked off Arizona, which two days later went to No. 1 and remains there.
UNLV copied off the paper of the football Rebels. They started beating every weak opponent on their schedule. They became bowl eligible.
They beat Fresno State, on the road, in their Mountain West opener. Nice win, that.
So they were 10-4 with Air Force coming to town on Saturday night.
Air Force, with its throwback uniforms, and its throwback haircuts, and its throwback backdoor cuts and offensive motion, and its throwback defensive fundamentals, and its throwback Chuck Taylor white canvas Converse basketball sneakers.
Actually, Air Force doesn't wear white Chucks. But the Falcons will kill you with those backdoor cuts. They'll make you look bad if you leave the backdoor open.
A couple of years ago, the Falcons came in here and made the Rebels — a better bunch than these Rebels — look absolutely terrible. UNLV won, but the final score was 49-42, and peach baskets were knocked off barn walls, and when it was over, Dolph Schayes was contacted, just to see if he had any eligibility remaining.
So this probably was why UNLV coach Dave Rice called Air Force "scary" in the newspaper on Saturday morning.
Rice said this though the Falcons are rebuilding. They have only one senior. They are now coached by this guy named Dave Pilipovich, who still uses some of the Princeton stuff but uses it at a much brisker tempo.
The Falcons haven't played any games in the 40s this season — I'm talking points, not temperature — and they won two games during which they scored 94.
So this was not your father's Air Force. And it wasn't Joe Scott's Air Force, or Chris Mooney's, or Jeff Bzdelik's, or even Maj. Hank Egan's Air Force, if you can remember that far back.
This might have been why Dave Rice said the Falcons were scary, though they were only 7-5 coming into Saturday. Plus, Air Force plays a zone on defense, and zones usually freak the Rebels out.
Not only did Air Force freak out the Rebels, the Falcons freaked out 12,325 paying customers at the Thomas &Mack Center by winning 75-68.
It might seem Air Force always makes UNLV look bad here, but the Rebels had won 20 of the 21 games previously played in Las Vegas. So this is a bad loss. So this is maybe worse than getting beat by Dixie State in a game that didn't count, and by UC Santa Barbara, because this was a conference game.
"The first thing is great credit to Air Force for their win tonight," a glum Rice said afterward.
The second thing? "Very disappointing loss for our team. We were coming in with a lot of momentum. We had won seven in a row, eight of nine, had been playing our best basketball by far. But we dug ourselves a very, very deep hole."
Rice was talking about a first half during which the Rebels kept leaving the backdoor open, and Air Force kept walking through for layups. The visitors led by as many as 10 points in the first half. Adjustments were made at halftime, and it still looked like the Rebels might win, but then they didn't.
And then everybody was glum afterward.
"We did our best the last three days (in practice) to simulate what Air Force does," Rice said. "It's always hard to simulate the speed of their cuts. They beat us backdoor; we got lost on a number of assignments.
"We battled back in the second half. We just came up short."
Bryce Dejean-Jones, who led UNLV with 28 points but bricked two free throws in the final minute that could have given the team the lead, thought the Rebels were prepared for those backdoor cuts, too.
"You come to the game," it's a lot different," he said.
You come to the game, it's like having tried to simulate what Johnny Manziel does with the scout team quarterback.
"Just backdoor cuts everywhere," Dejean-Jones said.
Air Force outshot, outrebounded, outhustled the Rebels. The Falcons scored 36 points in the paint, the Rebels scored 24. The Falcons scored five fast break points, the Rebels scored two.
Dave Rice was right. When you put mottos on billboards about running as one, or whatever, and you get outrun by Air Force, you just came up short. No other way to put it.
So it had been going well for the Rebels, and it had been weeks since Rebels fans had bombarded the Internet message boards with missives about how Reggie Theus should be UNLV's basketball coach, and not Dave Rice.
Fair or not, I have a feeling the moratorium might be over. That's what happens when you leave the backdoor open at home against Air Force.
Las Vegas Review-Journal sports columnist Ron Kantowski can be reached at rkantowski@reviewjournal.com or 702-383-0352. Follow him on Twitter: @ronkantowski.