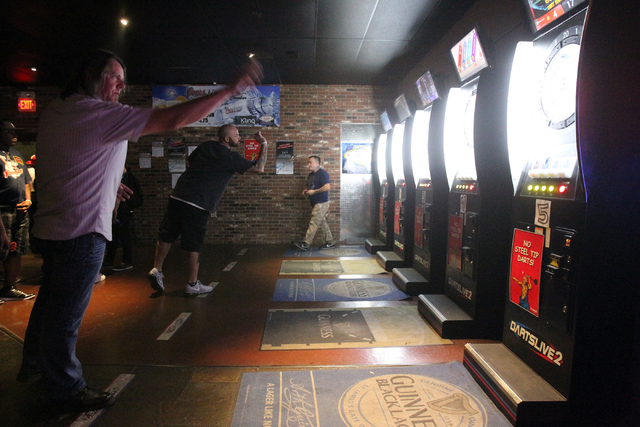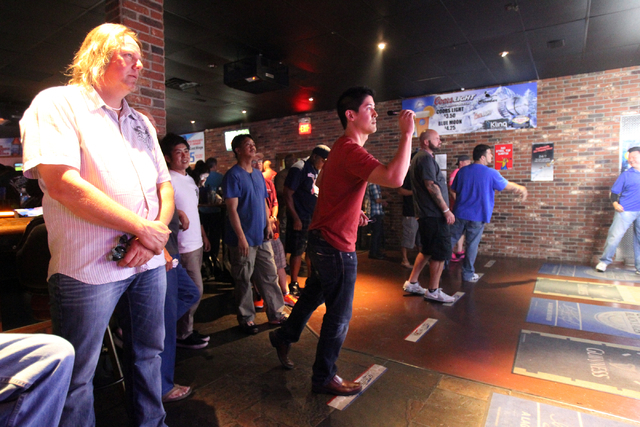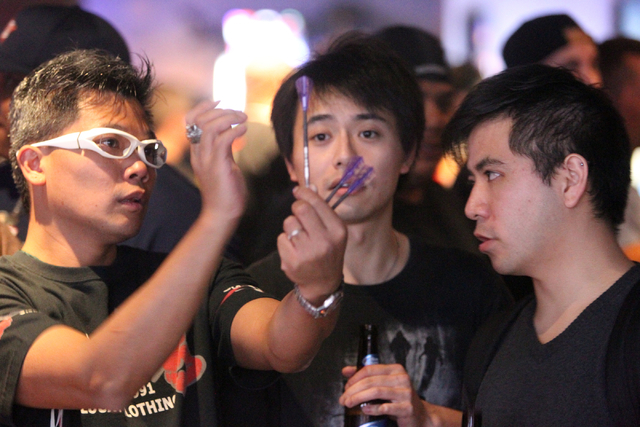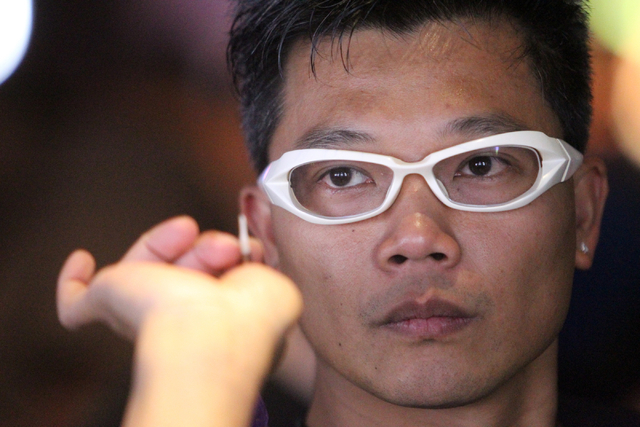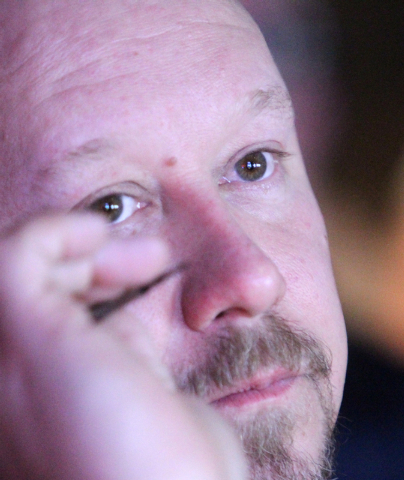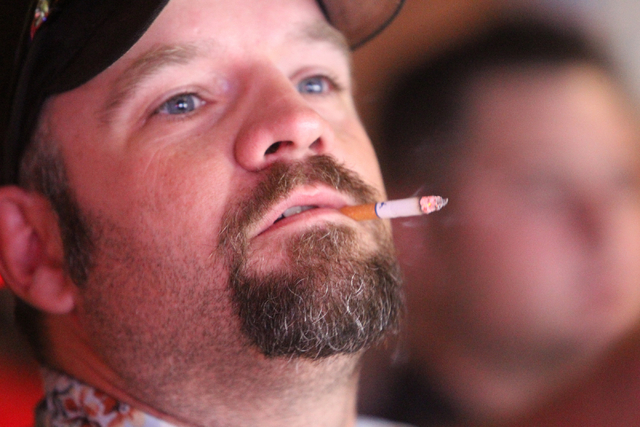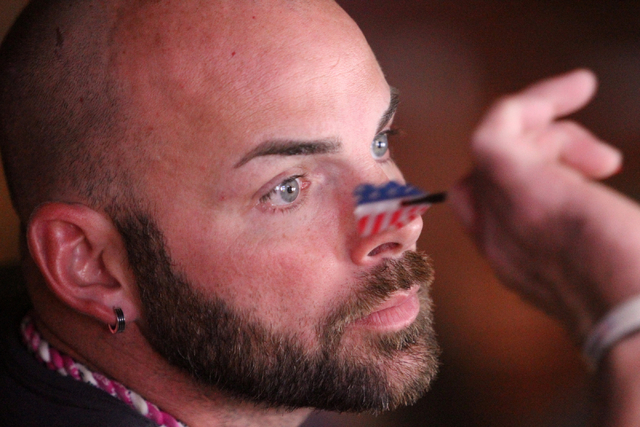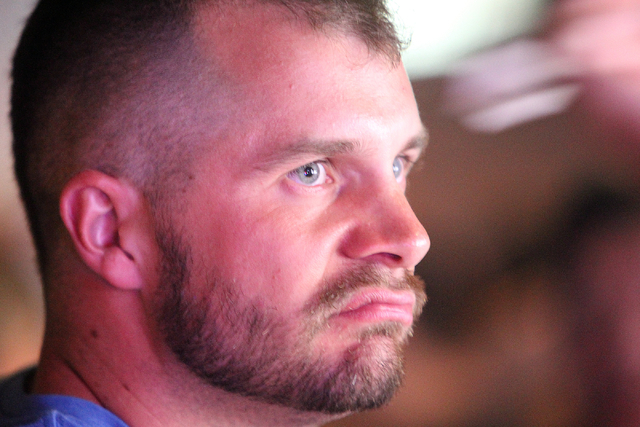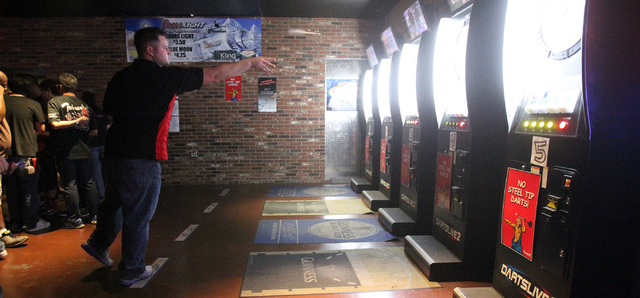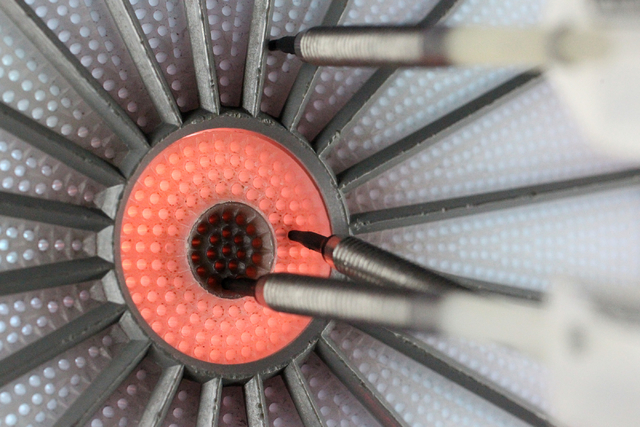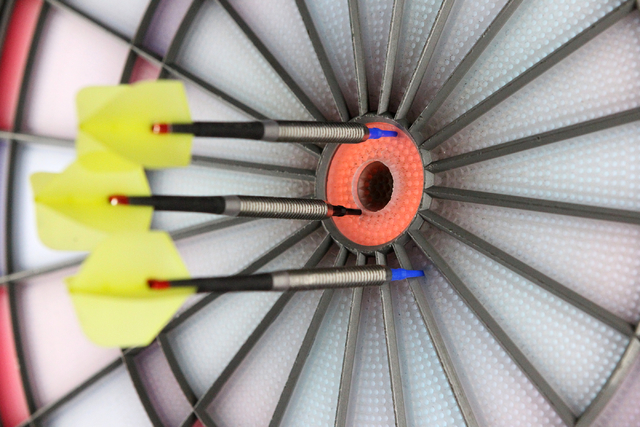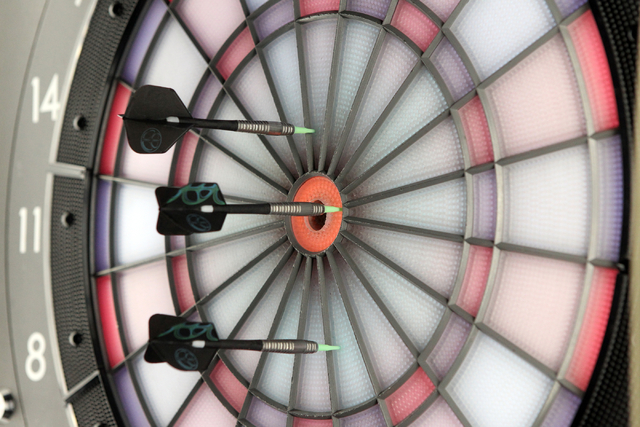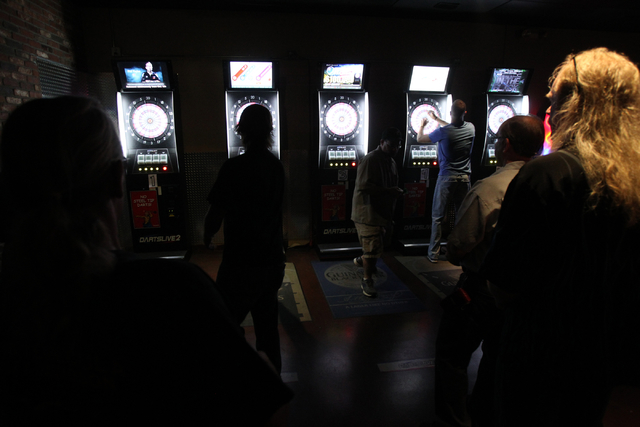 I was surrounded by darts players, and by big women, and by an affable long-haired guy who trains elephants for a living. One supposes training elephants is not something one would do in his spare time, so it would have to be for a living.
This was around 7:30 on Thursday night at Crowbar off West Charleston Boulevard, behind the ampm.
My darts-throwing pal had cautioned me about the big women. But not all the women were big. The one at the end of the bar, for instance. She was wearing a snug black tank top, with spaghetti straps. Alas, a guy sitting at the bar said she was the waitress.
This was at the official DARTSLIVE USA Open Early Warmup/Huge Blind Draw Pro-Am/High-Low/Double Elimination. That's what it said on the flier. And here you thought some of these NASCAR races have long names.
The official DARTSLIVE USA Open would be beginning Friday at the Riviera. It would pay a guaranteed purse of $100,000. The pro-am did not pay nearly as well. But playing darts must be a lot of fun, even for small sums of money, because the joint was jumping.
DARTSLIVE is a company that makes coin-operated dart boards you sometimes see in bars. They have a lot of these coin-operated boards at Crowbar. The darts have soft tips, so you can't "poke somebody's eye out," like my mom used to tell my brother and me when we would flip over the dartboard to the baseball side and practice Brandon Crawford relay throws from the dining room.
You can't poke your eye out with a soft-tipped dart, or even stick one in somebody's thigh. Perhaps that is why this form of darts throwing has become popular over the past 20 years or so, though the guaranteed $100,000 purses probably have something to do with it, too.
You can't flip over the board to play baseball, however.
One of the cool things about a pro-am darts tournament, besides the buckets of beer and the big women, is that you can talk to the players while they are playing. Even the pros. You usually cannot speak to the pros at a golf pro-am while they are lining up putts, unless you deal cars for a living.
In darts, you don't even have to replace the divots. And it's OK to shout. In fact, I think it's mandatory. Also, in darts, it's hard to tell the pros from the car dealers, because everybody sort of dresses the same.
I could tell right away this one small guy must have have been a pro, because his knowledge of English seemed limited, and because he wore glasses with white plastic frames — and because just about every soft-tipped dart he threw landed in the bull's-eye. This was Royden Lam of Hong Kong.
His girlfriend, Winnie Chen, spoke English fluently. She said Royden is so good at throwing darts with soft tips that he has been awarded an exemption to throw real darts, the steel-tipped kind, against guys from England on the Pro Darts Corporation tour. Guys such as Phil "The Power" Taylor, the only darts player I had heard of before Thursday, other than my brother.
I met Danny Delfino of Atlanta, formerly of Las Vegas and Hammond, Ind., because he once was a poker room supervisor for Caesars Entertainment Corp. and supervised poker on riverboat casinos.
Now he's a father and an electrician, because he didn't want to raise his daughter in a casino. Delfino said the darts scene in Atlanta is not as vibrant as it is at Crowbar, at least not in the suburbs where he lives.
I met Larry Butler of Ohio. The "Bald Eagle" is the only American to win on the PDC Tour, in 1994. This is why a guy wearing a tropical shirt wanted him to sign a book about throwing darts that somebody else had written.
Butler took a pull on a Bud Light. He said he is 0-4 against Phil Taylor on the other side of the pond but that he could probably beat The Power in Switzerland or some other neutral site. A lot of darts players do not lack for confidence.
I met a lot of the pros and also one or two of the big women, who were as friendly as the pros. And then I met Chuck Pankow of Nashville, Tenn. Chuck is the pro elephant trainer of whom I spoke, which may explain why he says the pressure of throwing darts on the circuit is sort of overrated. He trains elephants at the Nashville Zoo. He's also worked with big cats and chimpanzees.
It was so loud at Crowbar that you had to shout questions. One was shouted about the qualities one must possess to throw darts on the circuit and/or to train elephants. One of the amateurs shouted back: "Lots of Jameson."
Jameson is a brand of Irish whiskey.
By then it must have been 9 p.m., and a couple of names, but only a couple, were being written in magic marker on the giant bracket, which looked like an NCAA Tournament bracket with lots and lots of play-in games. The Bald Eagle could relate. He's from Dayton, Ohio, home of the play-in game.
A Bud Light truck rumbled up. Reinforcements were called for.
It appeared the pros and the amateurs were going to be tossing soft-tipped darts all night, so I headed for the parking lot, where a lot of the darts players had spilled from the bar and were telling darts stories, or chatting up the big women.
Las Vegas Review-Journal sports columnist Ron Kantowski can be reached at rkantowski@reviewjournal.com or 702-383-0352. Follow him on Twitter: @ronkantowski.