Barbecue, cool trick play make for fun in sun
April 17, 2010 - 11:00 pm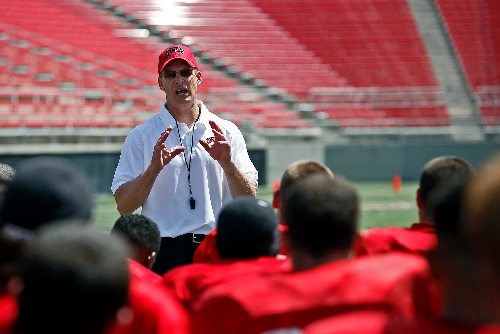 Here is what I learned about UNLV's spring football game/scrimmage/fine excuse to hold a Memphis Championship Barbecue on a tranquil Saturday afternoon:
I learned that first-year coach Bobby Hauck thinks a full-fledged spring game is pretty much a waste of time (I hear you, Coach). Also, he likes practicing spring football in Las Vegas better than he did in Montana, because it doesn't snow in April here. And he hates peas, because his mom made him eat them when he was a child (I hear you again, Coach).
I learned that playing for the scout team is bad enough without having to wear bright orange shower caps on your helmet. I learned most fans and the marching band think offense, not defense, wins championships, because the only time they cheered and blew their horns were on scoring plays. I learned that Hauck, despite being partial to a traditional, grind-it-out offense, has a cool trick play up his sleeve, though I refuse to divulge what it is, because Wisconsin spies are more ubiquitous than Lady Gaga.
Finally, I learned that the drone of a radio-controlled model airplane flying beyond the scoreboard on a tranquil Saturday afternoon will put you to sleep, but not nearly as fast as the drone of the third-string offense running off tackle plays against the third-team defense.
THREE UP
■ BE LIKE MIKE: Cincinnati Reds pitcher Mike Leake became the 21st player since the baseball draft was instituted in 1965 to skip the minor leagues and go straight to The Bigs. But Leake's jump from Arizona State with a season of fall league ball and extended spring training is not as significant as leaping from prom night to pitching a complete game for the Oakland Athletics, which is what Mike Morgan did in 1978 about a week after graduating from Valley High School.
■ ROLLS REUSS: I believe for every serial buttocks fondler in pro sports there are at least two guys who respect women and otherwise get it. On April 10, Jerry Reuss, who spent 22 seasons in the major leagues and once tossed a no-hitter for the Dodgers, spent his morning serving as public-address announcer at Opening Day of the Las Vegas Miracle League for special-needs children. He was not accompanied by off-duty state troopers serving as bodyguards.
■ WHO OWN DA WRANGLERS?: You might have read that someone supposedly is buying the Wranglers hockey team but won't be moving it to Florida, like the Charlestown Chiefs in the movies. This is great news for Las Vegas hockey fans as well as Mini-Kiss fans but bad news for Tim "Dr. Hook" McCracken, coach and chief punk on that Syracuse team.
THREE DOWN
■ EL RINGO LOCO: The Casa Grande (Ariz.) Locomotives — about the only thing our United Football League team does here is play games — protected 20 players from being selected by the expansion Mutuals of Omaha. The Locos also protected their championship rings from being videotaped by KLAS-TV Channel 8. After cameras were turned away, Chris Maathuis, Channel 8's normally mild-mannered sports director, used words such as "joke" and questioned the UFL's long-term viability. On the air, even.
■ NORMAL OCCURRENCE: After losing to the Fighting Farokhmaneshs and Northern Iowa in a matchup of Missouri Valley and Mountain West conference teams that meant something, UNLV will travel to Normal, Ill., to tangle with Illinois State in year two of the regular-season MWC-MVC Challenge that means little. Is it too late to start a Mountain West-Pac-10 Challenge?
■ SWINGING FOR THE (BARBED WIRE) FENCES: O.J. Simpson apparently has grown so weary of playing poker for Camels at the Lovelock Correctional Center that he has started playing baseball to while away the time. As one Internet website reader put it, "If the mitt don't fit, O.J. must sit."
Las Vegas Review-Journal sports columnist Ron Kantowski can be reached at rkantowski@reviewjournal.com or 702-383-0352.