Bear Pascoe, owner of Super Bowl ring, now chasing NFR gold buckle
December 9, 2017 - 1:07 pm
Updated December 9, 2017 - 3:44 pm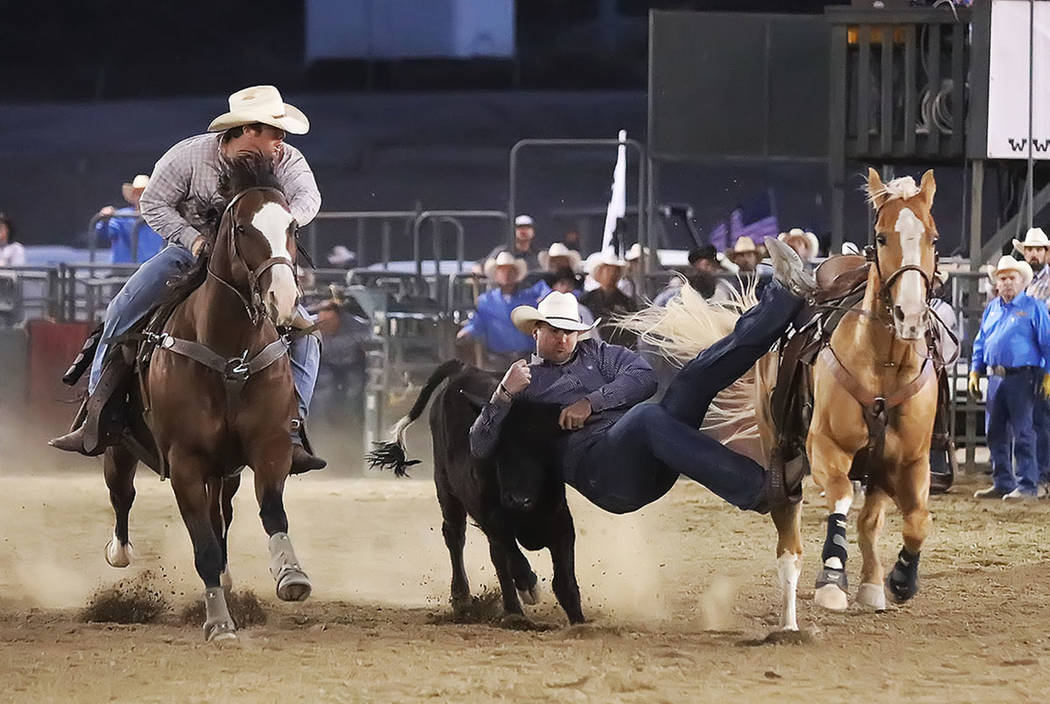 After Bear Pascoe of Fresno State caught his first NFL touchdown pass, for the New York Giants in the 2011 NFC Championship Game against San Francisco, NFL Network's Rich Eisen compared the young tight end to an equally young Rob Gronkowski.
Now people are starting to compare him to former Cowboys running back Walt Garrison. When one is trying to transition from pro football to pro rodeo, that's an even bigger compliment.

Walt Garrison's NFL career ended when he was injured in an exhibition steer wrestling event. Bear Pascoe's pro rodeo career is off to a more auspicious start. He won the steer wrestling competition at Thursday's PRCA Permit Member of the Year Challenge at South Point, and now has set his sights on the big corral down the road, the National Finals Rodeo at the Thomas & Mack Center.
When we talked Wednesday, Pascoe did not have a pinch of smokeless tobacco between his cheek and gum. He was sipping on a Michelob Ultra.
While with the Giants, the friendly Bear caught four passes in New York's 21-17 victory over the Patriots in Super Bowl XLVI. He was asked how making it to the Super Bowl of rodeo would compare.
"It would be right up there with it, no doubt about it," said the 31-year-old native of Porterville, California, whose easy-going manner belies the nature of his favorite sports. "That was always a dream of mine, to play in the Super Bowl. But to spin a steer (he's also a team roper) or to throw a steer down at the Thomas & Mack, that would be awesome, too. That's the end goal, right there."
A lot of cowpokes won't be surprised should Pascoe, who grew up on a cattle ranch and comes from a rodeo background — his brother, Ryan, is his team roping partner; his father-in-law, John W. Jones, is a Hall of Fame bulldogger and 10-time NFR qualifier — achieve it.
"He's got the drive — Bear Pascoe, he don't like losin," said Joe Baumgartner, the Hall of Fame bullfighter who makes his home in Las Vegas. "So he ain't gonna lose. That's football, cowboy instinct. You don't like losin'."
When Pascoe was asked if there were other football players capable of making the transition from the trenches to the saddle, he said a few came to mind, including former Patriots teammate and fellow Fresno State alum Logan Mankins, a "heck of a team roper."
What about Tom Brady?
Bear Pascoe bowed his cowboy hat and began to chuckle.
"Correlating quarterbacks to a rodeo event, they'd probably be calf ropers," he said. "Or (team roper) heelers. Preppy guys. Always clean. You talk about one of the nicest guys, you'll ever meet, that's Tom Brady.
"But he's too pretty for the rodeo."
0:03
— The response from London came too late for the print deadline Friday, but Formula One has confirmed its interest in bringing a race to Las Vegas. From Luca Colajanni, senior communications officer:
"We are exploring a number of possible venues for Formula One Grand Prix in a number of countries. We have made no secret that we are looking for destination cities and regarding the U.S., Las Vegas has been mentioned alongside Miami and New York. They are part of a number of cities worldwide who have expressed their interest in hosting a Grand Prix."
Dates for all 21 races in 2018 🗓️

France is back 🇫🇷

Germany is back 🇩🇪 https://t.co/PggC9wSdfE

— Formula 1 (@F1) December 7, 2017
— Boulder City's Zane Grothe set American records in the 500 freestyle (4:07.25) and 1,650 freestyle (14:18.25) at last weekend's USA Swimming National Championships in Columbus, Ohio. His time in the 1,650 shaved a whopping four seconds off the previous U.S. mark held by Olympian Clark Smith.
Grothe, a former Boulder City Heat swim team star, was an All-American at Auburn and is currently training at Indiana University as he continues his career with the USA National Team.
Zane Grothe Lights Up Newest Swimming World Biweekly; Download FREE Now! https://t.co/loX8MlAsXZ pic.twitter.com/9xiewmX8HV

— Swimming World (@SwimmingWorld) December 8, 2017
— Former UNLV basketball star Shawn Marion is teaming with former Phoenix Suns' teammate Cedric Ceballos in the 30th season of CBS' "Amazing Race" that debuts Jan. 4. The tandem will compete under the banner of Team Slam Dunk. They will be matched against teams of competitive eaters, reality stars, business people, models and two Arizonans who operate a goat yoga business, neither one of which is Amar'e Stoudemire.
Former Phoenix #Suns Cedric Ceballos and Shawn Marion will appear on 'The Amazing Race.' https://t.co/cz2KgchnZs

— Arizona Sports (@AZSports) December 7, 2017
Contact Ron Kantowski at rkantowski@reviewjournal.com or 702-383-0352. Follow @ronkantowski on Twitter.