Bennett's hands full dealing with gloves for Mayweather-Pacquiao
April 30, 2015 - 10:00 am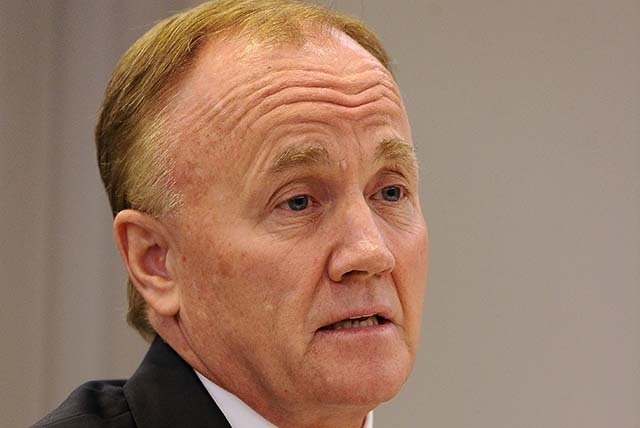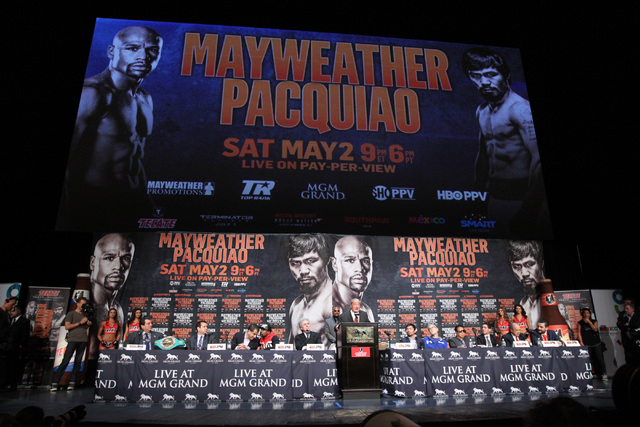 He has barely been on the job a year, and this is his first megafight, where a tent is set up out back to handle all the media — as when Sugar Ray and the Hit Man and Marvelous Marvin and Roberto Duran threw down here, and then, a little later, Iron Mike Tyson.
When newspapers still had dedicated boxing writers. When there was electricity in the air.
So I knew it would be difficult to reach Nevada Athletic Commission executive director Bob Bennett this week.
With the long-awaited Floyd Mayweather Jr. vs. Manny Pacquiao bout building toward a bazillion-dollar crescendo, I figured Bennett would be up to his eyeballs, and maybe even up to his Julio Cesar Chavez Jr. headband, if he has one, in boxing stuff.
It took four phone calls to track him down.
I wanted to ask Bennett how he was dealing with his first megafight, and, more important, what his office was doing to make sure nobody put a horseshoe in a boxing glove on Saturday night.
It is rare when horseshoes are put in boxing gloves these days. It usually happens only in the cartoons. Quick Draw McGraw might have gotten away with it once; ditto Sylvester the cat in his rematch with Hippety Hopper, the boxing kangaroo.
But after the New England Patriots were accused of tampering with the footballs after their playoff game against the Indianapolis Colts in the run-up to the Super Bowl, people in Bennett's position must take every precaution.
Plus, this is boxing, where controversy knows no bounds.
It was last year at this time when a dispute over boxing gloves before a big Mayweather fight came close to pre-empting it.
Boxing is like the NFL with its footballs, or a frat house with its parties. It allows the participants to bring their own. The Mayweather camp was not pleased that Marcos Maidana had brought custom-made, 8-ounce Everlast gloves with which to punch Floyd (who uses Grant gloves) in the nose.
Floyd's peeps insisted the Argentine wear standard Everlast gloves — "pillows," Maidana called them. Maidana consented to lacing up the pillows, but only after Floyd and his peeps threatened to call the whole thing off the night before.
Bennett still was interviewing to become the NAC director then. He inspected Maidana's custom-made mitts and thought they may have been "worked" — massaged in such a way to soften the leather.
So one of the first things he did upon being named executive director was institute a policy regarding the boxing gloves used in big fights such as Mayweather-Pacquiao.
Here's basically how it works: Gloves are selected by the fighters from a preapproved list (Manny will wear Reyes; Floyd will stick with Grant), after which they are delivered to the NAC, either by the manufacturer or the fighter reps, no later than three days before the fight.
At an agreed-upon time, usually after the weigh-in, the fighters and their camps settle on two pairs of gloves — the ones they will use in the fight and a backup pair.
The primary and backup gloves are labeled. Then they are moved to a "secure location" until fight night, when they are taken to the arena, in a locked satchel, before being presented to the fighters before the warm-up.
When I asked Bennett, a former Marine and FBI agent and fight judge, if there was a man assigned to guard the gloves after they are impounded, he would only say there was a secure location, and that I wouldn't want to get caught there.
It was all very hush-hush, and so there went my idea of hanging out with Paul Blart, Glove Cop, on the night before the big fight. I knew better than to ask.
To lighten the mood, I made a joke about the horseshoe in the glove, and Bennett almost chuckled. Almost.
"I assure you that's not going to happen," he said.
"Once we take possession of those gloves, we take our responsibility very seriously."
Bennett didn't mention the protective cups. Apparently, the Mayweather camp was concerned that Pacquiao's came up too high.
The fight will go on as scheduled. Manny's cup is fine. It's always something with boxing, isn't it?
But Bennett said other than the usual gamesmanship, his first megafight as executive director was going well. He thanked God, just as Manny Pacquiao and Floyd Mayweather did on Wednesday at the most uneventful final news conference I've witnessed before a fight as big as this.
The whole thing was over in less than an hour. It is times like this where one (almost) misses Don King.
When Leonard Ellerbe, CEO of Mayweather Promotions, called Bennett to the podium to say a few words, it was a surrogate, commission chairman Francisco Aguilar, who said the few words. Aguilar did not quote Winston Churchill, as Keith Kizer, Bennett's predecessor, was wont.
Judging from the number of tight skirts and plunging necklines at the Ka Theater, and the number of tough-looking guys wearing TBE (The Best Ever) and TMT (The Money Team) caps and jackets, the countdown to the big fight finally was underway.
It can be assumed Bob Bennett was up to his eyeballs in boxing stuff.
Las Vegas Review-Journal sports columnist Ron Kantowski can be reached at rkantowski@reviewjournal.com or 702-383-0352. Follow him on Twitter: @ronkantowski.