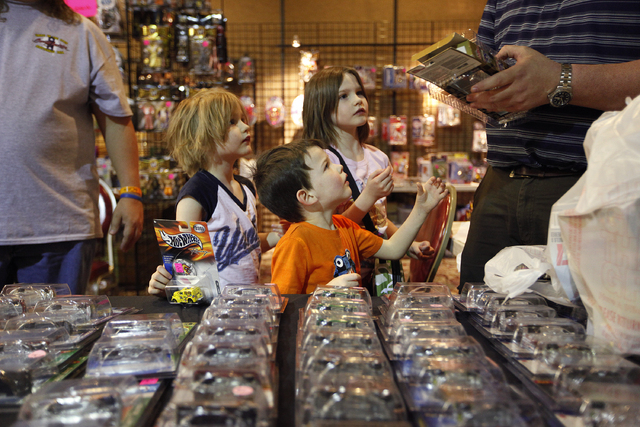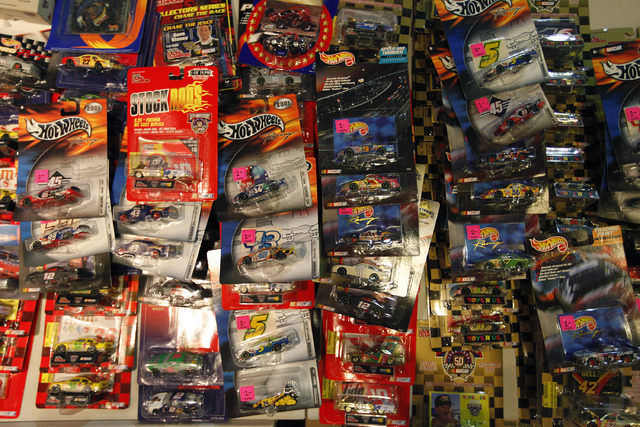 I eagerly went up the escalator, bounding up the last few steps two at a time.
I was headed for the World of Toys Expo on the third floor of the Plaza. Two floors below Zamboni level, where the Wranglers will be playing hockey next year.
This is where they had memories on display in 1/64th scale.
It used to be called the World of Hot Wheels Expo or something similar. Guys who collect 1/64-scale memories had them spread out on tables in their original packages.
I didn't really collect Hot Wheels, but they came out in 1968, when I was 11. So I had a few, a few dozen. Unlike Matchbox cars, which you couldn't race, you could flick a Hot Wheels with two fingers, and it would go flying across the linoleum like the Johnny Lightning Special, the car Al Unser drove in the Indianapolis 500.
Johnny Lightning was another line of toy cars. I didn't collect those; one of the neighborhood kids said they wouldn't fit in our official Hot Wheels collector cases, which were shaped like tires.
Pushing Hot Wheels across the linoleum was pretty cool. Then they came out with the bright orange Hot Wheels track. You could buy 20 feet of track in a box and attach it to the back of a chair with this plastic clamp. Then you put your Hot Wheels at the top and let them go.
I had this one Hot Wheels car, patterned after one of those concept cars you see at auto shows. It had a clear bubble on top. It looked like something George Jetson would drive to work, and it rolled faster and farther than my other Hot Wheels.
I went to the World of Toys Expo hoping to find that car, this particular 1/64-scale childhood memory that freaked out our dog when it went skittering over the linoleum.
No luck.
Finally, I saw this big kid, this long-haired guy who looked like he might have been with Molly Hatchet, except he was wearing a Hot Wheels baseball jersey with "68" on back for the year they came out.
Chris Parker seemed to know everybody at the expo. He maintains a Hot Wheels website that has around 150,000 visitors; this is probably why he knew everybody there. Chris Parker is so well known in the world of Hot Wheels that some of the official cars have a little decal with his initials on them, in the place where a racecar might have an STP sticker.
Parker thought I was talking about a Hot Wheels car called the Beatnik Bandit.
That name sounded familiar, in the way that "Every Mother's Son" sounds familiar. But I said my car with the clear bubble that rolled farther than the others was called something different, and then Parker said, "Where's Mike Zarnock when you need him?"
And then faster than a Beatnik Bandit, or a Deora, or a Hot Heap, which also were among the original 16 Hot Wheels cars produced by the Mattel Company, Mike Zarnock came flying down the bright orange track, or at least from around the corner.
This guy Zarnock has written books about Hot Wheels, and twice he has held the Guinness world record for possessing distinct Hot Wheels — 3,711 in 2003 and 8,128 in 2007 from his collection of more than 30,000. Zarnock knew immediately I was talking about the Silhouette. Mine was lime green; his first one was purple.
Zarnock is from Utica, N.Y., where his dad owned a body shop, which is how he came to collecting Hot Wheels. His old man didn't work on too many Beatnik Bandits or Silhouettes, but occasionally a Hot Heap would come in. When Zarnock became a bigger kid, he drag raced an altered car that resembled the Hot Heap.
Guys from Puerto Rico sometimes send him little die-cast cars so he can soup them up. Supposedly, guys race Hot Wheels in back alleys down there for lots of money.
Zarnock said if I could find a Silhouette at the expo, it would probably cost around $60, because those Sweet 16 Hot Wheels are hard to find.
In 2009, a big kid named Bruce Pascal paid $72,000 to add the Rear Loading Beach Bomb to his collection. The pink Volkswagen bus was too narrow to run through the Hot Wheels "super charger" that would spit the cars around the bright orange plastic track. It was pulled from production and became to Hot Wheels collectors what Honus Wagner became to big kids who collect baseball cards.
So I didn't find a Silhouette at the expo, lime green or purple. But on the way out, I had a nice chat with a big kid from Las Vegas named Pat Carrigan, and I bought a McFarlane collectible figurine of retired Chicago Blackhawks goalie Jocelyn Thibault from him. When Carrigan learned I was from Chicago, he threw in a marked down Carlos Zambrano free.
Carrigan had a Kurt Busch Sharpie car he was selling for $2, but I don't collect NASCAR stuff, so I left that particular 1/64-scale memory for another big kid.
When I headed for the escalator, Daisy Duke — Catherine Bach from "The Dukes of Hazzard" — was signing autographs for $10 in the hallway.
Inside the expo, a commotion broke out. When I turned to investigate, Chris Parker and another big kid were spraying each other with Silly String.
Las Vegas Review-Journal sports columnist Ron Kantowski can be reached at rkantowski@reviewjournal.com or 702-383-0352. Follow him on Twitter @ronkantowski.