Big Knockout Boxing mix of Romans and 'Rollerball'
August 18, 2014 - 7:30 am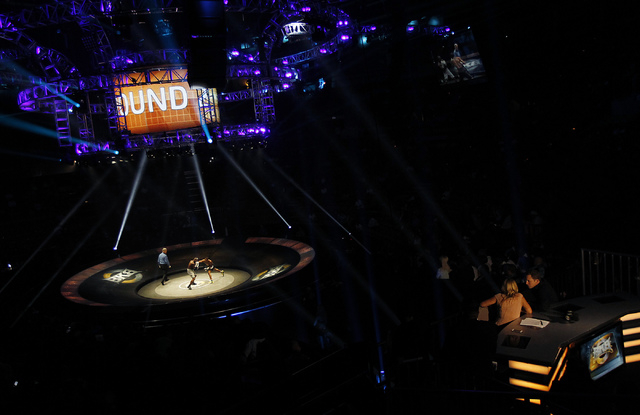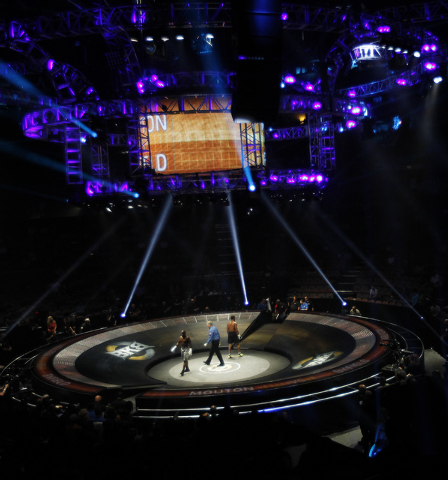 At a little past 6 p.m. Saturday, in what seemed a tiny 17-foot circle in the middle of this pit thing at the Mandalay Bay Events Center, Don Mouton of Houston and Lekan Byfield of Yonkers, N.Y. — a couple of boxers Rocky Balboa would describe as the "ham-and-egg" variety — were standing toe-to-toe, smacking each other with gloved fists.
They were standing toe-to-toe, because that is the only way one can stand with another in the tiny 17-foot circle.
As the promotional material for Big Knockout Boxing — BKB for short — promised, there is nowhere for boxers to hide in a tiny 17-foot circle.
There are no ropes in BKB. And so there are no corners, despite what the ring announcers kept saying.
And with fights scheduled for just five or seven rounds — and with the rounds lasting just two minutes instead of three — a fighter can't afford to take a round off, as Al Bernstein might say on TV.
So these guys named Mouton and Byfield pummeled each other, as if they were fighting in a telephone booth. During the first two-minute round, they accounted for three knockdowns between the two of them.
Most of the 4,600 seats in the circular-arena setup, which hearkened to the day of the old Roman coliseums, were filled. People were cheering with great enthusiasm for Mouton and Byfield to keep pummeling each other with gloved fists.
To this first-time observer of Boxing in the Round, that was the most remarkable thing. This was the second of nine fights, an evening of fisticuffs mostly pitting one guy you never heard of against another guy you never heard of, and people were in their seats, and people were cheering.
You see that a lot at UFC shows.
You don't see that a lot at traditional boxing, not on the undercards at least. You mostly see empty seats, and people roaming the concourse in search of a reasonably priced Corona.
"Well, that was Big Knockout Boxing," a man named Bruce Binkow, the Don King or Bob Arum of Big Knockout Boxing, said at the end of the evening. "That was a great night."
This was in the "news" conference afterward. People clapped, because just like in traditional boxing, a lot of people who aren't with the media were allowed to hang out at the "news" conference. At least the BKB one, as the fights themselves, started in a timely fashion.
"That surpassed my expectations," Binkow said. "I thought every one of those fights was exciting, was fast-paced; the crowd was really a part of it. I don't think we could have asked for more."
Yes, this was the very first Big Knockout Boxing card, opening night, and even the Marlins draw an enthusiastic crowd on opening night.
The XFL started well, too.
But as hybrid sports go, I enjoyed BKB much more than arena football or indoor soccer.
There were no nets hanging from the rafters to obscure one's view, and with no ropes to obscure the left hands and right hands, the pay-per-view telecast must have looked spectacular.
One of the big screens in the arena showed a high-definition feed. It looked like two guys fighting in one's living room, minus one's freeloading friends.
The knockdowns and knockouts aside, the presence of Michael Buffer and cameras that rotated around the pit on tracks, Roman Polanski-style, notwithstanding, the real star of the night was the circular pit.
At first I thought it mostly resembled the rink from the futuristic movie "Rollerball" which came out in the 1970s. It had this sloped platform upon which the fighters could seek sanctuary in return for being docked a penalty point, if one was getting pummelled too badly.
No penalty points were assessed for seeking asylum on the rollerball platform. Jonathan E would have been impressed.
When spotlights were beamed from the BKB pit, it looked more like a flying saucer, or the stage at an ELO concert from back in the day. I half-expected Jeff Lynne to bound onto the stage from a secret passage to sing "Turn to Stone."
The industrial-appearing pit was equipped with two hydraulic ramps that opened between rounds so the cornermen — er, vortex men, or whatever you prefer to call them — could work on the fighters and tell them to bob and weave, though in a tiny 17-foot circle there's no room to bob and weave.
Mike Tyson and Roberto Duran would have loved the tiny 17-foot circle. There wasn't a whole lot of strategy.
Before each round, real boxing referees such as Kenny Bayless would shout, "Lock 'em in."
The platform would lock shut with this big industrial sound, like a refuse truck makes. As the cruiserweight Dimar Ortuz said afterward, when you heard the platform lock, you sort of felt like a caged animal in the tiny 17-foot circle. So you fought like one.
With a few seconds to go in the sixth round of the main event, Gabe Rosado, who had been in with Gennady Golovkin, dropped the ol' 1-2 on Bryan Vera, who had been in with Julio Cesar Chavez Jr. twice.
It was a beautiful knockout.
It was a Big Knockout.
For one night, anyway, it was just as the promotional material had promised.
Las Vegas Review-Journal sports columnist Ron Kantowski can be reached at rkantowski@reviewjournal.com or 702-383-0352. Follow him on Twitter: @ronkantowski.